Cape Town and Sanbona Game Reserve
Ten Days: South Africa a La Carte
Daily departure Year Round – Choose your own date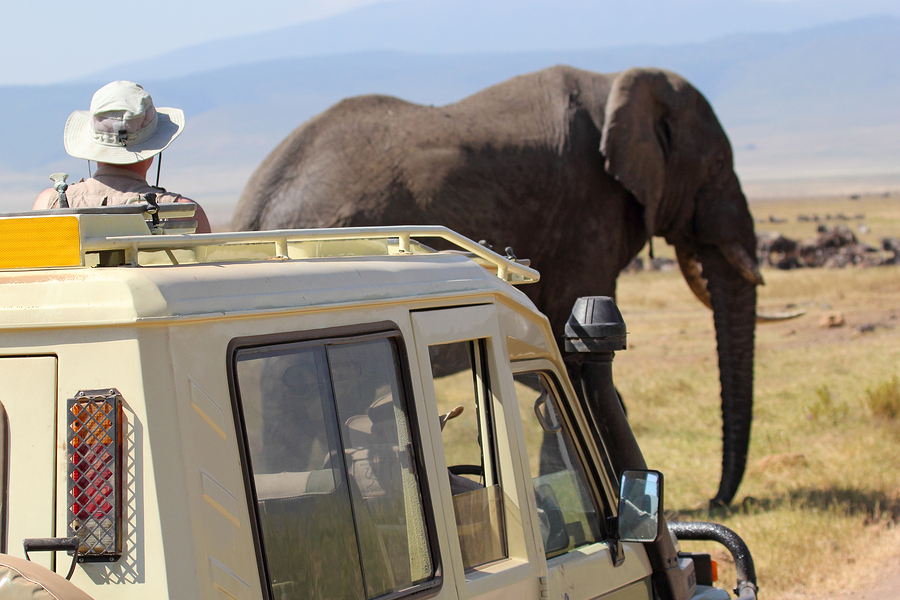 Discover the best of South Africa! This vast country of mountains, velds, and extraordinary coastline challenges visitors with all it has to offer. Its cities glitter, its industry rolls, and its hinterlands teem with wildlife and unspoiled tradition. This nation of nations draws on all of southern Africa, and Europe and South Asia as well. Any one of these South Africas would make memories to last a lifetime.
We'll lead the way and roll several unforgettable trips into one. Over ten days, we'll experience throbbing Cape Town, where all the continents meet; not one but two game reserves, and an idyll in the wine country. And you won't wait for a scheduled departure. Arrive on any day you choose and go Wild in South Africa.
Tour
Day 1: Arrive in Cape Town
Our Cape Town representative will be on hand to meet you at the airport and escort you into the city. On the way, you'll appreciate the strategic location that has for centuries made the Cape a crossroads of world trade, and a meeting point where nations have met, traded, melded, come into conflict, and ultimately formed the mosaic of today's South Africa. In less than 20 minutes, you'll reach the Southern Sun Waterfront Cape Town Hotel, nestled between emblematic Table Rock and the Atlantic, or a comparable full-service accommodation with pool, access to nearby beaches, and daily breakfast.
Day 2: Cape Town (B)
Today, at the very extreme end of Africa, we'll discover and explore one of the oldest and most cosmopolitan cities on the continent. Our half-day tour begins with pickup at your hotel at 8 a.m. We'll head for Table Mountain and, weather permitting, ascend a thousand meters by cableway to appreciate stunning views of the city and the waters offshore. Then it's onward to The Castle, the oldest building in South Africa, with its Military Museum, and relics of a strategic past. A signal cannon is still fired daily. We'll see the Company Gardens, once a vegetable farm for the early colony, now an exquisite botanical exhibit and public venue. Oddly, though not the capital, Cape Town hosts South Africa's Parliament, which we'll see right in the Gardens, along with City Hall, where Nelson Mandela made his first address as a freed man, and Slave Lodge, dedicated to the history of forced servitude in South Africa and the British Empire. We'll explore the colorful Malay Quarter of multi-colored houses and mosques set on hills in the Bo-Kaap district, and have a chance to see where diamonds from South Africa's mines are cut. Afterwards, you'll have time to return on your own to some of the fascinating spots you've seen. Just make sure you turn in early . . . we have a long day tomorrow.
Day 3: Cape Town and Aquila Game Reserve (BL)
We'll start at 6 a.m. to get in the best wildlife viewing possible. Our private conveyance will take us to Aquila Private Game Reserve, just two hours from Cape Town in the open veld of the Karoo. Aquila protects some of the major game species of Africa, including lions, elephants, water buffalo, rhinos, and rarely seen mountain leopards. After welcome refreshments, we'll set out with a ranger on our game drive in a 4×4 vehicle. In addition to the "big five," we'll also spot, depending on the season and current conditions, wildebeest, springboks, zebra, giraffe, eland, baboons, hartebeest, and many, many others. Birders will discover the booted eagle in the summer and flamingos during rainy times. Rare black eagles are at home here, among 172 bird species. Bring extra memory cards for your camera! We'll enjoy a buffet lunch and have time to relax by the pool (or by the fire in winter) before we head back to Cape Town.
Day 4 – Day 5 – Day 6: Franschhoek (B)
Our journey to the historic wine-growing district begins when we call on you with a private vehicle after breakfast. Historic Franschhoek lies 80 kilometers to the east, amid rolling vineyards under sentinel mountains. Its name recalls the French Huguenots who settled in the seventeenth century. Here in South Africa's counterpart to Napa and Bordeaux, you'll partake of the delights of local vintages along wine routes that include the domains of Boschendal, Chamonix, Dieu Donne, Graham Beck, La Motte, L'Ormarins, the Rupert & Rothchild Vignerons, and Vrede en Lust.
During your stay, you can relax amid majestic surroundings, or choose from a menu of experiences. Several golf courses set among the vineyards offer a variety of challenges. Mountain streams and reservoirs are stocked with rainbow trout and smallmouth bass. Ride a horse, or stroll the trails that wind through the Franschhoek, Drakenstein and Boland mountains, or choose a challenging route from peak to peak with overnight camping in between. You can find your adventures on the spot, or we can make arrangements beforehand so that you can make the most of your time. We can even provide trail permits, where required.
In between your outings, enjoy fine dining, browse art galleries, and visit cheese factories to round out an unexpected country experience in South Africa.
Day 7: Sanbona Game Reserve (BLD)
After your idyll in the wine country, we'll call for you after breakfast in our private vehicle to take you eastward to spend several days in the Sanbona Game Reserve, set in the Little Karoo at the foot of the Warmwaterberg Mountains. Its name is a tribute to the ancient San people of the region, and its 54,000 hectares of rolling plains hold treasures that include rock art, regional flora, white lions, and the rare riverine rabbit. Sambona is an adventure in conservation, wildlife sighting, and luxurious accommodations. A hearty lunch will be served upon your arrival. In the afternoon, you'll take a game drive in a Land Cruiser. Sightings might include white lions, which are being re-introduced to the wild by the Reserve; and elephants, leopards, buffalo, white rhinos, and cheetahs, depending on the season and local conditions. Dinner will be served back in the lodge. At your leisure in the evening, you can enjoy drinks and listen to and identify the sounds that surround you. Optional massages and treatments are available.
Day 8: Sanbona Game Reserve (BLD)
You'll take two game drives today, and experience that species that reveal themselves at different times of day. After a wake-up call and a light repast of tea, coffee and pastries, you'll take a morning drive. Sightings might include giraffes, zebras, and South Africa's distinctive antelopes, including springboks, elands, and gemsboks. You'll return for a late full breakfast, and a break at the lodge, where you can enjoy the pool, or just relax. Your afternoon game drive departs after a late lunch, followed by dinner.
Day 9: Safaris – Sanbona Game Reserve – Back to Cape Town (B)
This program is always subject to change and times are approximate and are subject to change during summer
We'll set off early again on our morning drive after coffee, tea and snacks. This is our last chance to see, and photograph, the local fauna. Keep an eye out for ostriches and rare riverine rabbits, among the most endangered species in the world. A full breakfast follows, after which we'll board our vehicle for the drive through the Western Cape. We'll reach Cape Town in the late afternoon, and check back into the Southern Sun Waterfront Hotel, or a comparable establishment. Take advantage of your time to appreciate the Cape sunset, sophisticated dining, and shopping. Treasures at surprisingly affordable prices include jewelry, leather goods, and works of art. Of course, you'll pick up a bottle or two of one of the fine wines that you've sampled during your stay.
Day 10: Cape Town- Departure (B)
We'll call for you after breakfast, and see you to the airport where you'll board your flight home. At your option, we can arrange an extended stay to see more of South Africa.
Rate per person in double in USD : $ 2830.00
Rate per person in single in USD : $ 3630.00
Inclusions:
Accommodation in Cape Town at Southern Sun Waterfront Hotel, with breakfast daily, in a standard room
Private guided tours in Cape Town as listed, including all entrance fees.
Accommodation at Protea Hotel Franschoek, with breakfast daily, in a standard room.
Two nights accommodation at Sanbona Game Reserve, with all three meals daily, in a standard room, and a game drive each day during your stay at the "Game Reerve".
All hotel taxes and service charges.
All transfers while in South Africa, always on a private basis.
Not Included:
Passport and visa fees.
International air fare
Trip interruption and cancellation insurance
Excess baggage charges or shipping charges
Gratuities
Additional personal expenses, beverages, and meals not specifically mentioned in the itinerary
Any airport taxes
Sample Hotels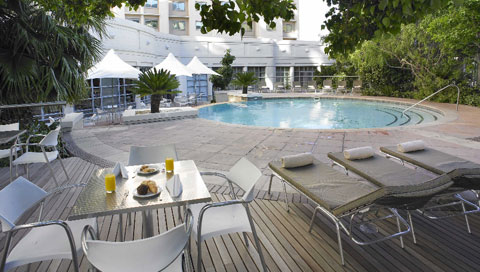 Southern Sun Waterfront Cape Town
Nestled between the majestic Table Mountain and the Atlantic Ocean, the Southern Sun Waterfront Cape Town hotel is ideally situated. It is well sited close to the entrance to the city's premier leisure complex – The Victoria and Alfred Waterfront, and is a short 15-minute drive from Cape Town International Airport. A variety of beaches, as well as the city centre, are also within close reach. The Southern Sun Waterfront Cape Town has 546 well appointed bedrooms, providing the full comfort and quality one would expect from a full service hotel. Additional facilities and services include an excellent breakfast room, additional restaurant, cocktail bar, fitness centre, outdoor swimming pool, curio shop, meeting rooms, business centre, wireless internet connectivity in all restaurants and bars and 24 hour secure underground parking. Room service, babysitting, and a shuttle service to and from the Waterfront are also available. The hotel's secluded pool area provides the ideal spot for you to relax and refresh following a busy day of sightseeing. A dedicated Concierge desk is open 24 hours a day for your convenience, assisting with all travel, tours and car hire requirements.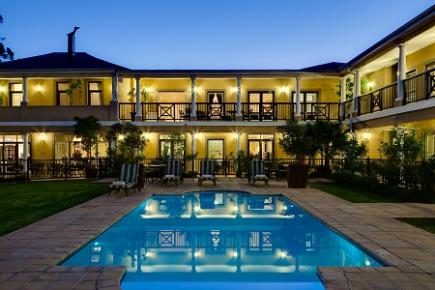 Protea Hotel Franschhoek
The 4-Star Protea Hotel Franschhoek, which overlooks the majestic mountains and vineyards of the historic village of Franschhoek, some 80 km east of Cape Town, prides itself on its charming ambiance, gracious style and attentive service. Indeed, if you are seeking a hotel which exudes tranquility and beauty, look no further than the Protea Hotel Franschhoek.
This magnificent 4-Star hotel in Franschhoek has a rich history, with one section dating back to the 1880s. The town itself takes its name from the French Huguenots who settled in the area in the early 1680s after fleeing from their home country. Franschhoek has since become one of South Africa's leading culinary and wine-tasting destinations. The Protea Hotel Franschhoek boasts a renowned restaurant, conference facilities, luxury accommodation, a sparkling swimming pool and a well-stocked vinotique.
Our convenient location makes the hotel a superb base from which to explore Franschhoek's culinary establishments, art galleries, cheese factories and some 25 world famous wine estates. Various outdoor activities, such as horse-riding, golf, backpacking and trout-fishing, can also be arranged.
The luxurious accommodation offered by the 4-Star Protea Hotel Franschhoek is a welcoming retreat at the end of a long day spent exploring this splendid town.
The Protea Hotel Franschhoek – The pride of Franschhoek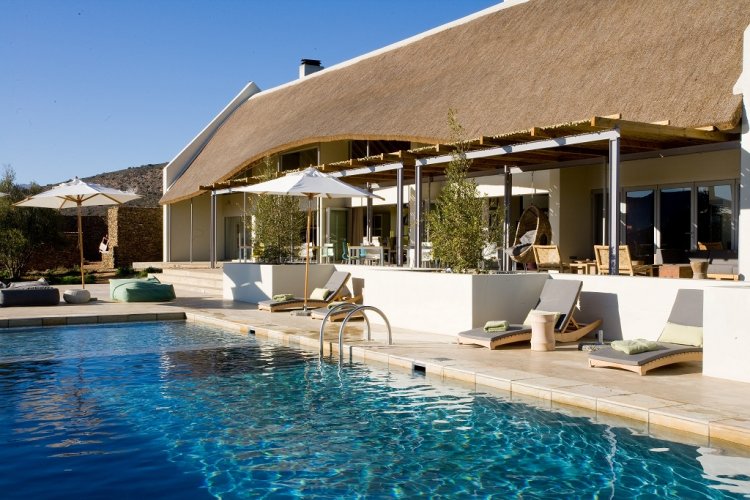 Sanbona Game Reserve
Situated only 2 ½ hours from Cape Town Sanbona Wildlife Reserve offers 54 000 hectares of undulating mountains and plains, indigenous flora and fauna, at the foot of the Warmwaterberg, in the heart of the Little Karoo, between Montagu and Barrydale on the famous Route 62, the vision of the San is becoming a reality. Sanbona Wildlife Reserve, 54 000 hectares of undulating mountains and plains, indigenous fauna and flora, rock formations and rock art make this a destination not to be missed. Specialist guiding is a key element in providing a memorable and varied experience. The name Sanbona is a combination of the "San" people who roamed this area for thousands of years and "bona" which represents their vision in order to position this portion of the Little Karoo. Be it a journey of rejuvenation and self-discovery or absorbing the various essences and activities, Sanbona Wildlife Reserve represents in true form the philosophy of the Mantis Collection – taking care of the small things in life.