Going to Egypt and Cruising the Nile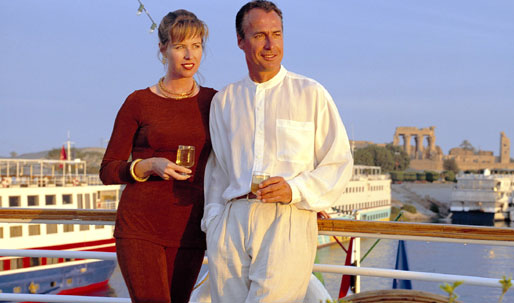 Dress Code
All of our Nile cruise vessels are fully air conditioned. On board dress is casual except at dinner, when smart casual is the rule. Lightweight cotton and other natural fiber clothing is best, with swimsuits and sun hats for the sundeck and pool. Bring a light sweater or light jacket for cool mornings and evenings, but most days are warm to hot, with very little rain. Comfortable walking shoes are essential for shore excursions.
What to Pack:
Most of the year look forward to warm, even hot weather in Cairo, Luxor and Aswan. Morning and evenings are cooler. During winter… very rarely do we get rain, if so, very brief showers. No need for real rain wear/gear. Before sunrise, after sunset, you will need a light jacket, or light sweater. For Nile cruise shore excursions, we suggest comfortable cotton & natural fabric lightweight clothing.
Comfortable walking shoes are essential for all tours in Cairo or Upper Egypt.
Clothing on Board the Nile Cruise:
Lightweight comfortable & casual clothing. Swimsuits, sun hat. Dining room dress code is casual for breakfast & lunch, but smart casual for dinner. Please do not wear swimsuits into the dining room. All ships are fully air conditioned.
Dining Room Reservations. Meet other passengers:
YOU will not require any, our dining rooms do accommodate all our guests in one seating, one less thing to worry about while you are on the Nile. Enjoy the cosmopolitan atmosphere with several different languages being heard at dinner.
Dining Notes:
The set-menu meals included in your tour are indicated in the itinerary: B = Breakfast, (or cB, Continental Breakfast), L = Lunch, D = Dinner. On our luxury Nile cruise vessels, our spacious dining rooms accommodate all passengers at one seating, so there is no need to worry about making reservations, one less thing to worry about while you are on the Nile. Enjoy the cosmopolitan atmosphere with several different languages being heard at dinner. Smart casual dress is suggested for dinner. No tie / formal dress requirement.
Do we get sea sickness while sailing the Nile?
This is river sailing, so do not expect any waves – no rough seas! Your Nile cruises is actually a floating hotel that moves from place to place along the Nile. Actual cruising times are short.
Our Nile cruise passengers come from all countries of the world, more from Europe, but also from North America, South America and Asia, and naturally they'll often keep the company of their own language and culture.
Your patience and extra efforts to interact are sure to reap rewards. Some guests from the USA did bring up the issue that in some cases the boat did have 2 or 3 English speaking couples on board, and that they expected more! Most sailings have a few native English speakers, though the numbers, of course, vary by season, and are not guaranteed.
The King's Chamber in the Great Pyramid was not meant to be visited:
Getting to it is challenging, and once you enter, it is very difficult to turn back. The stone passage is only wide enough for one person. You must be in good physical condition, able to climb several flights of stairs, bend double, crouch and duck-walk for short distances. The King's Chamber itself is the world's most claustrophobic place, with dim light and heavy, hot, oxygen-poor air. There is no ventilation. If you are at all sensitive to claustrophobia or confinement, or if you have any sort of respiratory condition, for your own safety and the safety of others, you must not enter the pyramid because it is impossible to remove a person or to bring aid to them quickly.
Suggested tips
Per Person, never required, always appreciated:
| | |
| --- | --- |
| Drivers: | $ 3 USD for Transfers or $5 for Full Day |
| Guides: | 10 USD for Full Day |
| Nile Cruise: | $10 USD per day for all the crew on board (give to the Reception Desk at the end of the cruise) |
PLANNING YOUR EGYPTIAN EXPERIENCE
Climate
Summer highs in Cairo range well into the 90's, while Aswan and Luxor may reach the 100's. Overnight lows average in the 70's during the summer. In the winter, temperatures in Cairo run around 70 degrees, with nighttime lows of around 50. Aswan and Luxor will be somewhat warmer during the day and cooler at night. The extremely low humidity makes the temperature feel considerably cooler than it is. Visitors are pleasantly surprised at how comfortable the temperature can be.
Visas and Passports
Visas are required for entry into Egypt, and are available from Egyptian consulates and diplomatic missions. In addition, passports should be valid for at least six months from the date of entry into Egypt.
Money
The Egyptian Pound (L. E.) is divided into 100 Piasters (P.T.), traveler's checks and major credit cards such as Visa and American Express are widely accepted at major hotels and restaurants.
Health Requirements
No inoculations are currently required for entry into Egypt from the United States or Canada. Tap water, raw food, unpasteurized milk and dairy products, fruit that one has not peeled personally and salads should be avoided.
Government and Economy
Since 1953, Egypt has been a constitutional democracy, with an elected president. Egypt's main sources of foreign exchange are oil, tourism, the Suez Canal tolls, agriculture and light and heavy industry.
Weights and Measures
Egypt is on the metric system. One kilometer equals .62 miles, and a quick kilometers-to-miles conversion method is to multiply the number of kilometers between places by 60%, which will produce a close approximation.
The country's electrical supply may vary from 220 volts, with standard European sockets and plugs, to 110 volts. Electrical converter kits are a good idea for travelers carrying electric appliances such as razors and hair dryers.
Holidays and Business Hours
Moslem holidays are observed in Egypt depending on the Islamic lunar calendar, which changes every year. It shouldn't affect your vacation plans unless you are going for business, then it's a good idea to plan around the holidays since many businesses and banks observe them.
Embassies and banks are closed on Fridays and Saturdays. Shops are generally open from 9AM to 8 PM, and are closed on Sundays. Main bank branches are generally open from 8:30 AM to 2 PM, Sunday through Thursday, while government offices are open between 7 AM and 2PM, Sunday through Thursday.
Shopping
Leather, gold, silver, copper, hand-made rugs, brassware and alabaster are among the buys to be made in Egypt's bazaars and shops. Travelers should be sure to haggle a bit to obtain the best price and to savor the experience of shopping in Egypt.
Recreation
Hotels commonly offer such sports amenities as tennis, swimming and fitness facilities. In addition, because of Egypt's three coastlines — the Nile, the Mediterranean and the Red Sea — there is an abundance of water sports, including Red Sea scuba diving and sport fishing particularly in the Nubia: Lake Nasser.
Time
Egypt is two hours ahead of Greenwich Mean Time, except during the summer months, when the difference is three hours. Greenwich Mean Time is 5 hours ahead of Eastern Standard Time.
Attire
During the day, lightweight cotton clothing is advisable year round. During the cooler months — November through March — a sweater, wrap or lightweight jacket will be welcome after dark.
Comfortable, durable shoes are advisable at any time for sightseeing and shore excursions. A hat to ward off the sun and a scarf as protection are always a good idea.
Egyptians tend to dress up when dining out or nightclubbing in Cairo's better restaurants and night spots, so travelers may wish to bring along some dressy clothing, depending on their itinerary.
Travelers should remember to observe local etiquette when visiting mosques. Women are requested to cover their arms, legs and backs, and not to wear halters or short sleeves. A scarf or other head covering should be worn by women as well, and both men and women must remove their shoes before entering a mosque.
Religious Etiquette
Once inside a mosque, visitors should be careful not to pass in front of worshipers. Visitors are advised to avoid mosques on Friday, since that is the Moslem Sabbath.
Camera Tips
Because much of Egypt is dry and sometimes dusty, travelers are advised to keep camera lenses protected with lens caps and to have a tote bag or case to protect the camera from the fine desert sand. It's a good idea to bring an assortment of filters and flash attachments to accommodate the contrasts between bright exterior sunlight and the dim interior light in tombs and excavations. It's also advisable to bring plenty of high-speed film, since flashes are prohibited in many temples.
Alcoholic Beverages
These are not included in the program. Wine, beer and other alcoholic beverages are generally available at most restaurants, hotels and other popular tourist spots.
Egypt is one of the world's oldest civilizations, with a history dating back thousands of years before the birth of Christ. At the same time, Egypt is a young nation, with a constitutional democracy which was founded in 1953. It is this combination of old and new that helps makes Egypt such a fascinating country.
Egypt is modern, air-conditioned cities side by side with the Pyramids, the Sphinx, the Temples at Luxor and many other astonishing wonders. Egypt is a boundless repository of unique sights, sounds and historical treasures. And Egypt is a traveler's delight, waiting to be discovered.
Located on the northeastern coast of Africa, Egypt has an extensive coastline on the Mediterranean and the Red Sea. Just a short flight from Rome, Madrid and other major European cities, Egypt is centrally located, and is convenient to Istanbul, Algiers, Tunis and many other Middle Eastern countries and cities.
A surprising large nation, Egypt has a population of some 63 million, spread over more than 600,000 square miles. And throughout the entire country flows Egypt's lifeblood, the Nile, the world's longest river.
Although Arabic is the official language, English and French are widely spoken.
Principal cities include Cairo, the capital and Egypt's largest city; Alexandria, the second largest city located on the Mediterranean; Luxor, home of the Temples of Luxor and Karnak; Aswan, site of the Aswan High Dam; and Giza, home of the three great pyramids of Cheops, Kephren and Mycerinos.
Egypt offers museums and antiquities unmatched anywhere else on Earth. The visitor can experience ruins dating back more than 5,000 years, diving in the Red Sea, dining in elegant restaurants or cruising through history on the Nile. It is truly a wondrous land creating lifetime memories for incentive winners and meeting attendees.
CAIRO, on the banks of the historic Nile, is one of the world's oldest and most fascinating cities. Founded more than 1000 years ago, Cairo is one of the five largest cities in the world. Its long tradition as a cultural, social and political center makes Cairo an exciting, intriguing destination.
Cairo enchants the visitor with the diversity of settings that make it a blend of East and West — ancient and modern. The domes and spires of famous Islamic mosques and Coptic churches glitter in the sunlight and dominate the city's skyline. Rich in history, Cairo and the nearby cities on the Nile offer a treasure trove of antiquities and museums that have awed travelers for centuries.
It is really two distinct cities: a modern city facing the Nile with skyscrapers, apartments, offices, theaters and smart shops. It is an ancient city of history, culture and traditions unique on Earth.
From the rich history of the Egyptian Museum of Antiquities…to the ancient pyramids and the sphinx…to the hustle and bustle of the ancient Bazaar…to the exquisite Citadel and towering mosques…to the diverse craft that ply the Nile to the dazzling nightlife…Cairo is one of the world's great treasures.
GIZA, Home to the famed Pyramids, Giza sits on the West Bank of the Nile and is today a suburb of Cairo.
Considered one of the wonders of the world, the pyramids of Cheops, Kephren and Mycerinos dating from the 4th Dynasty, about 2500 BC are located here as is the Sphinx. Giza is also home to a variety of business's and cultural resources as well as homes, parks, a zoo and a number of other entertainments. Today, Giza is a city over of 2 million people.
Information is subject to change without notice, particularly, exchange rates, prices etc.