El Bahariya and El Farafra Oases
Abu Simbel Temples Edition: A 14-day Egyptian Oases Tour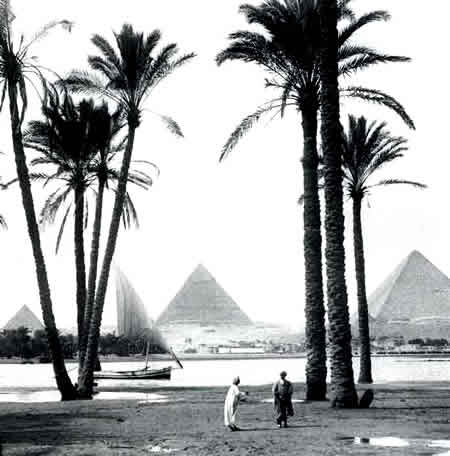 Here are all the splendors of Egypt, from the magnificence of the pharaohs to the glory of Western Sahara, The White Desert, El Bahariya & El Farafra Oases, and a private tour of the mighty Abu Simbel Temples. This itinerary includes a Nile cruise, of course, plus the attractions that most visitors miss. Weekly departure, year round, we have even included the tips.
Tour
DAY 1 – CAIRO – Tour operates: Weekly – Tuesday – Year Round
VIP Meet & Greet Service at Cairo Airport Upon Arrival.
Our local representative will greet you at the airport and whisk you to your hotel. Visa fee is included and will be issued upon arrival at Cairo Airport for: Australian, NZ, American, EU, Canadian & Japanese citizens. You are responsible for having your passport in order valid at least for 6 months beyond the date of your arrival in Cairo.
Visa will be issued upon arrival. As you exit the gate, you will pass through a door or two, down some stairs, then walk for 2-5 minutes, until you pass the duty free shops. At the end of a wide corridor, you will see the security officers. There you will be met by a local representative, who will be holding a sign with your name.
Our local representative will then take your passport to obtain a stamp from the cashier / bank window and escort you to speak with the passport officer. He will escort you through another last check on your passport as you exit the passport control, into customs area, he will assist you in collecting your luggage and clearing customs. After exiting the terminal, our local representative will escort you (private vehicle) to the hotel.
DAY 2 – CAIRO- Wednesday (BL)
Today you'll explore the wonders of the Egyptian Museum, with its treasures of the ancient pharaohs: mummies, statuary, and precious stones and metals. Travellers have long come to Cairo just to gaze on these sights, but your day includes much more. You'll see the Solar Boat Museum, and in Giza, on the edge of the desert, you'll view the mysterious Sphinx and the Pyramids. In the evening we return to Giza for the Sound and Light Show (Bring a jacket or light sweater).
DAY 3 – CAIRO El Bahariya Oases – Valley of the Golden Mummies – Thursday (BLD)
Early morning departure before sunrise to be able to watch the sunrise over the Sahara. We board a private air conditioned coach or four wheel vehicle (depending on the number of guests) and proceed west on the Sahara Highway, (180 Kilometers from Cairo to El Bahariya), visiting Qaser Sleim, Alexander Tomb & Museum of Golden Mummies. Lunch and Dinner at the hotel: Hotel Palm Village Bahariya Oases, Desert Rose Eco Lodge, or Beshimo Lodge, or similar. Evening Bedouin folk show.
DAY 4 – El Farafra Oases (White Desert) – Friday (BLD)
After a morning tour of El Bahariya we head for the White Desert (180 Kilometers), on the way we'll stop ay Crystal Mountain to marvel at the different Shapes of Lime Stones, arrive Farafra Oasis, where we will camp for the night (in a tent), dinner will be camp style. This tour may not be suitable for families with children who may not be used to camping, and the lack of hotel amenities. Guests must show proof of insurance before embarking on any camping trip with us regardless of the destination be it Moroccan Sahara, Tunisian Oases or the Egyptian Western Desert or in Sinai. BBQ dinner at the White Desert.
If you prefer to stay at a hotel then we'll return back to El Farafra Oases and Badawiya Hotel.
DAY 5 – CAIRO – Saturday (BLD)
Early morning camp style breakfast before sunrise, drive back to Cairo (380 Kilometers), and your hotel. Remainder of the day at leisure. Lunch box including bottled water and fruit. Dinner is included at your hotel.
DAY 6 – Medieval CAIRO, Sunday (BLD)
Today, we'll get to know more of Cairo, both historic and contemporary. We'll set off for Khan el-Khalili, the labyrinthine bazaar district with its array of spice shops and clothing merchants and purveyors of baskets and brass ware and a thousand other specialties. We'll also stop at the Citadel of Saladin, the Alabaster Mosque, Sultan Hassan Great Mosque, a true master piece. The afternoon is devoted to seeing more of Islamic Cairo's sights: Ibn Touloun Mosque, City of the dead with it's architectural treasures from Medieval Cairo and more contemporary Ottoman Times, Including Khedive's tombs and Qait Bey. Lunch is included at Abu El Sid restaurant or similar.
Evening buffet dinner at Zeitouni restaurant at the Four Seasons Hotel in Cairo. Zeitouni. Authentic Lebanese flavours come alive in Zeitouni, 24 hours a day. An extensive buffet display situated in front of the restaurant's open kitchen offers breakfast, lunch and dinner. Guests enjoy premier views of the Nile from large picture windows. Secluded alcoves, featuring contemporary wood décor, provide a more intimate dining alternative.Specialties: Guests enjoy a wide range of authentic Lebanese specialties such as breads, mezzes and grilled dishes, prepared by a team of gourmet Lebanese chefs.
DAY 7 – LUXOR – Nile Cruise – Monday (BLD)
Good morning, a very early morning breakfast, before we head for the airport to board your flight to Luxor! Upon arrival, we proceed to cross the Nile to the West Bank to visit Deir El Medinah, where you get a totally different perspective on ancient Egyptian life, at the ancient workers' settlement of Deir el-Medinah. While most of the imposing stone monuments and sites of Egypt honor the lives and after-lives of royalty, Deir el-Medinah gives us unique and surprising insights into the ordinary citizens who constructed and decorated the tombs.
Here we'll see the excavated homes shared by laborers with their domestic animals. These quarters were surprisingly large, with three good-sized rooms, courtyard, kitchen, and even storage cellars. While ancient Egypt might not have been a workers' paradise, we'll see that artisans and builders were highly regarded in their community. We are proud to be the only operator to offer regular visits to this singular ancient settlement in its tour and cruise programs, on to Medinet Habu and the Ramesseum, then proceed right to our Nile cruiser for check-in and lunch. A complimentary fruit basket awaits you in your cabin. In the afternoon we'll set out for the imposing Great Temple of Amon at Karnak and the Temple of Luxor. Cruise itinerary and the order in which you visit the different sites is subject to change even on a last minute basis to accommodate heavy traffic on the Nile and going through the locks in Esna.
DAY 8 – VALLEY OF THE KINGS – Tuesday (BLD)
We'll set out across the Nile to view an array of ancient splendors: the tomb chambers of the Valley of the Kings including King Tut's tomb, on to the imposing tomb-temple of Queen Hatshepsut in the Valley of the Queens, stop at the Colossi of Memnon before we head back to the boat.
Picture yourself on a camel in the fabled Valley of the Kings!
The Valley of the Kings and Deir El Bahari are essentials for anyone visiting Luxor. And Travel in Style is one of the few companies that includes King Tut's tomb on every tour—without exception, and without surprises. (Others leave it to you to make arrangements and pay up on the spot at an additional charge to see this not to be missed attraction.)
And now we also offer the experience of conveyance by camel!
You'll mount your caravan in the famous Valley of the Kings after your descent to the Tomb of Tut, and with your select group of companions and skilled drovers, proceed over the sand and rocks and hills, gently swaying in the manner of desert travelers of long ago. Have no cares! These sure-footed beasts have evolved to tackle this very terrain, and you'll soon relax into the rhythm of their gait, and the tranquility of another era, as you regard the desert vistas of multi-hued hills and ancient temples from a privileged perch and breathe the pure air.
You—or your children—can choose to ride atop a horse, or even a donkey. It's entirely up to you to make it the most fun!
Your caravan concludes after half an hour at the Temple of Queen Hatshepsut at Deir El-Bahari.
Of course, it's your choice to travel in the traditional desert manner, or to continue in the air-conditioned vehicle that brought you to the Valley. Should you decide to dismount early, your vehicle is always at your disposition. You'll want to give the caravan a try.
There's no additional charge for your royal caravan, only an additional measure of fun! Must request this option at the time you book your reservation with us.
DAY 9 – ESNA, EDFU – Wednesday (BLD)
We'll make our way up the Nile during the night. After breakfast, we'll proceed through the Esna locks, and on to Esna itself. Horse-drawn carriages meet us at riverside to take us to the Temple of Horus, best-preserved in all of Egypt. While we continue our sail up the Nile in the evening, we'll party in Egyptian style. You might well have bought a galabia, the flowing national dress. Now's your chance to wear it!
DAY 10 – KOM OMBO, ASWAN – Thursday (BLD)
Soon after daybreak, we'll disembark at Kom Ombo to explore the twin temples of Haroeris, the sun god, and Sobek, the crocodile god, then continue our voyage to Aswan. All the while, you will have seen feluccas sailing the Nile. Now we'll experience Egypt at its most authentic, as we sail in one of these graceful craft. To really immerse yourself, try your hand at camel riding! We'll take willing passengers on a traditional caravan to enjoy tea with Nubian villagers.
DAY 11 – Aswan / Abu Simbel / CAIRO, Friday (BL)
In the morning we check-out form your cabin. Tour the awesome Aswan dams, and next an ancient granite quarry complete with an unfinished obelisk. Then we go by motor launch to the island temples of Philae, dedicated to the Ancient Goddess ISIS.
We proceed to the airport of Aswan, where we'll board a plane to fly southward to Abu Simbel, where your private air-conditioned vehicle and private guide will be waiting for you. Lunch box and bottled water will be provided by your chef on board.
In the larger temple dedicated to Ramses the Great, colossal figures of Ramses are seated with the gods and attended by his queen and daughters. The smaller temple is dedicated to Queen Nefertari, who appears as Hathor, the goddess of love, joy and fertility, symbolized by the benevolent cow. We explore these fine temple then fly back to Aswan in time for the connection back to Cairo and your hotel, transfers are ALWAYS included and are on a private basis.
Jacquie Kennedy & Abu Simbel:
All Americans alive during the 1960s remember President John F. Kennedy and First Lady Jacqueline Bouvier Kennedy. Most Americans from that time also remember Abu Simbel, the dramatic, ancient Pharaonic temple threatened by the rising waters blocked by the new Aswan High Dam. It's worth remembering that it was Jacquie Kennedy who provided crucial support for the mammoth rescue project. Without her help, Abu Simbel might have been lost. Read More
DAY 12 – Pharaonic Giza, Saturday (cBL)
Today we tour Memphis and Sakkara, including the Step Pyramid of Zoser & Nobles tombs/Mastabas, The Serapeum, Unas, Pyramid of Teti and key Mastabas.
In the afternoon the tour takes us to Dahshour, the pyramid field south of Cairo – only-opened few years back after Sadat signed the peace treaty with Israel, and the Army let go of this strategically "important" area.
DAHSOUR – we'll motor to the edge of Cairo, to Dahshour, the newly-opened pyramid field south of Cairo. We visit the great pyramid of Senfru, father of Cheops, and other structure:
The "Discovery" of Dahshour:
For almost half a century, the great field of huge pyramids near the desert village of Dahshour, 25 miles south of Cairo, has been off limits to the public. Confined within the perimeter of a military base were many pyramids, including the great 4500-year-old pyramid built by Senfru, father of Cheops. Senfru's pyramid, the largest in Egypt until his son built Giza's Great Pyramid, is rhomboidal in shape: it tapers more distinctly on its upper half. All the pyramids were coated in thick plaster at one time. Most have lost these protective, decorative sheaths, but Senfru's — miraculously — is still in place. We'll tour as well the famous "Bent" Pyramid.
DAY 13- CAIRO – Home Hosted Dinner – Sunday (BL)
The Culture of Cairo
Today we'll explore deep into the heart of Cairo, and get to know its daily rhythms, its spirituality, its history, and its modern diversions. We'll start early, with a visit to a local market, with an immense variety of seasonal fruits and vegetables on offer, both familiar and exotic.
You'll see that shopping in Cairo goes far beyond a supermarket experience. Be prepared for whispers, gestures, shouting, and controlled chaos. It's all part of the bargaining process, engaged in by women in traditional modest garb as well as others in Western dress.
Then it's on to the newly restored el-Darb El Ahmar site. We'll continue to the Gayer-Anderson House, a serene and classic domestic oasis, right down to its central fountain and exquisite furnishings. Our visit is also a journey into a vanished way of life—the residence is actually two traditional medieval Cairo houses restored by an English physician to a former king. We'll stop for lunch at Naguib Mahfouz restaurant (or similar, then visit the Bab an-Nasr, the Gate of Victory in Cairo's old walls. You'll even see graffiti that survives from soldiers of Napoleon and of the British Empire, among the many who passed this way.
Complimentary Dinner is included at a local home:
Meet the locals: This evening we'll venture where few ordinary visitors ever tread… right into the homes of some of the people of Cairo! You'll be invited to a family dinner, and while you enjoy wholesome home-cooked specialties, you'll learn about and appreciate the outlook, aspirations, and way of life of your hosts. Be assured, as curious as you may be about your new friends, they're sure to have questions about your own background. Once the ice is broken, you'll enjoy a lively evening, and find that you have more in common than you ever suspected. Of course, if you prefer, you may enjoy a quiet evening with your travel companions by letting us know your preferences. You may wish to bring token gifts to exchange with the host family (T shirt, small souvenirs of your home town).
DAY 14 – RETURN HOME – Monday (B)
After breakfast, our Cairo staff will accompany you to the airport, where you'll board your flight to start your journey home.
Rates per person in US$

Deluxe

First Class

Triple

US$ 4255.

US$ 3905.

Double

US$ 4360.

US$ 4010.

Single

US$ 5405.

US$ 5140.
Rate includes:
Domestic air in Egypt as per itinerary, in economy class
Sightseeing with guide and entrance fees as indicated.
Meals as indicated, preset menu (B:Breakfast, L: Lunch, D: Dinner).
All ground transportation to and from airports and while touring overland.
Hotel accommodations with tax.
Cabin on Nile cruise vessel, with all meals & shore Excursions. Cruise embarkation is from Luxor or Aswan. Your Nile Cruise will always Include:
Complimentary welcome drink upon arrival on board the Nile Cruise.
Complimentary welcome fruit basket on board the Nile Cruise.
Large bottle of water (per person) delivered to you cabin daily while you are on board the Nile Cruise.
Tea or coffee an bottled water with each / every meal while you are on board the Nile Cruise.
Visa fee is included and will be issued upon arrival at Cairo Airport for a limited number of nationalities such as: Australian, NZ, American, EU, Canadian, Mexican, South African & Japanese citizens. You are responsible for having your passport in order valid at least for 6 month beyond the date of your arrival in Cairo.
VIP Meet & Greet Service at Cairo Airport Upon Arrival.
Not included:
Trip interruption and cancellation insurance.
Personal expenses.
Tips.
International air fare, from / to your home country
sample Hotels or similar:
El Bahariya: Hotel Palm Village Bahariya Oases, Desert Rose Eco Lodge, or Beshimo Lodge, or similar.
El Farafra: Tent / Camping (please click for info on your camping experience)