A 12 day Adventure Tour of Tunisia
Including a one night camping in the Sahara
We'll take you through Carthage, Dougga, Thuburbo Majus desert oases, curious troglodyte dwellings, and Matmata Oases. Experience the exhilaration of the motorized Sahara caravan and a short camping experience. Visit a Roman amphitheater, a medieval synagogue, and unspoiled beaches. You'll appreciate the breathtaking beauty of a land that has drawn wanderers over the centuries. This is a Private Tour. Choose Your Own Date!
Tour
DAY 1: TUNIS – Daily – Year Round – This is a PRIVATE TOUR – Choose Your Own Date
Our local staff will meet you upon arrival at Tunis Carthage International Airport. You'll be assisted with the formalities and escorted to your fine hotel. There will be time to relax and recuperate from your journey and enjoy the excellent facilities. If you wish, you can adventure into the center of Tunis to start your exploration of the winding alleys of the souk, filled with treasures of beaten brass and basketry and carpets, and merchants who will welcome you with traditional mint tea. Private transfers at all times. Private vehicle, private chauffeur.
DAY 2: CHARTAGE, SIDI BOU SAID – Hammamet – (200 + Kilometers)
Private vehicle, private chauffeur (BLD)
After we tour and visit the Bardo Museum, to view the most extensive Roman mosaics in the world, we'll then head for the Medina, the old quarter of the city, with its warrens of shops filled with wares ranging from humdrum to exotic. After lunch at a fine local restaurant we head out of Tunis to marvel at the ruins of Carthage, a true metropolis of the ancient world, as evidenced by its theater, circus, Thermes baths of Antonus, the Punic Port installations, the Colisieum and extensive urban plan, then speed forward in time to the middle ages, as we visit the picture-perfect Moorish village of Sidi Bou Said. With its whitewashed walls and narrow laneways, it's the perfect setting as we stop for traditional mint tea. Back to Tunis.
DAY 3: THUBURBO MAJUS – DOUGGA – Hammamet – Private vehicle, private chauffeur (BLD)
After breakfast we'll set off on a drive through Hammamet, a cosmopolitan port where sun-worshippers from all over who happily coexist with fishermen and traditional ways, and head out as we start our full day to Dougga and Thuburbo Majus. Lunch is included at a modest yet charming local hotel's restaurant in Dougga: Hotel Thugga. After lunch we head to Thuburbo Majus. This town of Libyan and then Punic origin sided with Carthage and thus had to pay a tribute to Rome. Thuburbo Maius reached its apogee in the 2nd c with 10,000 inhabitants and and impressive array of of monuments: the forum, built in 161-2, the capitol (168) and a number of temples (Temple of peace, Temple of Mercury, Temple of B'a alat, Temple of Caelestis, Temple of Saturn) of which one later became a basilica. We'll tour as well the market, Roman bath and the amphitheater. We'll enjoy lunch at a local restaurant before proceeding to Dougga: A Numidian city, mentioned in the 4th century B.C. By Diodorus the Sicilian as Tocai, tukka was from the 2nd to 1st century B.C. One of the residences of the Massyle Kings (MASSINISSA, MICIPSA, JUGURTHA). In Roman times the municipal land was split into two parts; the Numidian city, and a pagus (rural area) under the authority of Carthage, Whole again, thugga was a municipium in 205 and honorary colonia in 261. With some 5,000 residents, thugga had a municipal bourgeoisie which endowed her with a number of rich monuments. The monuments are incredibly well preserved, allowing us to imagine the infrastructure this small Proconsular town possessed: 12 temples, 3 of which were transformed into churches in the 4th Century , 3 Roman baths, numerous fountains, aqueducts and more. Thugga slowly lost its glory, though it still enjoyed brief periods of revival in the 3rd, the 4th and 6th centuries (Byzantine fortress). Though it was never deserted, archaeological research required the removal of its residents to a new Dougga lying below classical thugga. Return early evening to our hotel in Hammamet in time for dinner.
DAY 4: HAMMAMET, EL JEM, SFAX , GABES, DJERBA – Private vehicle, private chauffeur (BLD)
After breakfast we'll set off to El Jem which boasts a Roman coliseum very similar to the famous one in Rome. Our busy day continues with a drive to SFAX. Stop to visit the Medina and lunch at HOTEL AMIN (2-star) in SFAX. After lunch we press on to the coastal city of Gabes, a Roman outpost of old and a traditional market center where, for centuries, goods from across the sea and across the desert have changed hands. We'll visit the oasis, where palm groves and gardens flourish. We'll then cross to the Island of Djerba and your hotel and where dinner awaits you. Djerba is the island where Ulysses once encountered the legendary Lotus-Eaters.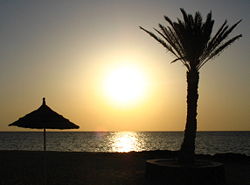 DAY 5: Tunisian Sun. Tunisian Riviera – Djerba – Private Guide (BLD)
Today we explore the old quarters, including the synagogue of Hara Sghira, Hara Kebira with its modern Jewish community, and Guellala, with its craft stalls, and to see the waterfront and fishing fleet, and the lively town of Houmt Souk. After a lunch stop (included), we'll head back to the hotel, or enjoy the afternoon as you wish and head back to the hotel on your own. Dinner is included at the hotel.
Day 6: Djerba, MEDENINE, TATAOUINE, MATMATA – Private vehicle, private chauffeur (BLD)
After breakfast at the hotel we'll head southward, in our well-equipped vehicles, crossing the short distance to the mainland of Tunisia, to follow the route of an ancient Roman highway to Medinne and Ghorfas. We'll have the opportunity to look in on the ways of the Berbers, the most ancient of North African peoples. Lunch will be at Tatouine in Hotel Sangho Priviliege Tataouine (3-star), In the afternoon, we'll visit the village of Chenini, deep in the midst of palm groves past the Chella falls, and Ghomrassen, before we reach our stopping point for the night, Matmata, and dinner at the Hotel Diar El Barbar (4-star) (www.diarelbarbar.com), or similar.
DAY 7: MATMATA, DESERT CAMP – PANSEA Ksar Ghilane – Private vehicle, private chauffeur (BLD)
Our route today takes us through a terrain of increasingly sparse grasses and shrubs into the desert. We'll stop to look in on a community of miniature underground houses, where the earliest settlers sheltered from the extremes of the desert above as do the Berbers of today. Then into the Sahara and to Ksar Ghilaine, we'll stop for lunch, and check-in at our camp and then have a leisurely afternoon to look around on our own such as visiting the hot water sources in Ksar Ghilane and enjoy a camel ride tour. In the evening, we'll establish camp, CAMPEMENT PAN SEA (4-star) (www.pansea.com) and witness the desert sunset and the infinite night sky. We'll savor a dinner prepared in the PANSEA camp, then rest soundly in the cool night, camp style modest meals for today.
A shimmering mirage awaits you in the Tunisian Sahara – nestled at its own oasis in the midst of the Sahara desert in southern Tunisia, offering its charm and shade, its spring and the whispering waters of its seguias: Pansea welcomes you to this hospitable land of colours and contrasts, spices and scents. Your private oasis in the Sahara.
DAY 8: Ksar Ghilane, DOUZ – Private vehicle, private chauffeur (BLD)
Our route takes us through terrain of increasingly sparse grasses and shrubs into the desert. We'll enjoy a full day of desert adventure visiting the village of Zaafrane, Douret and Chennini,; then proceed to Douz, fabled as the Gateway to the Sahara. Check in at our hotel and enjoy lunch: Hotel EL Mouradi Douz 4-star (www.elmouradi.com) (Best available as there are no 5-star hotels in DOUZ). Afternoon tour of the medina of DOUZ, then on to Kebili, largest of a cluster of oases, islands of life in a harsh landscape. There a special treats awaits – the opportunity to sample a caravan trek! This close encounter with a camel is entirely at your option (additional $$ for the camel ride)! Dinner is of course included at your hotel.
DAY 9: Chott El Jerid – Nafta – TOZEUR – – Private vehicle, private chauffeur (BLD)
We set off across the Chott El Djerid, a great dry salt lake, for Tozeur. Here, we'll wonder at the ancient irrigation works. We'll learn more about oases today. Despite the dryness of its surface, great aquifers underlie the Sahara. Where they spill their riches out in springs, they create the green havens of Tunisia's oases. We'll see a dramatic example as we explore the irrigated fields around Tozeur. Continue on to visit the palmerai of NAFTA and the ONG EL JEMEL 's site. We'll return to Tozeur late afternoon. Check in and enjoy lunch at Hotel El Mouradi 4-star, or HOTEL DAR CHRAIET 5-star (www.darcherait.com). After lunch we will motor overland to the great mountain oases of Chebika, Mides and Tamerza (in a 4 wheel drive).
You can choose to enjoy the unique desert resort comforts at your hotel or you might decide to wander the streets of Tozeur to look in on daily life, admire the classic North African houses built around patios on terraces above a river fed by springs, and shop for baskets and capes of camel hair. Dinner is included at the hotel.
DAY 10: TOZEUR, GAFSA, SBEITLA, KAIROUAN, TUNIS – Friday – Private vehicle, private chauffeur (BLD)
We'll delve more into Tunisia's rich and varied past today, as we motor overland through pleasant, rolling coastal lands. At Gafsa we'll see the Roman pools of Capsa, the ancient crossroads between desert oases and the cultivated coastal lands. Lunch is included at Hotel Juguratha Palace 5-star. We'll wonder at the Roman ruins of Sbeitla, Museum (it closes on Monday).
Later in the day, we'll reach Kairouan, an ancient, holy, and vibrant city noted for its historic mosques and centers of learning. Kairouan also is noted for its souk, and the crafting of carpets and leather goods. Of course, there will be time to check out these wares. Dinner and overnight at Hotel LA Kasbah 5-star (www.goldenyasmin.com) in KAIROUAN.
Day 11: KAIROUAN – MONASTIR –SOUSSE – TUNIS (BLD)
After breakfast we tour the old Medina of Kairouan, the great mosque and the Aghlabythe Pools of Kairouan before we head for Monastir  where lunch awaits us at Hotel Vime Helya Beach 4-star. After lunch we tour the Medina, the Mausolée of Bourguiba and the Ribat of Monastir. Then we will go on to the nearby mediterranean town of SOUSSE and visit the Ribat and the Port EL Kantoui. We continue on to Tunis where dinner awaits us at at Hotel Tunisia Palace (4-star) (www.goldenyasmin.com), or Hotel Golden Tulip Chartage (5-star).
DAY 12: DEPARTURE – Monday – Private vehicle, private chauffeur (B)
After breakfast our local personnel will escort you to the international airport, where you'll start your homeward journey.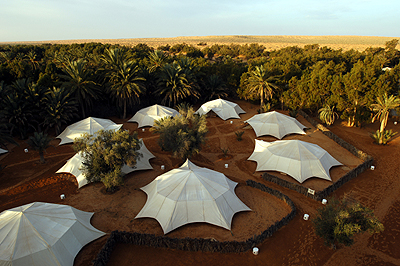 RATES per person in US$
Category A:
Sharing in Double or triple Occupancy:
$ 3688. USD
In Single occupancy:
5113 . USD
5-star Hotels:
Category B:
Sharing in Double or triple Occupancy:
$ 3379. USD
In Single occupancy:
$ 4880.USD
4-star Hotels:
 For Dec 20- Jan 3: Please add 20% to any of the listed rates
Prices include:
Round-trip transportation between airport. Always on a private basis, private air-conditioned vehicle, private chauffeur.
Hotel Accommodations as listed, with private facilities, plus the camping night.
Meals as indicated from preset menu (B = breakfast, L = lunch, D = dinner).
Private guided sightseeing as indicated in air-conditioned coach, including all admission fees.
Not Included:
International air transportation.
Any meal not specifically mentioned beverages, and personal expenses.
Gratuities for local personnel.
Travel insurance
Airport taxes.