The True Magic Kingdom
My husband and I have just returned from a fabulous trip to a magical country, Morocco. We had a great itinerary that took us to completely different types of cities and geographical areas so there was no redundancy. We started i
n Marrakesh, went to the mountains then to the sea and ended in Fez. The people of Morocco are the kindest and most caring people. Our private guide and driver made the the trip seamless. – Kathy and John. Click here for more photos from Kathy and John's trip.
Getaway to the kingdom of Morocco, a beautiful, peaceful land graced with arabesque palaces, where the local people dress in flowing robes. An exotic land, but one which has adopted the French tradition of elegant hospitality and refined cuisine.
The kingdom of Morocco has a tradition of sumptuous royal hospitality spanning the centuries. We take you to the kingdom's most famous cities, accommodate you in palatial hotels, host you with cuisine fit for royalty, and provide a full array of activities and excursions.
Renew your vows in Morocco. WE can arrange for your Wedding ceremony in Morocco.
Join us for a week in the Sahara, or just one night Luxury camping as part of your one week stay in Morocco. It's a getaway to someplace that's different, with lots to see and do, good beaches and shopping, and excellent cuisine.
Someplace exotic and adventurous perhaps, with a bit of romance, but not too far away. Someplace you'll be pampered. European travelers have already discovered Morocco, and favor it for these very reasons. And though it is exotic, flying time from New York to Casablanca is shorter than to London, or Paris, or even to many Caribbean islands.
If you enjoy exotic surroundings, familiar luxury, sumptuous dining, seaside excursions, swimming, golf, relaxing in a Jacuzzi, sauna or Turkish bath, then come with us, and experience the Royal Pleasures of Morocco.
Tours
Morocco & Egypt Tours
Explore the two gems of North Africa – Morocco and Egypt – on this grand 11-day North Africa dream vacation. Tour to Casablanca, Marrakech, Cairo and Luxor. Journey by train across the Moroccan countryside.
Explore the two gems of North Africa – Morocco and Egypt – then on to explore the splendors of Israel and Palestine, on this 16-day tour. Visit Casablanca, Marrakech, Cairo, Jerusalem and Luxor!
Undercover Tourist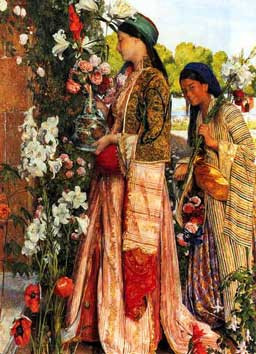 You've heard the expression "fly on the wall." Well, what would it be like to be a fly on the wall in Cairo, or Morocco, or Jordan? You'd dress in the manner of locals, in a flowing robe. Ladies, we'd help you apply some henna to your hands, and lend you a scarf. Do you have some leather sandals? Put them on! Though running shoes will do in a pinch as local gear.
Then it's off for a walk to a market. Pretty soon, you'll adjust your gait to your clothing, and shuffle rather than stride. You'll pick up cues from those all around you. Leave the backpack at your hotel. we'll hand you a straw basket or cloth bag in which to carry your purchases.
Will you be taken for a local, offered the prices that natives pay, be able to enter unobtrusively and unobserved? Well, let's just say that you won't stand out like a tourist in shorts and a Hawaiian shirt with red face and arms bared. You'll go farther into the local ways than you would have otherwise. When you sit down for a cup of tea with a merchant, you'll fell more genuinely part of the experience, and bargaining for the best price of a work of art, a rug or a homely teapot will come that much more easily. And just as you learn about different cultures through their food and language and manners, you'll surprise yourself at how far you get and what you pick up by dressing up in the local manner.
And most of all, it's fun! We'll lend you everything you need for a half-day outing. Chances are, you'll want to buy a robe yourself and set out again on your own. Please book at the time your reserve your tour with us.
What other guests say about our service in Morocco
Lebes (Berber greeting) or sbah ikheer (Arabic for good morning)!
Spring break is about over and it's back to work tomorrow. It will be a shorter week at CAS for me because on Thursday I'll be leaving for the Optimal Match Conference (SPED and Technology) in Rabat. Last year I attended the conference in Madrid, Spain. I'm eager to see if the teachers from Rome, Paris, and Barcelona who I met last year will be attending this year. It is great to network with other teachers and find out about their programs plus hear about new and innovative strategies. The presenters are from the US.
Paul is currently enroute between Casablanca and Amsterdam with arrival due in the US at about 5:30 tonight and then back to work for him tomorrow. We had a fantastic week of touring and seeing more of Morocco – a truly remarkable country with beaches, mountains, deserts, and everything in between in a relatively small area. Paul will send from his email account a number of pictures which might give you an idea of our experiences this past week.
Trekking in the Amizimiz area while seeing the Atlas Mountains with its picturesque landscapes and Berber villages was quite remarkable. Our guide Said served us Moroccan tea and a lamb tagine for lunch in his home. As you can see from the photo they also decided to dress us up in the typical Berber attire for lunch.
We continued on with the drive through the High Atlas Mountains crossing through the Tizi N' Tichka Pass and descended down through the Draa Valley stopping to see ancient Kasbahs (fortified palaces) and to the caravan-town of Ouarzazate (movie site of The Mummy, Black Hawk Down, Babel, Syriana, Lawrence of Arabia, etc.). Enroute we stopped to hike up Ait Benhaddou and up the sandstone hill which has been the site for a variety of movies including Gladiator. People still live in this UNESCO World Heritage village including Uemna and her husband. She invited us in to see her cave dwelling in the side of the hill and shared delicious home-grown almonds.
Our next two nights were spent in the desert. The first night was at Zagora and in the middle of a sandstorm. Paul thinks that I probably have never been so grouchy upon awaking in the morning after a night spent trying to breathe while attempting to sleep in our nomad Berber tent amongst a haze of blowing sand. I think that the sand is all out of our ears by now. The next night after some fun camel riding we enjoyed a night on the Merzouga Desert in a deluxe tent under the stars. Both nights we had our own private concert with talented musicians and dancers entertaining us with traditional Gnaouan music and delicious Moroccan cuisine.
It was interesting to study the information displayed on Paul's GPS in the mountains, deserts, etc. In the photo you can see our Moroccan friend and Paul discussing the merits of such equipment. We read in one of the tour books that it is difficult for tourists to locate their reserved auberges (lodging accommodations) or tent sites and that they are encouraged to call ahead for the GPS coordinates in order to locate the correct place in the Sahara Desert.
Riding out into the golden dunes near Merzouga on camels to see the sunset was so much fun while watching four-wheel-drive vehicles zipping up and down the sand dunes (some in preparation for the Dakar Rally). All too soon it was time to start the travel back to Casablanca via Fez. On one of our stops we fed peanuts to the Barbary apes near Ifrane.
Staying in the Riad Dar Al Andalous was an experience of seeing more of the history and culture of Fez. Here we had one more example of the challenges of communication in a foreign country. Paul asked if he should pay for a Coca Cola and before he knew it he was being enthusiastically escorted into the kitchen to meet the 'cook' (Coke)
Living and visiting in an international setting is truly an exciting and stimulating experience.
A week after leaving Casablanca via train we arrived back in Casa with our very informative and helpful driver Hamid. Now, we have the memories and the pictures (and a few souvenirs) to enjoy of this adventure in another area of incredible Morocco.
Our time in Morocco is fast approaching an end with one last trip before returning home to Minnesota. At this point we are thinking of exploring more of Spain and the Moroccan coast of the Mediterranean.
M'a ssalama (goodbye – Arabic)
Paul and Dixie