A 10-Days Tour of Morocco
Including 2 nights camping in the Sahara
The Dunes and Kasbahs of Morocco
Explore the historic kasbahs (fortresses) and natural alpine beauty of southern Morocco's mighty High Atlas Mountains on this 11 day tour to Marrakech, Ouarzazate, Zagora, Erfoud, and Berber villages at the edge of the Sahara Desert. This tour starts weekly on Sundays, year round.
Tour
Day 1 – MARRAKECH – Sunday – Weekly – Year Round
Welcome to Marrakech! We escort you to your hotel, a welcome mint tea & fruit basket awaits you at your hotel. Remainder of the day at leisure. Prefer to start in Casablanca? please click here.
DAY 2 – MARRAKECH TREKKING- Monday (BLD)
After breakfast in you hotel, leave to Amizmiz, 54 Kilometers from Marrakech. On the way you will see the Oumnast Kasbah then the Lalla Takerkoust Dam built between 1929 and 1935 with it man made lake. It will take you about an hour to reach Amizmiz, a typical Berber village, we tour the Kasbah and the "Mellah" (Jewish quarter). Every Tuesday an important country market is held, where all the villagers from the area come for their weekly shopping and gossiping… There you can buy interesting Regragra potteries. Your guide will welcome you in his home for a traditional Berber breakfast then you will start your hiking first through Sidi Hossein valley to reach Tizi Oughourane. On the way you will see picturesque landscapes of the Atlas mountains and Berber villages with their houses built in stone and earth. After a typical lunch accompanied by mint tea, you will come back to Amizimiz by a different itinerary and be transferred back to busy Marrakech by late afternoon. Remainder of the day at leisure. In the evening enjoy a delicious Dinner & music at a Moroccan restaurant.
DAY 3- OUARZAZATE Tuesday (BLD)
This morning we take a closer look at Marrakech's most important historic and architectural wonders: the Koutoubia Mosque, the Saadian Tombs and the Bahia Palace. In the afternoon we hit the road, climbing through striking alpine scenery into the High Atlas Mountains, crossing to the southeastern side of the range via the Tizi N'Tichka Pass (7415 feet). We descend to the Draa Valley, dotted with ancient kasbahs (fortified palaces), to the caravan-town of Ouarzazate at the edge of the mighty Sahara Desert.
DAY 4 – ZAGORA – TAMEGROUTE Wednesday (BLD)
Starting bright and early, we traverse the Draa Valley with its six palm forests forming grand ribbons of greenery across the flat valley floor. Thanks to the proximity of the river, cereals, henna, vegetables, fruit and date palms are cultivated, either on the floor of the valley or on stepped terraces. We arrive in Zagora around noontime. After lunch, we embark on an excursion to Tamegroute to view the illuminated Korans, with holy verses inscribed on gazelle-skin parchment, the oldest dating from the 13th century. We'll also visit the Potters' Yard and huge Tinfou Dune before returning to Zagora, change our mode of transportation to 4 wheel drive jeeps: on our camp site for tonight, we enjoy a one hour camel trek before sunset. Dinner and overnight under the stars (Camping – Bedouin Tent)
DAY 5 – ERFOUD, RISSANI & MERZOUGA/ Camp- Thursday (BLD)
Today it's off to Erfoud through a dramatic landscape of "regs" (rocky tables), small mountains and oases, each with its small Berber village. In the early afternoon we arrive in Rissani, the cradle of Morocco's royal Alaouite dynasty, to admire the exterior architecture of the Mausoleum of Moulay Ali Cherif, and to take a tour of the Abou Aam Ksar (fortified village). In the late afternoon we head out by camels to our camp sites and the golden dunes of Merzouga. Watch the sunset over the pastel-colored Saharan dunes, Dinner and overnight under the stars (Camping – Bedouin Tent).
DAY 6 – TINERHIR, TODRA GORGE & OUARZAZATE Friday (BLD)
Enjoy a pre-dawn camel ride to the Dunes to watch the sunrise, then we change our mode of transportation and drive through the beautiful Valley of a Thousand Kasbahs to Tinerhir. A former military outpost built on terraces above a magnificent palm grove, Tinerhir stands at the entrance to the Todra Gorge, framed by awesome thousand-foot-high cliffs which make you think that you're "at the ends of the Earth." From Tinerhir we proceed past a series of great kasbahs to Boumalne du Dades, a large town at the foot of the gorge to Skoura. Beyond Skoura, the desert palms give way to orchards and irrigated gardens. Roses are the specialty of El Kelaa des Mgouna. The rose oil is sent to Paris to be made into perfume by Yves Saint-Laurent. Do some "rose" shopping here–rose water, body milk, and dried rose petals before returning to our hotel in Ouarzazate.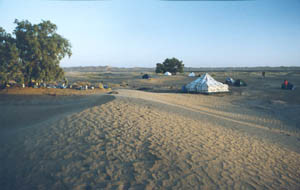 DAY 7- MARRAKECH Saturday (BLD)
We drive back to Marrakech over the High Atlas, admiring the majesty of towering Djebel Toubkal (13,665 feet). In the afternoon, drive to the ancient Kasbah complex of Ait Ben Haddou, and impressive 11th century site that 's now declared as a historical treasure by the UNESCO. A photographer's wonderland, Ait Ben Haddou remains home to five families.
In Marrakech we tour the city by "caleche,"; the traditional horse-drawn carriage: a romantic first look at this fabled metropolis, discover Marrakech's teeming, labyrinthine souks (bazaars) with their hundreds of tiny little shops, and Djemaa El Fna square with its medieval circus atmosphere. In the evening we have a special treat: a Moroccan "fantasia" dinner served in tents, with a traditional folklore show.
DAY 8 – MARRAKECH – Sunday (BLD)
There is much to see in this great city which Winston Churchill called "the most beautiful place in the world at sunset." Grab your guidebook and explore! The top sights include the stately Koutoubia Minaret, the hidden tombs of the Saadian dynasty, the Menara pavilion and gardens, the ruins of sprawling Badi Palace, the Bahia Palace Museum, the Ben Yousef medersa, and the Koubba (chapel) of el-Ba'adiyn. Lunch is included at a local charming restaurant. Dinner is included at the hotel.
Day 9 – MARRAKECH – Moroccan Culinary Experience – Monday (BL)
Morning walking tour of Marrakech's fabulous medieval souk (bazaar), penetrating the labyrinthine souk, you'll see some of the age-old guilds at work, including the dyers and tanners, bring your camera–for famous Djemaa el-Fna square with its circus atmosphere of itinerant dancers, jugglers, acrobats, storytellers, soothsayers, snake charmers, medicine men and public scribes. Spend this afternoon in appreciation of Moroccan pleasures. For your lunch: You'll join a demonstration of Moroccan cuisine, known around the world. You will have tasted Tajine, couscous, and much more. Now you'll learn more about how these plates and sauces are prepared, and of the many influences that have created the national cuisine and sit down to enjoy the lunch you helped prepare. Dinner is included at an elegant Moroccan restaurant.
DAY 10 – DEPARTURE Tuesday (B)
We escort you to Marrakech airport for your homeward flight, Bon Voyage!
Rates per person, In US $
In Triple Occupancy
US$ 3270.
In Double Occupancy
US$ 3409.
In Single Occupancy
US$ 4500.
Your tour includes:
Accommodation in, superior first class hotels, as shown in the table "Our Hotels;" all rooms with private bath.
ALL Meals as indicated in the itinerary: Continental (cB) or full breakfast (B) daily; set-menu lunch (L); set-menu dinner (D)
Transportation throughout by deluxe air-conditioned motorcoach
Locally guided sightseeing tours by air conditioned private car/van or motor coach as indicated in the itinerary, including all entry fees.
English speaking private driver escorting you all the way.
Not Included:
Tips
Travel Insurance
International air fare from / to your home country
Your Hotels (or similar)
Tent
Deluxe Camp tent
Marrakech
Imperial Borj or Kenzi Farah
Ouarzazate
Meridien Berber Palace
Essaouira
Dar Al Madina Riad or similar
Zagora
Kasr Tinsouline or Kasbah Asmaa (3 stars)
Erfoud
Kasbah Tizimi (3 stars)
Cooking & Culinary Experience in Morocco
What a great last day. We went to cooking school and yes John did it too! We got there and they promptly handed us our shopping baskets and off to the local market where we bought all of the ingredients including a live chicken the our chef picked out and had de-feathered and made ready for cooking.
John learned to chop!! It was a great way to spend out last day, thank you Omar for the itinerary!
Camping in the Sahara
For the one night in the Sahara here is a list of things we suggest that you bring:
Thermal clothing, to use as sleeping wear, for tenting in the desert, where evenings and early morning can be quite chilly (particularly in October, April and May). Polar fleece jacket or woollen sweater for early morning and late evening. Windbreaker. Long-sleeved shirts to cover your arms and shoulders from the intense sun.
Sturdy jogging or walking shoes, well broken in (NOT brand new); lighter tennis or regular shoes; sandals for wear in camp and in your tent
Linen or straw sunhat, cap and/or head scarf
Good sun block cream or lotion
Miscellaneous personal items:
good sunglasses with UV protection, in a sturdy case
spare pair of prescription glasses, if you wear glasses
insect repellant
For the one night camp: SANITARY FACILITIES
To ensure your utmost comfort, showers /toilets are available
What others say about our service in Morocco
Lebes (Berber greeting) or sbah ikheer (Arabic for good morning)!
Spring break is about over and it's back to work tomorrow. It will be a shorter week at CAS for me because on Thursday I'll be leaving for the Optimal Match Conference (SPED and Technology) in Rabat. Last year I attended the conference in Madrid, Spain. I'm eager to see if the teachers from Rome, Paris, and Barcelona who I met last year will be attending this year. It is great to network with other teachers and find out about their programs plus hear about new and innovative strategies. The presenters are from the US.
Paul is currently enroute between Casablanca and Amsterdam with arrival due in the US at about 5:30 tonight and then back to work for him tomorrow. We had a fantastic week of touring and seeing more of Morocco – a truly remarkable country with beaches, mountains, deserts, and everything in between in a relatively small area. Paul will send from his email account a number of pictures which might give you an idea of our experiences this past week.
Trekking in the Amizimiz area while seeing the Atlas Mountains with its picturesque landscapes and Berber villages was quite remarkable. Our guide Said served us Moroccan tea and a lamb tagine for lunch in his home. As you can see from the photo they also decided to dress us up in the typical Berber attire for lunch.
We continued on with the drive through the High Atlas Mountains crossing through the Tizi N' Tichka Pass and descended down through the Draa Valley stopping to see ancient Kasbahs (fortified palaces) and to the caravan-town of Ouarzazate (movie site of The Mummy, Black Hawk Down, Babel, Syriana, Lawrence of Arabia, etc.). Enroute we stopped to hike up Ait Benhaddou and up the sandstone hill which has been the site for a variety of movies including Gladiator. People still live in this UNESCO World Heritage village including Uemna and her husband. She invited us in to see her cave dwelling in the side of the hill and shared delicious home-grown almonds.
Our next two nights were spent in the desert. The first night was at Zagora and in the middle of a sandstorm. Paul thinks that I probably have never been so grouchy upon awaking in the morning after a night spent trying to breathe while attempting to sleep in our nomad Berber tent amongst a haze of blowing sand. I think that the sand is all out of our ears by now. The next night after some fun camel riding we enjoyed a night on the Merzouga Desert in a deluxe tent under the stars. Both nights we had our own private concert with talented musicians and dancers entertaining us with traditional Gnaouan music and delicious Moroccan cuisine.
It was interesting to study the information displayed on Paul's GPS in the mountains, deserts, etc. In the photo you can see our Moroccan friend and Paul discussing the merits of such equipment. We read in one of the tour books that it is difficult for tourists to locate their reserved auberges (lodging accommodations) or tent sites and that they are encouraged to call ahead for the GPS coordinates in order to locate the correct place in the Sahara Desert.
Riding out into the golden dunes near Merzouga on camels to see the sunset was so much fun while watching four-wheel-drive vehicles zipping up and down the sand dunes (some in preparation for the Dakar Rally). All too soon it was time to start the travel back to Casablanca via Fez. On one of our stops we fed peanuts to the Barbary apes near Ifrane.
Staying in the Riad Dar Al Andalous was an experience of seeing more of the history and culture of Fez. Here we had one more example of the challenges of communication in a foreign country. Paul asked if he should pay for a Coca Cola and before he knew it he was being enthusiastically escorted into the kitchen to meet the 'cook' (Coke).
Living and visiting in an international setting is truly an exciting and stimulating experience.
A week after leaving Casablanca via train we arrived back in Casa with our very informative and helpful driver Hamid. Now, we have the memories and the pictures (and a few souvenirs) to enjoy of this adventure in another area of incredible Morocco.
Our time in Morocco is fast approaching an end with one last trip before returning home to Minnesota. At this point we are thinking of exploring more of Spain and the Moroccan coast of the Mediterranean.
M'a ssalama (goodbye – Arabic)
Paul and Dixie