Private Tour
Experience the romance of old Morocco
everywhere on this 12-Day Tour
For Guests Who Want and Can Afford The Best
A 12-day tour of ancient kasbahs standing sentinel against invaders along the winding lanes of the medinas of Fez and Marrakech; the seaside towns of Essaouira and Agadir; and in your very lodgings, palaces and venerable homes that have been brought to life again as Riads that combine the best of Arab hospitality with the appointments of fine boutique hotels.
Click here for the 14 day version with a longer seaside stay at Essaouira. Compare with the Imperial City 9 day tour with an overnight camping in the Sahara. Compare with Taroudant, Imouzzer Ida Outanane version.
We stopped in Agadir at the ocean on our way to Imouzzer and went to the most fantastic vegetable market. I wish I could have shopped it for the wide variety of fresh organic veggies. No such luck but I did get huge walnuts, dates, figs and corn nuts, yummy for the car ride through Paradise Valley to the mountains.
Kathy & John. Florida
Tour
Day 1 – Marrakech – Daily arrival – Private Tour. Choose your own date
You'll land at the airport of fabled Casablanca, clear customs and immigration formalities, and board your connecting flight to Marrakech. Our local representative will greet you and usher you directly to your accommodations at your Riad / Boutique hotel, Riad Mehdi or similar: Riad Monceau, Riad Jardin de Medinah or La Maison Arabe, Marrakech where a traditional welcoming mint tea and a fruit basket await you. Your personal requirements and relaxation are foremost. Take in your surroundings.
Day 2 – Marrakech (B)
This morning you'll take a private tour of Marrakech by horse-drawn carriage. You'll see the Koutoubia, the landmark of the city, and perhaps you'll note its similarity to its sister tower, the Giralda of Seville, in Spain. You'll continue to the Bahia palace, built in the nineteenth century, with room after stately oriental room of intricate plaster work and finely detailed columns, and sedate hidden gardens. Finally, you'll see the Majorelle Botanical Gardens of Yves Saint Laurent, planted with trees and flowers from all over the world. In the afternoon, you'll discover the old city and always-lively Djemaa El Fna Square, populated by water sellers, magicians, peddlers, politicians, and animal tamers, who carry on an endless flurry of activities straight out of the middle ages. If you have a spare moment, the souks of Marrakech will always keep you entertained.
Complimentary Dinner is included at a local home:
Meet the locals. You may wish to bring token gifts to exchange with the host family (T shirt, small souvenirs of your home town). This evening we'll venture where few ordinary visitors ever tread… right into the homes of some of the people of Marrakech! You'll be invited to a family dinner, and while you enjoy wholesome home-cooked specialties, you'll learn about and appreciate the outlook, aspirations, and way of life of your hosts. Be assured, as curious as you may be about your new friends, they're sure to have questions about your own background. Once the ice is broken, you'll enjoy a lively evening, and find that you have more in common than you ever suspected. Of course, if you prefer, you may enjoy a quiet evening with your travel companions – just let us know your preferences.
Day 3 – Marrakech (BD)
Morning at leisure. Late afternoon we'll escort you to the Palm grove on the outskirts of Marrakech for a wonderful experience of camel riding at sunset before we head for our gourmet Moroccan dinner at the Yacut restaurant where you will be captivated by the charm & ambiance of the facility. The entrance, lit by lanterns and high candelabra leads to a beautiful fountain with roses whose heady perfume blends with the pleasant smells of the amber and musk. The corridor runs into a Riad.
Before we head for our gourmet Moroccan dinner with staff in traditional dress, Gnaouas singers and dancers – their music reflecting both Arabic and African influence, and Arabo-Andalusian music – will serenade us. The evening will culminate with the traditional Belly dancer performance and gourmet Moroccan food.
On both sides of the courtyard, an arcade allows the access to the glass Moroccan pavilion lounges. A spiral staircase leads to the terrace with a luxurious outdoor setting of an oriental lounge fit for a Sultan, with a fantastic panorama on the Medina. Gourmet Moroccan food, pre-dinner drinks and wine included.
DAY 4 – Marrakech – Ouarzazate – 203 Kilometers (about 2 hours) (BLD)
In the morning you will be driven to Ouarzazate through the impressive scenery and the beautiful landscapes of the High Atlas Mountains range and crossing the Tichka Pass, at more than 2,000 m high. Enjoy the wide range of fossils available en route.
Before reaching Ouarzazate tour the Hollywood famous at the Ait Ben Haddou Kasbah region, which served as the backdrop for several of movies, protected now by UNESCO. It is an area of Kasbahs grouped among patches of wheat fields, terraced orchards, olives and date palms. It ascends a small mountain and is surmounted by an "Agadir" (grain storage tower) giving it an epic scale. Lunch will be served at a restaurant facing the Kasbah. In the afternoon we continue to Ouarzazate, a small town set at the foot of the arid southern slopes, where we may find Golden Oriole, Melodious and Bonelli's Warblers, Cattle and Little Egrets, Kentish Plover, Black-winged stilt and Bee-eater. Dinner and overnight accommodation at hotel.
If you prefer to visit Merzouga Oasis with a one night camping in the Sahara (deluxe camp-tent), please click here.
DAY 5 – Ouarzazate- Taliouine – Taroudant- 292 Kilometers (about 3 and half hours) (BLD)
Heading westwards we travel to Taliouine from which we can explore the fine gorge at Aoulouz, one of the few remaining areas in which the Bald Ibis can be expected, as well as Peregrine, and possibly Lanner and Barbary Falcon which may be seen in the air together. The long-legged Buzzard and other species of eagle are also likely, as well as Roller, Spanish Sparrow, Red-rumped Swallow, Bulbul etc. Between Aoulouz and Agadir the principal species of tree is the Argana which gives the region an East African Savannah appearance. Here Great Grey and Woodchat Shrikes are common, and we look out for the Tawny Eagle and Chanting Goshawk. Lunch is included enroute. Late afternoon arrival in Taroudant for dinner and overnight.
Day 6 -TAROUDANT / AGADIR / IMOUZZER IDA OUTANANE (BLD)
Morning departure for Imouzzer Ida Outanane. We cross the Anti Atlas mountain range, with palm groves, green valleys and narrow gorges – before reaching the village & waterfalls of the "Bride's Veil" with its small lake surrounded by olive groves. Lunch is included enroute, overnight accommodation at the Cascades hotel – a modest 4 stars, yet it is the best available in this area. Dinner is included at one of the local restaurants.
Day 7 – Imouzzer Ida Outanane / ESSAOUIRA (BLD)
Drive to Essaouira, a a charming fishing harbor. Renowned for generations for its production of "Murex", a small shellfish used to make the purple dye for Roman togas, Essaouira is now a very active fishing harbor, with some character from the Portuguese who settled here in the 16th century. Later on Sultan Mohamed Ben Abdellah used it as a base for his corsairs. Today, protected from the sea and the wind behind its commanding fortified medieval walls, Essaouira shelters a flourishing craftsmanship in marquetry, working wood with ebony, mother of pearl and silver thread to make tables, chessboards, caskets and bracelets. Enjoy a seafood lunch, before heading back to the hotel where dinner is included.
Day 8 – Essaouira – Safi – El Jadida – Casablanca – Rabat (BLD)
We'll escort you by private air -conditioned vehicle heading for Casablanca, continuing on to Rabat and your hotel. Lunch is included enroute. Dinner is included at one of the local restaurants.

Morocco Fez City tour. Video by noodzaak.
Day 9 – Rabat – Meknes – Fez (BD)
Breakfast at the hotel. Panoramic tour of Rabat, the capital of Morocco: tour the Mausoleum of King Mohamed V, a jewel of hispano-moorish architecture, the Hassan Tower nearby and the Oudayas Kasbah overlooking the mouth of the Bou Regreg River before we head for Meknes former Imperial City built at the end of the 17th century by King Moulay Ismail. Arrival in time for city sightseeing, including the old ramparts, the Moulay Ismail stables, granaries and House of Water, Bab Mansour, one of the most beautiful gate in Morocco and the Moulay Ismail Mausoleum and then Fez, and your hotel or Riad Fes or similar. You'll be welcomed with a traditional mint tea and a fruit basket. Your dinner is at your hotel or Riad.
Oh my gosh we just checked on to the Riad Fez, it is stunning and our suite looks like the bridal suite with fabulous lace curtains and silk drapes. Pictures to follow. The planning of the itinerary has been perfect from the charm and sophistication of Riad Monceau to the natural elegance of Gazelle D'Or to the mountain beauty of the Cascade Hotel to the sounds of the waves crashing and the seagulls calling at the The Ramparts to this exquisite hotel, Riad Fez. What a place to conclude our trip.

Akmed our guide and Moncif the driver are both outstanding. Akmed is the most caring, attentive and well informed guide we have had and we thought the Turkey and Egypt guides were fantastic. Moncif our driver has been just as great in his role as Akmed.
Thanks so much. Kathy and John
Day 10 -Fez (BD)
Put on your walking shoes this morning for a trip in time back to the ninth century, as you explore the old city of Fez. Its Medina and its labyrinth of souks have been declared a world cultural treasure.
Your afternoon is free for relaxation or shopping or further exploration as you wish. In the evening it's dinner and a show, with a difference. The food is Moroccan-style, of course; and the show is a fascinating view into Moroccan life, including a traditional wedding ceremony, Arabo-Andaluisan music, and an enticing performance by a belly dancer.
Day 11 – Fez – Cooking Class (BL)
Spend a day in appreciation of Moroccan pleasures. In the morning, you'll join a demonstration of Moroccan cuisine, known around the world. You will have tasted Tajine, couscous, and much more. Now you'll learn more about how these plates and sauces are prepared, and of the many influences that have created the national cuisine. In the afternoon, we head for Casablanca and the Royal Mansour Hotel or similar.
Day 12 -Departure from- Casablanca (B)
You'll be escorted to the airport. Bon Voyage!
Choice A Hotels or similar
| | |
| --- | --- |
| Marrakech: | Jardin de Medina. Riad Monceau. Riad Kniza, or similar – To Upgrade to Palais Namaskar please click here. |
| Taroudant: | Gazelle D' Or or similar |
| Imouzzer: | Les Cascades – Best available here. There are no 5 stars Hotels |
| Ouarzazate: | Berber Palace Hotel Ouarzazate or similar |
| Essaouira: | Riad Loussia. Heure Bleue Riad or similar |
| Rabat: | Villa Mandarine |
| Fes: | Riad Fes |
| Casablanca: | Royal Mansour Hotel |
Rate per person
triple
US$ 7070.00
double
US$ 7255.00
single
US$ 8460.00
Choice B Hotels or similar
Rate per person
triple
US$ 5860.00
double
US$ 5955.00
single
US$ 7270.00
Your tour includes:
All airport transfers on a private basis.
Accommodation as described, (always subject to availability, we keep the right to use alternative hotels within same category).
Welcome mint tea, roses, and fruit basket upon arrival in Marrakech & Fes.
Meals as indicated: cB = Continental breakfast; L = set-menu lunch; D = set-menu dinner
Ground transportation in chauffeured, air-conditioned Mercedes Benz automobile or where applicable chauffeured four wheel drive Turbo Land Rover. Half-day horse-drawn carriage tour in Marrakech. Services of licensed English-speaking guide and entrance fees to sites visited. Camel ride in Marrakech palm grove.
Hammam session (where its available at your hotel).
Gratuities for local restaurant and hotel personnel.
Not included:
Personal expenses.
Tips to drivers and guides
Trip interruption and cancellation insurance.
International air fare from/to your home country.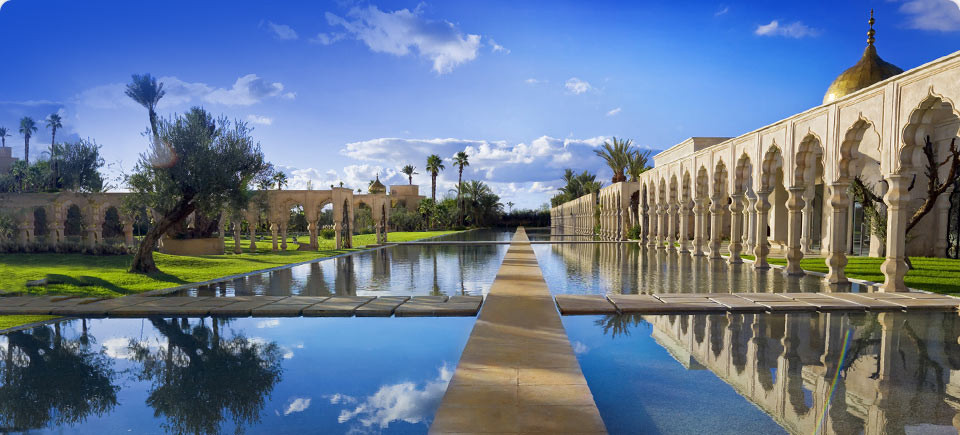 Rate when you decide to upgrade to your hotel in Marrakech: to Palais Namaskar – Deluxe Room (click here for TripAdvisor reviews)
Taroudant:
Gazelle D'Or
Imouzzer:
Les Cascades – Best available here. There are no 5 stars Hotels
Essaouira:
Riad Loussia
Rabat:
Villa Mandarine
Fes:
Riad Fes
Casablanca:
Royal Mansour Hotel
Rate per person
double
US$ 8143
single
US$ 9440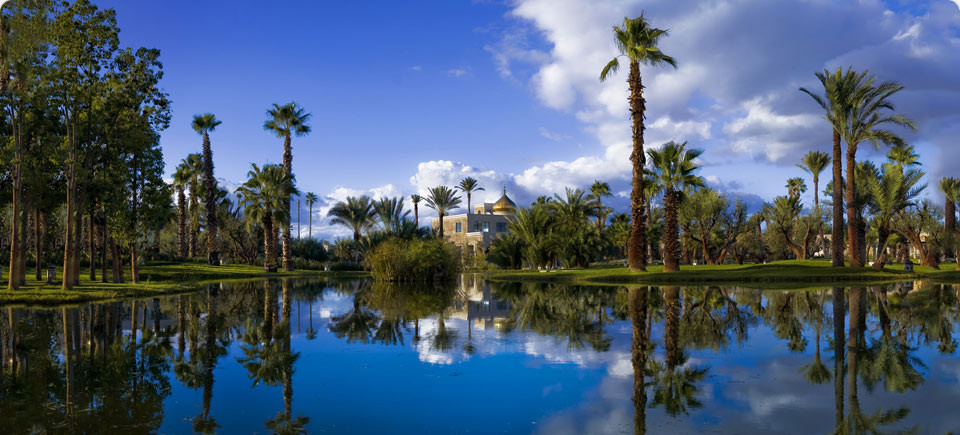 Welcome to Palais Namaskar
Luxury Hotel & Spa in Marrakech
There are some places that are not easily described. Just as there are some experiences that are not easily compared. The luxury Palais Namaskar Marrakech hotel is both.
Proudly standing amongst the gems of the Oetker Collection – a one-of-a-kind collection of masterpiece hotels – Palais Namaskar is also a member of the esteemed Leading Hotels of the World.
Bringing together acres of tranquillity and impeccable hospitality to create the most enigmatic 5-star hotel retreat in Marrakech, Palais Namaskar is exclusively designed and built around consummate guest satisfaction.
I am delighted to welcome you to Palais Namaskar… a place where even silence has harmony.
Frédéric Picard
General Manager
Honeymoon in Morocco and Egypt
Hi Omar,
I wanted to post about my experience with Travel in Style.com. The company based in San Fran planned the most amazing trip for me and my new husband for our honeymoon. It was a trip that combined Morocco and Egypt into a 11 day trip. We signed up for a private tour and the only people with us during the trip were our guides and drivers (which was great for an intimate honeymoon vs. a tour bus with 20 plus people all waiting for each other to go places, etc).
First, we got to Morocco and already had a driver through the agency there to greet us to take us to Marrakesh (from the Casablanca airport). The drive was nice and the car clean. Our driver was really nice and was very professional. We got dropped off and brought to the cutest hotel named Riad Chergui (more like a bed and breakfast which was much more intimate and fun!) and shown to our rooms after we were greeted with tea and cookies from the staff there. They were just absolutely helpful in helping us get anything we needed throughout our stay there (i.e. dress ironed, a bag to carry home souvenirs, cigarettes, etc.). The hotel itself was clean and charming, and we had a very nice room with windows that opened to the courtyard below. The pool and chairs were spotless everyday and the breakfast was always tasty and served to us when we came to downstairs to eat. I absolutely recommend this place to everyone.
While in Marrakesh, we went to do activities pre-planned by Travel in Style and everything worked out exactly as described in our itinerary. We always had a guide and driver on time when we were going around the city and our guide even came with us to help us bargain with the stores to get the best souvenirs at the best prices. It was a relief to us, who were a little hesitant to visit some of these countries at first, to have a very knowledgeable guide and to have someone around when we wanted him and not around when we wanted to do our own discoveries. The trip was set up so that some days we only had plans in the morning and after our planned lunch, we would have the rest of the day to do our own things (perfectly planned in this way!). Our lunches and dinners planned in our itineraries were at beautifully decorated restaurants with the best service, and we really had a chance to experience Moroccan food. It was great.
While in Marrakesh we had a camel ride and a cooking class scheduled, which were great since we wanted to do some different types of activities while we were there. The camel ride was so fun and we got some great pictures. The cooking class was hands-on and we learned how to make a Moroccan meal with the recipe so we could take that home with us and be able to have a Moroccan dinner. We just loved it!
We continued on for the second half of the trip to Egypt which was planned just as nicely. We ate at the best restaurants and really got the feel for the country. Here we did a lot more site seeing of course, and we always had our guide and driver there to take us around and show us the sites. They took us to a pyramid that was the first successful one created and when we went, we were the only tourists there (of course we also went to see the ones in Giza) so we really got to enjoy the scenery and pictures without a ton of other tourists around. Also, while in Egypt, we had a planned dinner with an actual Egyptian family who opened up their home to us. It was great to see the country from that perspective and really get to know what the people are like.
In summary, these are just a few great things I could say about the Morocco/Egypt tour we took through Travel in Style and I HIGHLY recommend them for anyone looking to experience these countries without all the hassles of planning it all in detail (since they do this for you) and of trying to figure out how to get around while there (that is where the private drivers really came in). They really took out all our worry and we had an amazing experience.
THANKS!!
Tina and Vishal
Posted on Frommer.com
Henna party (For ladies only – Complimentary Basis):
Subject to Availability
One of the "insiders" excursions into Moroccan culture is a chance to attend a henna party. The painting of hands and body with this natural red dye is a symbol of joy at weddings and regarded as a way to enhance one's beauty. If interested in attending a Henna party, please let us know in advance.