Private 8-day Tour of Morocco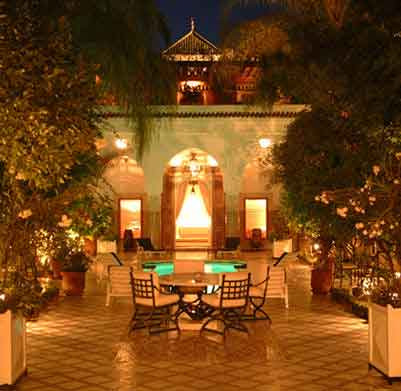 This is Private touring: start any day, year round, choose your own date. While others may offer 2-3 languages on board their coaches and tours, we provide PRIVATE group or individual tours, with the language of your choice. This adventure to Ouarzazate, Casablanca, Fez, the Sahara, and Marrakech allows you to go at your own pace, establishing your own itinerary in the major cities, yet join our pre-arranged camp in the Sahara. Compare with the 9-day version.
For guests who prefer to spend the night in a hotel rather than camping, please let us know in advance to accommodate your request. Check out the 9-Day Version including a home hosted family dinner.
Tour
DAY 1- CASABLANCA – Daily – Choose your own dates – Year Round
Arrive at Casablanca. Our staff greets you at Casablanca's Mohamed V Airport and escorts you to your hotel. We'll drop our luggage, have a refreshing cup of tea or coffee, then head out for a panoramic tour of the city including the exteriors of Casablanca's majestic new Grand Mosque of King Hassan II, second only to the Great Mosque at Mecca in size, lunch is included at a local restaurant, a short walking tour of the local souk before returning to your hotel where dinner awaits you.
DAY 2- Casablanca – RABAT – Meknes – Volubilis- Fez – Very Full Day (BL)
Breakfast at the hotel. Lunch is included enroute.
We'll drive on across the lush countryside to Rabat, Morocco's capital and our first Imperial City, to visit the magnificent Mausoleum of King Mohammed V, and the historic Hassan Tower minaret. In the afternoon we will drive through forests of cork oak trees and then continue on our way to Meknès, the "youngest" of Morocco's four great imperial cities surrounded by towering medieval walls. We will visit the monumental gateway of Bab el-Mansour in the city walls and the palace tombs of Moulay Ismail before heading to Volubilis the forward Roman old settlement that once was the capital of the Roman province of Mauritania Tingitania. Continuing on to Fez arriving in the early evening, where we will settle in for the night.
DAY 3- Fez – (BLD)
Breakfast is included at the hotel. Lunch is included at a charming local restaurant. Fez, the oldest of the four Imperial Cities, is endlessly fascinating. We tour its medina (Old City) and souk (bazaar), stopping at the gateway of the royal palace, the fortifications of the Kasbah, the 9th-century Karaouine Mosque and University, the medersa (theological college) of Bou Inania, the shrine of the city's founder Moulay Idris II, and the Nejjarine Fountain. On the way to our hotel we enjoy panoramic city views from the heights overlooking this fabled city. Dinner at a Moroccan restaurant.
DAY 4 – Midelt, Errachidia and Erfoud, The Sand Dunes of Merzouga. (Very Full Day: 421km, 8 hrs) (BLD)
Breakfast is always included at your hotel. An early morning start through Midelt with its dramatic views of the peaks of the High Atlas, continuing on through the town of Errachidia to Erfoud. A night Bedouin style at the Sand Dunes of Merzouga. You are met in Erfoud by your 4×4 and continue 1 hour to the desert. You have your own private bivouac site and staff. Here you have a short camel trek around the dunes to experience the desert sunset. Your tent is equipped with mattress, blankets and carpets. A restaurant tent is decorated entirely in desert camp style where your cooks prepare your meals and local musicians will delight you as you sit on cushions and dine Bedouin style. Your campsite has complete personal facilities. Tonight you have a specially prepared Berber dinner and overnight under a tent in the desert.
(B, L, Special Dinner).
For guests who prefer to spend the night in a hotel rather than camping, please let us know in advance to accommodate your request.
If you have couple more days then we will be able to break up the drive in Erfoud and will have shorter touring days. This program is for guests who do not have time and wish to cover as much as possible within this program.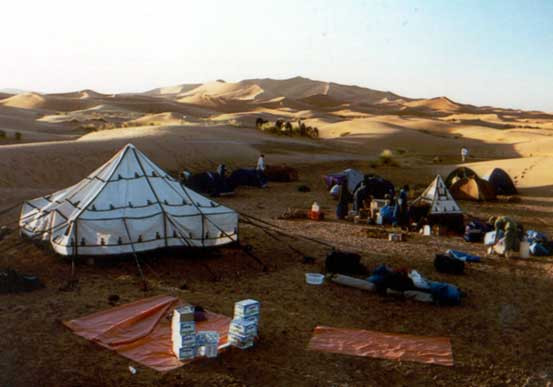 DAY 5: Dades Valley, Todra Gorges, Skoura Kasbah and Ouarzazate (Very Full Day: 310 km, 6 hrs.) (BLD)
Start your day with a picturesque drive along the Route of 1000 Kasbahs. Pass by palm grove oases and Kasbah dwellings; through Dades Valley; along the Gorges of Todra – this is a massive fault in the plateau dividing the High Atlas from the Jebel Sarho with a crystal-clear river running through it. Lunch is included at the "End of the Earth," in the awesome gorge, between 300 meter cliffs, on through the Skoura Kasbah area. You continue on to Ouarzazate, a film industry center where many American and European films have been made. Dinner and overnight at your hotel in Ouarzazate.
DAY 5: Ait Ben Haddou and Marrakech (235 km, 4 ½ hrs) (BLD)
Mornings visit to the impressive Ait Ben Haddou, an 11th century structure declared by UNESCO as an historical treasure, a photographer's wonderland. We continue up the High Atlas Mountains at Tiz N'Tichka Pass, then through the fertile Haouz Plain to the "pink city" of Marrakech. You check into your hotel for 03 nights in this fascinating and intriguing Moroccan city. This is one of Morocco's Imperial Cities that will leave you with the fondest memories imaginable. Breakfast and dinner in your hotel. The next 2 nights in Marrakech. All meals are included today.
DAY 6 – MARRAKECH (BLD)
A full day tour of this great city which Winston Churchill called "the most beautiful place in the world at sunset." Grab your guidebook and explore! The top sights include the stately Koutoubia Minaret, the Menara pavilion and gardens, the ruins of sprawling Bahia Palace and it's Museum. You will also see the Majorelle Botanical Gardens of Yves Saint Laurent, planted with trees and flowers from all over the world.

Majorelle Gardens in Marrakech. Video by Daniel Baylis.
After lunch at a charming local restaurant we continue on to Marrakech's fabulous medieval souk (bazaar). Penetrating the labyrinthine souk, you'll see some of the age-old guilds at work, including the dyers and tanners — and bring your camera — for famous Djemaa el-Fna square with its circus atmosphere of itinerant dancers, jugglers, acrobats, storytellers, soothsayers, snake charmers, medicine men and public scribes.
Evening folk show dinner at Borj Bladi or Chez Ali "Méchoui Roasted lamb cooked in Terracota oven" including return transfers (always on a private basis). If you are vegetarian, please alert us in advance. This show may be somewhat touristy, but we feel strongly that it is part of the Moroccan experience and being in Marrakech.
DAY 7- Berber Village- Marrakech (BLD)
After breakfast in you hotel, leave for Amizmiz, 54 Kilometers from Marrakech. On the way you will see the Oumnast Kasbah then the Lalla Takerkoust Dam built between 1929 and 1935 with its man-made lake. It will take about an hour to reach Amizmiz, a typical Berber village, where we will tour the Kasbah and the "Mellah" (Jewish quarter). Every Tuesday an important country market is held where all the villagers from the area come for their weekly shopping and gossiping… There you can buy interesting Regragra potteries. Your guide will welcome you in his home for a traditional Berber breakfast then you will start your hiking first through Sidi Hossein valley to reach Tizi Oughourane. On the way you will see picturesque landscapes of the Atlas mountains and the Berber villages with their houses built in stone and earth. After a typical lunch accompanied by mint tea, you will come back to Amizimiz by a different itinerary and be transferred back to busy Marrakech by late afternoon.
Dinner is included at a local home:
Meet the locals. You may wish to bring token gifts to exchange with the host family (T shirt, small souvenirs of your home town). This evening we'll venture where few ordinary visitors ever tread… right into the homes of some of the people of Marrakech! You'll be invited to a family dinner, and while you enjoy wholesome home-cooked specialties, you'll learn about and appreciate the outlook, aspirations, and way of life of your hosts. Be assured, as curious as you may be about your new friends, they're sure to have questions about your own background. Once the ice is broken, you'll enjoy a lively evening, and find that you have more in common than you ever suspected. Of course, if you prefer, you may enjoy dinner in a quiet restaurant with your travel companions – just let us know your preferences.
DAY 8 – Departure – Marrakech (B)
Our local rep. escorts you to the airport. Bon Voyage. Compare with the 9-day version
The medinas of Fez. The nougat candy in various pastel colors is to die for and the shopkeeper is 2nd generation candy maker. John and I in front of one of the doors to the Fez palace of the king. Had a great day and tomorrow after cooking class we are back to the artisan area of the medina and the tanneries where they treat and dye the leather like they have 100's of years, we can't wait! –Kathy and John

Rates per person in USD $
 
Deluxe
Superior
Deluxe
Standard
First Class
Triple
US$ 4150.
US$ 3330.
US$ 2990.
Double
US$ 4260.
US$ 3458.
US$ 2950.
Single
US$ 5870.
US$ 4870.
US$ 4350.
DEPARTURE DATES
You may begin your tour in Marrakech on any day of the week, choose your own date.
For Dec 10 – Jan 3, arrivals: please add a 10 % supplement to any of the rates
Your tour includes:
Hotel accommodations, including all taxes and service charges, as indicated or similar.
Continental (B) breakfast daily; set-menu Lunch (L) or /and dinner (D) as shown in the itinerary.
Private air-conditioned vehicle for all your transportation throughout Morocco as per itinerary with a private English speaking chauffeur.
Local private guide in major cities and private guided sightseeing tours as indicated in the itinerary, including all entry fees.
All transfers within Morocco, always on a private basis.
Camping in the Sahara as indicated, overnight in a tent (guests must show proof of insurance when taking any tour that includes the Sahara Camping).
Tea, mint tea or coffee upon arrival at your hotel in Casablanca on Day 1.
What's not included:
International airfare to or from your home country
Tips
Travel Insurance
Some of the Hotels and Riads we work with
Deluxe Superior
Deluxe – Standard
First Class
Marrakech
Meridien N'FIS
Jardine de La Koutobia
Atlas Medina Riad Dar Vedra or similar
Atlas Asni Hotel
For Riads (Boutique hotels):
Riad Atta or Riad Hamonie
Riad Princesse du Désert
or similar
Fez
Riad Fes – Junior Suite
Jnane Palace, Merinides Hotel. Ramada Hotel, Riad Fes, standard room or similar.
Royal Mirage, Riad Luna
Riad Perle de La Medina
Casablanca
Royal Mansour
Farah Golden Tulip
Idou Anfa Idou Anfa. Imperial Casablanca Hotel, or similar.
Erfoud
Deluxe Berber Tent
Deluxe Camp Kasbah Asmaa
Upgraded Berber Tent
Standard Berber Tent
Merzouga
Upgraded Berber Tent
Deluxe Camping
Upgraded Berber Tent
Deluxe Camping
Standard Berber Tent
Auberge Derkaoua or similar
Ouarzazate
Berber Palace
Riad Salam. Berber Palace Hotel
or similar
Belere, Rose Noire Riad or similar
Accommodations at a Riad
This is where a traditional welcoming mint tea and a fruit basket await you. Your personal requirements and relaxation are foremost. These luxurious yet delightful Riads are usually a former palace, mansion, or large residential house restored to 1930s, 1940s grandeur.
The Riad classical plan is: substantial walls and orientation to a central patio with venerable trees provide a haven of peace in the midst of bustling Marrakech. Guests are accommodated in usually only five – ten guest suites, each with sitting area and the finest oriental appointments, fireplace (subject to the category you choose),air conditioning, and European-style dining room (subject to the category you choose). Some are with private terraces that provides a secluded window on the active life of romantic and mysterious Marrakech.