Private Imperial Cities of Morocco Tour
A 9 Day North African Vacation and Tour of Morocco
The Sahara Edition
Private touring: start any day, year round. Choose your own date
While others may offer 2-3 languages on board their tour coaches, we provide PRIVATE touring for families, couples, and individual tours with the language of your choice be it English, Spanish etc. Tour includes: Marrakech, Casablanca, Fez (Fes), Meknes, Rabat, Ouarzazate, Tinghir, Erfoud, Midlet, Irfane and Merzouga.
This adventure to Ouarzazate Casablanca, Fez, the Sahara, and Marrakech allows you to go at your own pace, establishing your own itinerary in the major cities, yet join our pre-arranged camp in the Sahara. For guests who prefer to spend the night in a hotel rather than camping, please let us know in advance to accommodate your request.
Suggested Itinerary
DAY 1 – Marrakech
Arrive in the Kingdom of Morocco, you'll land at the airport of fabled Marrakech. Our local representative will be awaiting with a sign and escort you to your hotel/ riad, where a welcome mint tea and fruit basket await you.
DAY 2 – MARRAKECH (BLD)
Today's morning tour of this great city which Winston Churchill called "the most beautiful place in the world at sunset." includes: The stately Koutoubia Minaret, the Menara pavilion and gardens, the ruins of sprawling Bahia Palace and it's Museum. You'll also see the Majorelle Botanical Gardens of Yves Saint Laurent, planted with trees and flowers from all over the world. Lunch is included at a local charming restaurant. Afternoon drive to the Palm grove on the outskirts of the city where we enjoy a sunset camel caravan, then return to the hotel and get ready for dinner and Moroccan music at a charming local restaurant.
DAY 3 – MARRAKECH
(B)
Breakfast is included at the hotel. Today we call on you to tour Marrakech's fabulous medieval souk (bazaar). Penetrating the labyrinthine souk, you'll see some of the age-old guilds at work, including the dyers and tanners — and bring your camera — for famous Djemaa el-Fna square with its circus atmosphere of itinerant dancers, jugglers, acrobats, storytellers, soothsayers, snake charmers, medicine men and public scribes. Lunch is included at a local restaurant, before we head back to the hotel, remainder of the day at leisure.
Complimentary Dinner is included at a local home:
Meet the locals. You may wish to bring token gifts to exchange with the host family (T shirt, small souvenirs of your home town). This evening we'll venture where few ordinary visitors ever tread… right into the homes of some of the people of Marrakech! You'll be invited to a family dinner, and while you enjoy wholesome home-cooked specialties, you'll learn about and appreciate the outlook, aspirations, and way of life of your hosts. Be assured, as curious as you may be about your new friends, they're sure to have questions about your own background. Once the ice is broken, you'll enjoy a lively evening, and find that you have more in common than you ever suspected. Of course, if you prefer, you may enjoy a quiet evening with your travel companions – just let us know your preferences.
DAY 4 – Marrakech – Ouarzazate – (about 2 hours drive) (BLD)
Breakfast is always included at the hotel. Lunch is included today enroute. Morning departure to Ouarzazate crossing the Atlas Mountains and its striking scenery through the Tizi N'Tichka Pass at an altitude of more than 2000 meters before reaching Ouarzazate, visit of the Ait Ben Haddou Kasbah, a wonderful site now protected by UNESCO, having served as natural decor to numerous films shooting. It is an area of crumbling Kasbahs grouped among patches of wheat fields, terraced orchards, olives and date palms. It ascends a small mountain and is surmounted by an "Agadir" (grain storage tower) giving it an epic scale. Dinner is included at hotel.

Ouarzazate to Erg Chebbi. Video by poncingbury.
DAY 5 – OUARZAZATE – TODRA GORGE – ERFOUD – MERZOUGA (BLD)
Today we explore the wonderful Road of 1000 Kasbahs in the direction of Boumalne du Dades through Skoura and El Kelaa Des Mgouna. Upon arrival in Boumalne we'll drive by impressive Ksours (fortified villages) and fabulous rock formations and fantastic geological landscape. Continue on the Road of 1000 Kasbahs towards Tinerghir, a former military outpost built on terraces above a magnificent palm grove and the way into the awesome Todra Gorge.
The Todra Gorge is a massive fault in the plateau dividing the High Atlas from the Jebel Sarho with a crystal-clear river running through it. Lunch is included at the "End of the Earth," in the awesome gorge, between 300 meter cliffs.
We press on to Erfoud crossing impressive palm groves and oases. On arrival in Erfoud you will then take chauffeured four-wheel-drive vehicle (Turbo Land Rover) to continue on to Merzouga, on the edge of the Sahara. There will be a bonfire and an entertainment by the locals during the evening.
Dinner and overnight in a Bedouin tent in the Sahara, offering a magical sight of the sunset over the majestic dunes.
Accommodation: Bedouin Tent. Foam Mattress / Billow. Sheets. Blankets. Toilet tents are available for your convenience. Your stay includes a sunset or a sunrise camel ride.
Set camp in the shadow of the Erg Chebbi dunes south of Tafilalet Valley. The sand mountains of the Erg hide scattered oases marked by groves of date palms and greenery.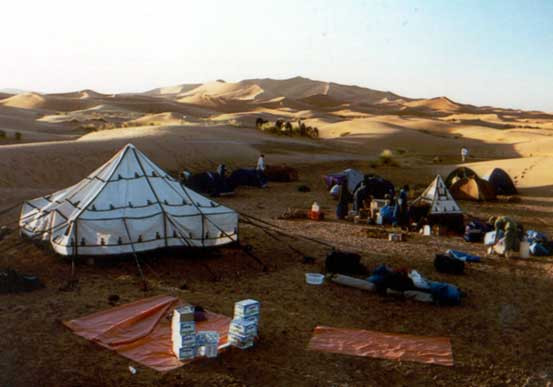 DAY 6 – MERZOUGA – ERFOUD / MIDELT – FEZ (BLD)
After breakfast we drive back (private 4 X 4 Turbo Land Rover) to Erfoud, where we pick up a private Mercedes sedan or air-conditioned motor coach (depending on the number of guests). We drive through Tafilalet region and the Errachidia and the famous "Legionnaires Pass" ("Talghimat Pass"). Lunch is included at the foot of Djebel Ayachi in Midelt at Kasbah Asmaa. Continue through the Middle Atlas Mountains in the direction of Fez. Late afternoon arrival in Fez for dinner and overnight accommodation at hotel. The city is yours to explore, guidebook in hand. The Lonely Planet guide includes all the important things to see, and recommendations for restaurants in all price ranges, so you'll never be at a loss for advice.
DAY 7 – FEZ (BLD)
Oldest of Morocco's four Imperial Cities, Fez is endlessly fascinating, and today we spend an extensive full day of touring. Top sights today include: the medina (old city), the 15-century Borj Nord Arms Museum, the gateway of the royal palace, the fortifications of the Kasbah, the 9th-century Karaouine Mosque and University, the medersas (theological seminaries) of Bou Inania and Attarine, the shrine of the city's founder Moulay Idris II, the Nejjarine Fountain, the monumental gateway of Bab Boujelloud, the old harem gardens, Dar Batha Museum, and the artisans' guilds in the souks. (lunch is included at a local restaurant. Dinner is included at the hotel).
DAY 8 – Fez – Volubilis- Casablanca (BLD)
Very full day, suggest an early start. Breakfast is included at the hotel, lunch is included enroute. Dinner is included at the hotel.
In the morning departure for Meknes, former Imperial City built at the end of the 17th century by King Moulay Ismail. Arrival in time for city sightseeing, including the old ramparts, the Moulay Ismail stables, granaries and House of Water, Bab Mansour, one of the most beautiful gate in Morocco and the Moulay Ismail Mausoleum. In the afternoon visit of Volubilis the forward Roman old settlement that became once the capital of the Roman province of Mauritania Tingitania. Volubilis used to be one of the Roman Empire's most remote outposts, whose well-preserved and partially restored ruins date largely from 2nd and 3rd centuries AD, although the site was originally settled by Carthaginian traders in the 3rd century BC. Brief stop at the Moulay Idriss picturesque village. After we enjoy a local lunch, we head to Casablanca and your hotel, where dinner awaits you.
DAY 9 – Departure-Casablanca (B)
Our local representative escorts you to the airport. Bon Voyage.
Rates per person in USD $
Deluxe
Superior
Deluxe
Standard
First Class
Triple
US$ 4210
US$ 3440
US$ 2940
Double
US$ 4360
US$ 3558
US$ 3010
Single
US$ 5970
US$ 4950
US$ 4420
DEPARTURE DATES
You may begin your tour in Marrakech on any day of the week.
For Dec 10 – Jan 3, arrivals: please add a 10 % supplement to any of the rates
Your tour includes:
Hotel accommodations, including all taxes and service charges, as indicated or similar.
Continental (B) breakfast daily; set-menu Lunch (L) or /and dinner (D) as shown in the itinerary.
Private air-conditioned vehicle for all your transportation throughout Morocco as per itinerary with a private English speaking chauffeur.
Local private guide in major cities and private guided sightseeing tours as indicated in the itinerary, including all entry fees.
All airport transfers, always on a private basis.
Camping in the Sahara as indicated, overnight in a tent.
Tea, mint tea or coffee upon arrival at your hotel in each city.
What's not included:
International airfare to or from your home country
Tips
Travel Insurance
Cooking & Culinary Experience in Morocco
"What a great last day. We went to cooking school and yes John did it too! We got there and they promptly handed us our shopping baskets and off to the local market where we bought all of the ingredients including a live chicken the our chef picked out and had de-feathered and made ready for cooking.
John learned to chop!! It was a great way to spend out last day, thank you Omar for the itinerary!"
Some of the Hotels and Riads we work with:
 
 
Deluxe – Superior
Deluxe – Standard
First Class
Marrakech
Meridien N'FIS Hotel
Jardine de La Koutobia
Atlas Medina Riad Dar Vedra or similar
Atlas Asni Hotel
For Riads (Boutique hotels):
Riad Atta or Riad Hamonie
Riad Princesse du Désert
or similar
Fez
Riad Fes/Relais & Chateaux – Junior Suite
or similar
Jnane Palace, Merinides Hotel. Ramada Hotel, Riad Fes, standard room or similar.
Royal Mirage, Riad Luna, Riad Perle de La Medina
Casablanca
Royal Mansour
Royal D'Anfa
Idou Anfa. Imperial Casablanca Hotel, or similar.
Merzouga
Deluxe Camp Kasbah Asmaa
Deluxe Berber Tent
Upgraded Berber Tent
Standard Berber Tent
Auberge Derkaoua or similar
Ouarzazate
Berber Palace Hotel Ouarzazate
Riad Salam. Berber Palace Hotel
or similar
Belere, Rose Noire Riad or similar
Henna party (For ladies only – Complimentary Basis):
Subject to Availability
One of the "insiders" excursions into Moroccan culture is a chance to attend a henna party. The painting of hands and body with this natural red dye is a symbol of joy at weddings and regarded as a way to enhance one's beauty. If interested in attending a Henna party, please let us know in advance.