Egypt, Jordan and a Foray into Jerusalem
A Grand 24-day In-depth Tour of the Gems of the Levant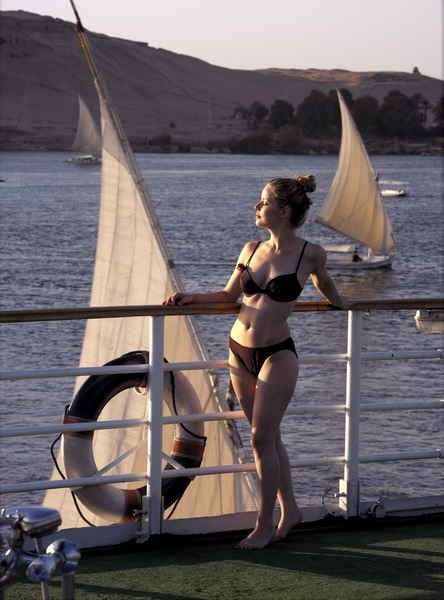 Indiana Jones himself couldn't squeeze more adventure into this journey to Alexandria, Cairo, Memphis, Sakkara and the Pyramids, a cruise on the Nile, the fabled temples and tombs of Luxor and Thebes, diving in the Red Sea, the mountains of Sinai, and a trek to the mysterious ruins of Petra in Jordan. Then, to top it all, a foray into the Holy land and Jerusalem.
Tour
DAY 1 – CAIRO: Wednesday – Weekly – Year Round
VIP Meet & Greet Service at Cairo Airport
Our local representative greets you at the airport and whisks you to your hotel. VIP Meet & Greet Service at Cairo Airport.
Visa fee is included and will be issued upon arrival at Cairo Airport for: Australian, NZ, American, EU, Canadian & Japanese citizens. You are responsible for having your passport in order valid at least for 6 month beyond the date of your arrival in Cairo.
Visa will be issued upon arrival. As you exit the gate, you will pass through a door or two, down some stairs, then walk for 2-5 minutes, until you pass the duty free shops, at the end of a wide corridor, you will see the security officers. There you will be met by a local representative, who will be holding a sign with your name.
Our local representative will then take your passport to obtain a stamp from the cashier / bank window and escort you to speak with the passport officer. He will escort you through another last check on your passport as you exit the passport control, into customs area, he will assist you in collecting your luggage and clearing customs. After exiting the terminal, our local representative will escort you (private vehicle) to the hotel.
Welcome fruit basket & Egyptian pastry awaits you in your room with our compliments. Sample Deluxe Hotels or similar: Cairo Marriott, Hilton, Cairo Conrad, InterContinental Hotels or similar.
DAY 2 – Alexandria: Thursday (BL)
Breakfast at the hotel. Lunch box will be prepared by your chef, including bottled water.
We leave Cairo: private air conditioned vehicle, private chauffeur. We drive across northern Egypt & the Nile Delta heading northwest for Alexandria. Full day tour of the National Museum, the Catacombs, the Roman Amphitheater, Qayet Bey Fortress. Qayet Bey Fort was built on the same site of the ancient wonder of the world: the famous Alexandria Light House. Return to the hotel and get ready for an evening walking tour of el Raml city center and dinner at a local restaurant.
DAY 3 – Alexandria- Cairo: Friday (BLD)
Breakfast at leisure at the hotel. A brief stop at " El Selsela" the site of the Underwater reserve where Cleopatra Place was discovered, as well as Caesar Kiosk. Then it's off to the new site for the Alexandria Library. Lunch at a local restaurant before heading to Wadi El Natroun monastery almost midway to Cairo, where early Coptic Christians retreated here to escape the Roman persecution in the 4th century AD. The Egyptian Pope of Alexandria is always chosen from the Monks of wadi El Natroun. Reach Cairo early evening and your hotel, where dinner awaits you.
DAY 4 – CAIRO – Dahshour, Memphis, Sakkara: Saturday (BL)
A morning tour takes us to the time capsule treasure of Dahshour, the newly-opened pyramid field south of Cairo: DAHSOUR – we'll motor to the edge of Cairo, to Dahshour, the pyramid field south of Cairo. We visit the great pyramid of Senfru, father of Cheops, and other structures.
The "Discovery" of Dahshour:
For almost half a century, the great field of huge pyramids near the desert village of Dahshour, 25 miles south of Cairo, has been off limits to the public. Confined within the perimeter of a military base were many pyramids, including the great 4500-year-old pyramid built by Senfru, father of Cheops. Senfru's pyramid, the largest in Egypt until his son built Giza's Great Pyramid, is rhomboidal in shape: it tapers more distinctly on its upper half. All the pyramids were coated in thick plaster at one time. Most have lost these protective, decorative sheaths, but Senfru's–miraculously–is still in place.
After lunch at a local restaurant: The afternoon is for Memphis and Sakkara, including the Step Pyramid of Zoser and Nobles tombs/Mastabas, as well as Imhotep small yet charming Museum. Dinner is included at La Bodega restaurant.
DAY 5 – CAIRO – Giza Pyramids Sound and Light Show – Home Hosted Dinner: Sunday (BL)
Morning tour to Giza and the mysteries of the Pyramids and Sphinx, including the Solar Boat Museum.
Lunch is included at the Mena House. In the evening, we return to the Pyramids for an awe-inspiring sound-and-light show.
Complimentary Dinner is included at a local home:
Meet the locals, you may wish to bring token gifts to exchange with the host family (T shirt, small souvenirs of your home town). This evening we'll venture where few ordinary visitors ever tread… right into the homes of some of the people of Cairo! You'll be invited to a family dinner, and while you enjoy wholesome home-cooked specialties, you'll learn about and appreciate the outlook, aspirations, and way of life of your hosts. Be assured, as curious as you may be about your new friends, they're sure to have questions about your own background. Once the ice is broken, you'll enjoy a lively evening, and find that you have more in common than you ever suspected. Of course, you may enjoy a quiet evening with your travel companions, by letting us know your preferences.
DAY 6 – CAIRO: Monday (BLD)
Your exploration of the ancient world begins today! First stop is the Egyptian Museum, with its treasures of the ancient pharaohs: mummies, statuary, precious stones and metals. We'll also stop at the Citadel of Saladin and the Alabaster Mosque. Lunch is included at Naguib Mahfouz Restaurant or similar. Afternoon walking tour of Muizz Ledeenallah and Khan El-Khalili districts. Back to the hotel to get ready for dinner at Zeitouni at the Four Seasons Hotel.
DAY 7 – ASWAN ABU SIMBEL: Tuesday (BLD)
Abu Simbel excursion: After an early breakfast, we head for the airport and your flight to Abu Simbel, via Aswan. Lunch Box will be prepared by your chef including bottled water.
In Abu Simbel: You'll have your own private air-conditioned vehicle, private chauffeur and private guide waiting for you at the airport.
We head for the temples site over looking Lake Nasser:
In the larger temple, colossal figures of Ramses are seated with the gods and attended by his queen and daughters. The smaller temple is dedicated to Queen Nefertari, who appears as Hathor, the goddess of love, joy and fertility, symbolized by the benevolent cow. We explore these fine temple, after which we fly back to Aswan, and your hotel. Dinner is included at a local restaurant.
DAY 8 – ASWAN – Board Your Nile Cruise: Wednesday (BLD)
After breakfast at your hotel, enjoy your morning at leisure, before we head to your Nile Cruise around noon time, where we settle you into your cabin on your Nile steamer. We'll visit the enormous dams at Aswan, then board a launch on to visit the Temples island of Philae, dedicated to the Ancient Egyptian Goddess of Isis, that was later worshiped in Rome as well as Ancient Greece, the temple was rescued from rising waters and reassembled on this island. In the evening your guide will call on your for a horse drawn carriage ride to explore Aswan souks and water front.
DAY 9 – KOM OMBO – On Board Your Nile Cruise: Thursday (BLD)
We cruise northward down the Nile today, at a stately pace, disembarking for a visit to Kom Ombo, the twin temple dedicated to the crocodile river god, Sobek. We'll also see Haroeris, the solar disk.
DAY 10 – EDFU – Esna and LUXOR- On Board Your Nile Cruise: Friday (BLD)
Horse-drawn carriages or vans meet us at riverside to take us through Edfu to the Temple of Horus, best-preserved in all of Egypt, on to Esna, our tour includes a visit to Esna Temple. Then we'll continue beside the Nile to take in an array of ancient splendors: touring the Valley of the Kings; the imposing tomb-temple of Queen Hatshepsut; and Colossi of Memnon.
DAY 11 – LUXOR: Saturday (B)
After breakfast. Check-out and proceed to tour the mighty temple complex at Karnak including the White Chapel, as well as Luxor Museum and Luxor Temple. We tour as well on the West Bank: Medinet Habu, Deir El Medinet and the Ramesseum. Sample deluxe Hotels or similar: Old Winter Palace – Nile View room, or the Steinberger Hotel, Nile View room. In the evening your guide will call on you for a horse-drawn carriage ride throughout Luxor souks and water front.
DAY 12- Cairo – SHARM EL SHEIK – RED SEA: Sunday (B)
Now that you've seen the best of the Egypt of the Pharaohs, our guides escort you to the airport. You'll fly over the Delta and connect in Cairo an on to the Sinai Peninsula and land at historic Sharm El Sheik on the Red Sea. You're at the beach and free to swim, or explore under the waters.
DAY 13 – SHARM EL SHEIK: Monday (B)
Relax! Today is set aside as a strategic mid-journey break. Spend some time in the sun, but don't miss your chance to snorkel or dive under Red Sea waters for an array of coral and glittering tropical fish.
DAY 14 – SHARM EL SHEIKH: Tuesday (BL)
Another day in paradise! enjoy the beach or join us for a complimentary tour: Our knowledgeable guides arrange a pre-dawn departure into the still-cool wilderness of Sinai, through which Moses led the Children of Israel to the Promised Land. Our goal is the Monastery of St. Catherine, built of rock at the base of Mount Sinai, at the site of the Burning Bush. We tour the monastery, rich in history, icons and sacred paintings, then return to Sharm El Sheik.
DAY 15 – Sharm El Sheikh, PETRA: Wednesday (B)
We'll fly to Amman via Cairo or non-stop Sharm El-Sheikh Amman, air fare is included in our rate in economy class, tax included, our Jordan-based representative waits to greet you. You'll drive south under a towering ridge of mountains, and arrive at your hotel in Petra for the night.

Petra – City of Mysteries. Video by visit Jordan.
DAY 16 – PETRA: Thursday (BD)
We'll spend the entire day at Petra, the stunning desert city hewn by the Nabateans from solid cliffs of pink and violet sandstone. Petra was known in the bible as Sela, and rediscovered only in 1812. You'll feel like Indiana Jones in Raiders of the Lost Ark as you penetrate into the city through a narrow sandstone gorge, the Siq, and wander among the Temple of the Winged Lion, tombs, Roman theater, and the imposing Treasury.
In the evening we will call on you for a unique experience — dine as a local: The Petra Kitchen is a delightful way to round out your Jordan travel experiences. Like any home kitchen, The Petra Kitchen is a relaxed, informal atmosphere where you'll gather to prepare an evening meal, working alongside local women under the supervision of our chef.
Each evening meal includes soup, cold and hot mezza (appetizers), salads, and a main course—all typical Jordanian dishes. You will have get an inside glimpse of the secrets behind the famous regional cuisine of the Levant.
The Petra Kitchen offers an evening of learning, fun and a very special dining experience, with each dish gaining the special flavor of a reward well-earned. Great care has been taken to make The Petra Kitchen a truly Jordanian experience—right down to the furnishings, all crafted in Jordan, the tableware, all produced by the Iraq al Amir Women's Co-operative, and the aprons and table linens, all hand-embroidered by the Jordan River Foundation.
Tour experience tonight includes the cuisine course, meal and all non-alcoholic beverages as well as take-home recipes for all dishes prepared that evening.
DAY 17 – PETRA – WADI RUM: Friday (BL)
After breakfast at the hotel, we board four-wheel-drive vehicles for an expedition to Wadi Rum, the "Valley of the Moon" where T. E. Lawrence ("Lawrence of Arabia") organized Arab resistance to Ottoman rule during World War I. After our visit, we break for tea with the bedouins, then head north. We will enjoy lunch at a local restaurant.
DAY 18 – JERASH: Saturday (BL)
After breakfast at the hotel, we head north, we enjoy lunch enroute. Today we tour Jerash, among the best-preserved Roman cities in the world, to tour its temples, theaters, churches and colonnaded streets. From Jerash, we will escort you back to Amman and your hotel.
DAY 19 – MADABA, KERAK: Sunday (BL)
Full day includes: Madaba to visit the church containing the oldest known map of Palestine and the Holy Land. Continuing to Mount Nebo, we enjoy the panoramic view of the Promised Land the way Moses saw it for the first time. Further on, at Kerak, we tour the ruins of its romantic Crusaders' castle of Renaud de Chatillon, one of a line which stretched from Aqaba to Turkey. Lunch is included at a local restaurant. Head back to Amman and your hotel.
DAY 20 – Jordan – Cross the border into the Holy land – Jerusalem: Monday (B)
Our Amman -based representative will call for you after breakfast and see you to the borders, where you'll board another private vehicle and on to Jerusalem and your hotel. No Visa is required for US citizens and major EU countries, if you are in doubt, please check with the nearest Israeli Consulate. You'll have the rest of this day to discover Jerusalem on your own… the crowds along Ben Yehuda Street, the new City Hall, the walls of the Old City illuminated at dusk, the gleaming Dome of the Rock. Jerusalem lives up to every expectation! expectation! Sample Deluxe: American Colony Hotel or similar.
DAY 21 – Tuesday – OLD CITY OF JERUSALEM (B)
Private air-conditioned vehicle. Private chauffeur – Private Guide. Our visit to the Old City starts with a walk through the reconstructed Jewish Quarter. We'll visit the newly excavated Cardo, a Roman promenade, and proceed to the Western Wall, all that remains of the Second Temple. Nearby is the Dome of the Rock, one of the holiest places of Islam. We will follow in the footsteps of Jesus along the Via Dolorosa to the Church of the Holy Sepulchre, passing bazaars where brass ware, embroidered dresses and inlaid woodwork are on offer.
DAY 22 – Tuesday – BETHLEHEM (B)
Private air-conditioned vehicle. Private chauffeur – Private Guide. We'll depart Jerusalem in for Bethlehem, to visit the Church of the Nativity, the site of Jesus' birth. We'll also stop at Rachel's Tomb before returning to Jerusalem. Remainder of the day on your own.
Day 23 – Wednesday – Jerusalem – sightseeing of the new city (B)
Private air-conditioned vehicle. Private chauffeur – Private Guide. Drive to Mt. Scopus for a panoramic view of Jerusalem. On to the Garden of Gethsemane and Church of the Agony. Drive to Mt. Zion for a visit to the tomb of King David, the Room of the Last Supper and Dormition Abbey. Sightseeing in the new city including the Israel Museum's Shrine of the Book with the famous Dead Sea scrolls, new Supreme Court bldg. Mt. Herzl, then visit the model of the Herodian city of Jerusalem dating back to the time of the Second Temple. Afternoon visit of the Hadassah medical center in the synagogue with Marc Chagall stained glass windows, then via Ein Karem (the birth place of John the Baptist). Return to Hotel.
DAY 24 – Thursday- DEPARTURE (B)
We'll escort you to the airport to catch your homeward-bound flight. Salam.

RATES per person in USD
| | | | |
| --- | --- | --- | --- |
| | Deluxe | First Class | Tourist Class |
| Triple | US$ 7810. | US$ 7020. | US$ 6412. |
| Double | US$ 7900. | US$ 7110. | US$ 6500. |
| Single | US$ 9800. | US$ 9350. | US$ 8590. |
For Easter (2 weeks season),
Christmas, New Year's (Dec 20 – Jan 3)
15% supplement will apply.
Sample 5-stars Deluxe Nile Cruises:
M/S Monaco, M/S Monte Carlo, M/s Mojito, Movenpick M/S Royal Lilly. M/s Queen of Hansa, M/S Beau Soleil, M/S Adonis
Inclusions:
All transfers, always on a private basis, private air-conditioned vehicle, private chauffeur.
All tips to your drivers, guides, crew on board the cruise etc.
Domestic flights within Egypt, as well air fare Cairo Amman in economy class with tax included.
Air-conditioned hotel accommodations with tax and service charges
Sightseeing with professional guide and entrance fees as indicated, private touring, private guide in Cairo, Jerusalem and Jordan.
Meals as indicated, with pre-set menu (B = Breakfast, L = Lunch, D = Dinner)
Lonely Planet guidebook to Jordan, Palestine/Israel and Egypt
Nile cruise as listed, including all shore excursions and entrance fees, all touring on the cruise is a group tour, unless you request a private car & private guide (supplement applies), while on board the cruise, expect to be part of a 10-15 English speaking group, we do not mix languages while touring. The boats accommodate 120-130 guests from all over the world.
While on board the cruise: Large bottle of water (per person), delivered daily to your cabin on board the Nile cruise.
Small bottle of water (per person) with each meal, while you are on board the Nile Cruise.
Tea or coffee with each meal while you are on board the Nile cruise
In Jordan: For your convenience: Wi-Fi internet access and mineral water with soft drinks are available in Jordan on board of all the vehicle for our VIP guests
Jordanian departure tax.
Visa fee for Egypt is included and will be issued upon arrival at Cairo Airport (no photos required) for: Australian, NZ, American, EU, Mexican, South African, South Korean, Canadian & Japanese citizens. You are responsible for having your passport in order, valid for at least for 6 months beyond the date of your arrival in Cairo.
Visa for Jordan. Limited to specific nationalities such as: Australian, NZ, USA, Canada, EU, Japan and others (please check with us if needed at the time of booking).
VIP Meet and Greet Service upon arrival on Day 1 at Cairo Airport.
Not included:
Personal expenses and beverages
Additional meals and services
Trip interruption and cancellation insurance
International air fares from/to your home country
The White Chapel at Karnak
Currently reconstructed in the Karnak Open Air Museum, the White Chapel of Senusret IV, also referred to as the Jubilee chapel of Senusret I, was built during the Middle Kingdom of Egypt. During the New Kingdom it was demolished and used as filler for the Third Pylon of the temple of Karnak, Precinct of Amun-Re.
In 1927 the dismantled pieces were found inside the Third Pylon of the main temple, constructed in the time of Amenhotep III, at Karnak, and between 1927 and 1930 all of the pieces were carefully removed. These pieces were then assembled into the building that is seen today.
The white Chapel is made of a hard white rock called alabaster. Its columns hold reliefs of a very high quality, which are hardly seen elsewhere at Karnak, and depicts Pharaoh Senusret being crowned and embraced by Amun, Horus, Min and Ptah.
All along the base of the outer walls runs a series of reliefs depicting the Sepat (Gr: Nome) [Provinces] ensigns and deities; on the western side the ones for Upper Egypt, on the eastern the ones for Lower Egypt.
Sample Hotels (or similar) in Jerusalem
Jerusalem Hotel: First class – Four stars Category
Quiet European elegance, comfort, and affordability meet in the Jerusalem Gold Hotel to create a hidden sanctuary amid the overwhelming blaze of history, diversity, and faith that is Jerusalem.
Sample Deluxe Hotel in Jerusalem
The American Colony Hotel Jerusalem:
The American Colony Hotel, a landmark fairytale get-away in the heart of Jerusalem, has been providing its luxurious hospitality services for more than 120 years. Personified by classic Arabian arches, elaborate furnishings and opulent suites, this elegant boutique hotel prides itself in offering guests an enchanting 'east-meets-west' experience in a distinctively tranquil and romantic setting. With state-of-the-art amenities for business and leisure travelers and the bygone grandeur of royalty in the Pasha's suite, the American Colony's ambience and splendour enchants its guests with the ultimate blend of modern conveniences and old world charm. Its lush gardens, world-class restaurants and quintessential style, have earned the American Colony its distinguished reputation as an 'oasis' where timeless elegance meets contemporary facilities to provide new and returning guests of all ages with an extraordinary experience.
The hotel is within walking distance of all of Jerusalem's major sights and within ten minutes of the Damascus Gate in the Old City, about a 45 minute drive from the airport outside Tel Aviv. The American Colony Hotel. One Louis Vincent St, Jerusalem 97200