Dubai for an Incentive Travel
With a Difference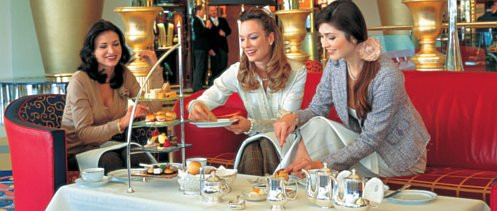 The rapid growth of incentive travel in recent years has given organizers a major challenge… how to find somewhere new and different that combines variety and excitement with professional destination management services and top quality hotels.
There can be no better answer than "Dubai" – as an increasing numbers of incentive travel organizers are finding out. Dubai's unique attraction is that it brings together in a single, accessible location the comforts and convenience of the western world with adventure of Arabia – from the bustling souks to the majestic desert. An exotic destination with a cosmopolitan lifestyle, Dubai has the right mix to make it the ideal solution for the incentive travel planner. The diversity of the pulsing city has changed in recent years from a less known travel destination to a world recognized and famous cosmopolitan city.
The mixture of Arabian Heritage and modern designs of buildings gives the destination a special touch with the best personal service. Incentive planners need to get the "kick" and Dubai has it!! Dubai is still a sufficiently well kept "secret" to excite the most jaded traveller, yet offers all the facilities and expertise you need to plan your incentive with confidence.
Dubai is the answer for the client who is looking for something exciting. Come to the United Arab Emirates, the ultimate incentive for an experience that is truly different. Your Company or Clients deserve the very best!!
Theme Ideas for Activities
Paint ball Fight
This is a fun, commando style fighting game for teenagers and adults where the bullets are balls of paint! Get our transfer from your hotel to the Wonderland with the final destination of Pursuit games. Get a crowd together and they will soon be divided into two teams by the experts, who go through a throughout safety demonstration before equipping you with overalls," Death Vader" type face masks and special guns equipped with paint balls. This is a strategy game played by shooting balls of paint onto your opponent thus marking and eliminating them. It usually involves two teams with a specific aim, such as capturing the opponent's flag. Stalk your enemies and get them before they get you! If a pellet hits you – you are out – until the next game!
A great tool to balance your frustration… who does not want to get the boss?
Wild Wadi – The Water Park Experience
The Day will bring your guests to a lot of fun. We will visit the Wild Wadi Water Park, located at Jumeirah Beach. Wild Wadi combines giant rock formations and tropical vegetation's and gives the impression of the mountain hills and Wadi waters of the Hajar area. A Waterborne excitement is waiting for your guests as there are the gravity-defying Jumeirah Sceirah and the master Blaster's series of stupendous water roller coasters. For the more relaxing people board the "hoop" will float you slowly around the lazy rivers of the park. More adventures presented is the breakers bay were you will find One-and-a-half meter high waves protected by a brigade of professional lifeguards. The park has modern water games & a slide that encompasses game for both adults and children.
Refreshments and snacks are of course available at the park and keep all wishes fulfilled. A dream of water…….
Golfing at the Dubai Creek & Golf Club or
Emirates Golf Club
Dubai is known as sporting capital of the Middle East and developed a wide range of world-class Golf Courses. Superb Golf courses is the Majlis course of the Dubai Creek & Golf Club central located near the Garhoud area or the prestigious Emirates Golf Club at the Jumeirah Beach area. (Please be aware that a minimum Handicap is required to play on all grounds.)
For those who don't have the necessary handicap, we offer the Golf Clinic, which lasts for 2 ½ hours, where the beginners of Golf will be provided with all the necessary aspects of the game. At the end of the clinic, each participant will receive a personal file with all aspects of the game carried out the clinic. Also at the end a small competition will be carried out with rewarding prices. A lot of fun for beginners…..
Golf booking requirements for the Golf Course:
Names & Handicaps to follow 2 weeks in advance
Handicap for men 28 or less, 36 or less for ladies.
Handicap certificates to be carried and shown at the Golf Club reception desk.
All players should adhere to the dress code, which requires proper attire at all times.
Denims, beach wear or shirts without collar & sleeves are prohibited
Spike Free Rule, only golf shoes with soft rubber spikes are allowed on the course
Guest to bring along their golf shoes, as the club does not hire shoes.
Formula One Go Carting
Formula One's indoor go-carting track allows you to experience a rush of adrenalin in purpose-designed race carts, just two centimeters off the tarmac, racing at speeds of up to 75 km per hour. It is the ideal introduction to the thrill of competitive motor sports and is available corporate entertainment, individual practice sessions or lessons for older children. You are given a full safety briefing, race suits, gloves, helmet and of course the cart! No experience is necessary and it is extremely exhilarating and entertaining!
Raft Building
This is a program which requires the delegates to construct their own rafts or as a means of reaching a goal. Innovation, coordination and group effort are the basic elements of this program. These programs can be combined with the Team Challenge Circuit. The teams will ain points during the challenges, which they will use to bid for building materials. This introduces concepts of strategic planning, use of resources, and sharing/cooperating behaviors. Incorporation of the Team Challenge Circuit will incur additional cost.
Mission Possible
Mission Possible is a progressive team building program, whereby the delegates go through challenging stages, acquiring skills and knowledge along the way. It is a combination of hands-on tasks, navigation, trekking. The challenges are physical in nature, but the emphasis is on how well they can resolve situations requiring problem solving skills, tenacity, innovation, the ability to coordinate, communicate and cooperate and a willingness to take risk. None of the challenges can be done individually, all require coordinated effort. The entire program will take 3-6 hours, not including transport times to and from Hidden Wadi.
Off road self drive expeditions
Desert expeditions to the mountains and desert of the UAE and the Musandam Peninsula. Designed around the time constraints and training needs of the client. These trips take the delegates out of the normal distractions of the city, enabling them to focus their attention on the tasks at hand, building bonds and capabilities based on shared experiences and challenges. These are participatory, hands-on trips. The delegates do the driving, recover their vehicles when stuck, put up their tents, prepare food for the group and otherwise tackle all critical tasks. Teams will be given the task of creating and performing skits for around the campfire. These can be based on random themes or tied into company values or training objectives. This is a highly configurable program and can be fit to the clients time, budget and training objectives. Includes instructors, off road instruction, vehicles, recovery gear, camping equipment and meals.
Dhow Team Challenge
The program takes place on a double decker, air-conditioned dhow during a cruise of Dubai Creek. The group is divided into two teams, one to each deck. Each team will then go through a series of initiative challenges which will build problem solving and communication skills. The second stage consists of each team helping the other solve a puzzle, communicating only by radio. The program is fun and challenging, while offering insights into communications, cooperative behaviors and problem solving abilities.
Instant Boats Program
Teams of 5 persons each are given the challenge of constructing boats from cardboard, plastic sheeting and duct tape. Paddles and life jackets are provided. Nothing else is allowed. It requires innovation, courage, the ability to take risk and trust one another. The object is to get whole team around the course in the shortest time possible. They can use all their materials to build one large boat, one small strong boat or several small boats. Awards can be given for best time, most creative and Titanic Trophy (best sinking). Costs include staff, boat building kits, life jackets, three trophies and a safety boat. Trophies will be awarded for best time, most creative boat and a Titanic trophy for the best sinking. Costs are based on five person teams.
Team Challenge Circuit Stations
The stations consist of the following activities:
Land mines: The team must individually navigate through a "minefield" consisting of small mousetraps. Each person in turn will be blindfolded. He can receive verbal guidance, but no physical assistance. Those team members not navigating will be confined to a designated space and can only offer verbal support from here. They will have a 10 minute time limit and will receive points for each member who makes it through without setting off a mine.
Other Stations: The Bullring, The Hidden Treasure, Disappearing Triangle, Croc Pit, Jailbreak, Plumber's Nightmare, Spider's Web, Toxic Rescue, Building Bridges, Water Works, and Pipe Race.