Discover Dubai and Oman
All in 9 Days
A Grand Arabian Adventure – Private Touring
Guests arriving Salalah Oman by cruise, please click here
More and more of our repeat customers are considering new "off the beaten track" destinations. Be one of the first to adventure into Arabia: Oman! where Desert traditions and warm hospitality are part of everyday life, adventure is a given. The call of the muezzin and the dhows of sea traders from all over infuse your visit with the exotic. It's a whole new world, but we'll ease your way by arranging the most comfortable lodgings available, along with tours that will provide an exceptional window into local ways, while allowing time for optional excursions and your own discoveries. Here we have combined Oman with a true exotic gem on the Arabian Gulf: Dubai. A taste of Arabia with a cosmopolitan lifestyle. In Dubai you'll find year round sunshine and un-crowded, clean sandy beaches. In this crime-free society you'll find a very warm & welcoming team & society awaits you in Dubai. While shopping may not be high on your list, you will find Dubai's tax free markets means bargains galore. Attractive traditional Middle Eastern gifts – coffee pots, rugs, silverware, jewelry, brass, and one of the world's greatest gold trading centers offering unbeatable value. Hong Kong is no longer able to compete with Dubai with the wide selection of low – priced international brand name products – audio equipment, VCRs, cameras, watches, fashions, perfumes and more. And do not forget the award-winning Dubai Duty Free at the airport.
Tour
DAY 01 – NYC or SFO – Fly Emirates Airlines to DUBAI:
Daily. Choose your own date. Private Touring
Board your LUXURY Emirates Airlines flight in NYC or SFO. Enjoy the ultimate in comfort on board. The world's only Luxury Airline.
DAY 2 – DUBAI- VIP Meet & Greet Service:
Daily Arrival – Choose your own date. Private Touring – Private Transfers
Please note that Friday is the weekend in Arabia. We may switch tours around based on your arrival date to accommodate local holidays and weekends.
Arrive at Dubai International Airport at the United Arab Emirate on the Arabian Gulf. Complimentary visa will be issued upon arrival for the following nationalities; UK, EU, Switzerland, Sweden, USA, Canada, Australia, NZ, Japan, Singapore, Malaysia, Brunei. You are responsible for having a valid passport. Upon arrival our local rep will meet you and escort you to your hotel. For the Ultra Deluxe Hotel Category, your private airport transfers are based on using a deluxe Rolls Royce in Dubai.
Arriving at Dubai International Airport you'll be delighted to discover Travel in Style's VIP Red Carpet welcome procedures: you are met by our English-speaking representative who escorts you from your plane to a comfortable air-conditioned lounge where you can freshen up and recover from your flight. While you relax, our representative completes your Immigration procedures, collects your luggage, clears it through Customs, and transfers it to your private, air-conditioned vehicle. Escorted from the lounge to your vehicle, your private chauffeur transfers you to your hotel, assisting with your luggage when you arrive. Red Carpet Treatment: that's the Travel in Style difference.
DAY 3 – DUBAI: (BLD)
Private Touring — Dubai City Tour and the Gold souks:
Sample the historic sites and vibrant cosmopolitan life of Dubai on this comprehensive tour. The Tour begins in Jumeira, the picturesque palace and residential area of Dubai, also home to the famous Jumeira Mosque. The next stop is Sheikh Saeed House (former residence of the ruling family). The Tour then continues to Al Bastakiya, the old part of Dubai, to reach the museum located in Al Fahidi Fort. All guests board the Abra (water taxi) to cross the Creek to the spice souk. Before savoring the sights and sounds of the fish, fruit and vegetable market, lunch is included in a charming local restaurant.
In the afternoon we focus on the shopping and treasure hunt where we will take you to where the locals go shopping as well as Dubai famous Gold souk. We will have a brief stop at Ski Dubai (guests who wish to ski will purchase tickets on their own locally).
Evening Dhow Cruise Dinner:
For a fabulous relaxing evening join our fully fitted Arabian dhow for an evening's cruise on the Creek. Enjoy a sumptuous feast of Arabic and Western cuisine while gently gliding past illuminated souks, banks and palaces.
DAY 4 – Desert Safari with dinner in the Arabian Desert – DUBAI (BD)
Half Day Desert Safari (4 Wheel Drive):
Morning at leisure, or enjoy some beach activities. The Desert Safari tour departs in the afternoon across the desert of Dubai with several photo op stops during an exciting 4 x 4 dune drive to the first destination at a camel farm. The drive continues across the desert. Keep in mind that before we head into the dunes area your driver will deflate the wheels of the 4X4 to allow for a smoother ride across the Sahara. Dune bashing has become known as a fun experience – you will feel the thrill of desert driving as your professional driver takes you up and down on golden dunes.
We stop to watch the beautiful sunset before reaching our campsite where you have the opportunity to do camel riding. After working up an appetite enjoy a delicious barbecue dinner and a shisha (the most famous Arabic Water pipe). We conclude the evening with a true 1001 Arabian Nights tradition with a belly dancer performing her dance around the campfire before we head back to your hotel in Dubai.
DAY 5 – DUBAI -East Coast Tour: Home Hosted Dinner (BL)
After breakfast we head for Dhaid and then on to the Hajar mountains that offer a beautiful natural backdrop for Dubai. A stop at a local market where the local shop for locally made pottery, fruits and carpets. We will stop as well in Dibba and a brief stop at the colorful local fish market, always with the fresh catch from the Arabian Gulf. We drive along the coast passing by enchanting small villages and fishermen wharfs. We arrive at Al Badiyah mosque, one of the earliest mosques built in the UAE, and then continue on to Khor Fakkan, a regional popular spot for diving and snorkeling, where there will be an opportunity to relax at the beach and have a refreshing swim stopping as well as the Khor Fakkah souk. Continue to Fujairah where we stop at the renovated Fort. Before returning to Dubai, stop at the oasis of Bitnah and take time to wander on the "Friday Market" in Masafi. Lunch is included enroute in a charming local restaurant.
DAY 6 – Dubai – Muscat, Oman (B)
Our local rep. escorts you to the airport for your flight to Muscat Oman. Air fare is included in economy class, ticket issued and delivered in Dubai. You fly in over the blue Arabian Sea, soar over the desert of sand and ochre rocks, and touch down at the airport of Muscat. The air and light have a purity you might never have experienced. Our representative will be on hand to see you through the formalities and arrange your transportation to a luxury hotel such as the Grand Hyatt. The rest of the day and evening are yours to rest, dine, and discover the city on your own.
Day 7 -Muscat (BL)
After breakfast we've arranged for a private half-day tour of Muscat. You'll see the Sultan Qaboos Grand Mosque renowned for its graceful architecture throughout the Muslim world. Please note that modest dress is required of men and women (no shorts or bare skin, and ladies should cover their heads with a scarf). We'll continue to Bait Al Zubair, once the town home of a prominent family, and now a museum that honors Omani traditions with antiques and artifacts from desert and village life. In the Muttrah souq, or market, we'll gaze at the wares of gold and silversmiths, traditionally used not only for personal adornment and household decoration, but as a way to store wealth. The crafting of wedding jewelry goes back centuries. You'll also see household items from fabrics to spices to utensils, many reflecting a simpler life that disappeared from your own country long ago. Don't overlook them as souvenirs! In the center of the Old Town you'll visit Al Alam, the palace of Sultan Qaboos, the ruler of Oman, and walk by the Royal Diwan to the sixteenth-century forts built by the Portuguese to guard the harbor. We've arranged for lunch today at a charming local restaurant.
Day 8 – Muscat, Wahiba Sands (BL)
You've seen the town side of Oman, and now it's time to experience the desert in all its glory. You'll leave Muscat after breakfast, heading to the Hajar Mountains that separate the endless sands of Arabia from the coast. We'll rise and twist and turn through the majestic rocks, until the red dunes of the Wahiba Sands reveal themselves below, stretching to the Gulf of Oman. Here in the protected area of Jiddat Al Harassis, biblical animals like the oryx and gazelle thrive along with a variety of lizards. Sir Wilfred Thesiger brought knowledge of the sands to the wider world, and now you can have the rare experience of experiencing them for yourself. You'll abandon the road to cross trackless territory with a guide who finds his way by the sun and natural landmarks, until you reach a Bedouin camp. Here you can learn the most useful skill of camel riding, or explore further by motorized vehicle. On our way back, we'll stop to gaze at the old watchtowers of Mudairib village. Lunch is served enroute in a local restaurant.
Day 9 – Departure: Fly Back to the USA on Board your Luxury Emirates Airlines Flight (B)
We'll call for you after breakfast and see you to the airport to begin your homeward journey in comfort on board Emirates Airlines back to NYC or SFO (please advise us in advance of your preference).
Rates per person in USD
Private Touring
With Air fare on Emirates Airlines From/To USA (NYC and SFO)
| | | |
| --- | --- | --- |
| | Ultra Deluxe | Deluxe |
| Triple | US$ 20,210. | US$ 6710. |
| Double | US$ 20,332. | US$ 6832. |
| Single | US$ 22,985. | US$ 8485. |
Hotels used in Dubai
Burj Al Arab Hotel in Dubai
Double Suite
Airport Transfers using Rolls Royce or similar
Sheraton Jumeirah, Hilton Jumeirah, Park Hyatt Dubai, Kempinski, or similar
Flights from and to the USA
Business class on the World
Luxury Airline: Emirates
from/to
and/or New York or San Francisco
Flying on board Emirates Airlines in comfort
in Economy from/to
New York and/or or San Francisco
Children Discount: 25% Discount when sharing with parents same room. Children: 10 years of age and younger. Infants: 2 years and younger (free).
Sample Deluxe Hotels
Dubai: Ultra Deluxe
Burj Al-Arab Hotel or similar
Dubai: Deluxe
J. W. Marriott, Park Hyatt Dubai, Kempinski, or similar
Muscat- Oman
Grand Hyatt Muscat, Al-Bandar Hotel Muscat, or similar
Prices include:
Air fare on board Emirates Airlines from NYC or San Francisco with all taxes include.
All transfers on a private basis, private air-conditioned vehicle, private chauffeur.
Air fare Dubai to Muscat Oman in economy class, tax included.
Air-conditioned hotel accommodations with tax and service charges
Private sightseeing (yet the desert safaris for example) and the dhow cruise, you will be sitting with other guests enjoying the same Dhow cruise and BBQ desert camp dinner in Dubai.
Private professional guide during touring.
All entrance fees as indicated
Meals as indicated, with pre-set menu (B=Breakfast, L=Lunch, D=Dinner)
UAE visa fee (valid only for a limited number of nationalities such as American EU, Australian, NZ and Japanese citizens. Passports must be valid for at least 6 month upon arrival).
Dubai VIP Meet & Greet Service at the Airport :
Arriving at Dubai Inetranational Airport you'll be delighted to discover Travel in Style's VIP Red Carpet welcome procedures: you are met by our English-speaking representative who escorts you from your plane to a comfortable air-conditioned lounge where you can freshen up and recover from your flight. While you relax, our representative completes your Immigration procedures, collects your luggage, clears it through Customs, and transfers it to your private, air-conditioned vehicle. Escorted from the lounge to your vehicle, your private chauffeur transfers you to your hotel, assisting with your luggage when you arrive. Red Carpet Treatment: that's the Travel in Style difference.
Not included:
Personal expenses and beverages
International air fare from / to your home country
Gratuities
Additional meals and services
Trip interruption and cancellation insurance
Fly Emirates Airlines:
Arrive at your destination fully refreshed with our Flat-bed seats. Every Business Class seat on the Emirates A380 converts into a flat bed at the touch of a button. Using the touch screen controller, you can adjust your seat to suit your own preferences and comfort. Each seat extends to form a flat bed up to 79 inches long.
The Flat-bed seats are tailored to the way you like to travel, with an in-seat power supply for laptops, dual port USB and extra-large table provide a comfortable workspace, and over 1,200 channels of entertainment are available on our ice Digital Widescreen TV. And there is even a built-in mini-bar in every seat, along with a personal storage area and a privacy divider.
Upgrade and fly First Class on Emirates Airlines. Please ask us for details:
When flying with Emirates you will be able to refresh mid-flight in the Emirates A380 signature Shower Spa. We understand that air travel can be tiring, especially during long flights. That's why two onboard Shower Spas are included as part of the First Class experience on the Emirates A380.
From the state-of-the-art shower system to the classic walnut and marble design to fine linens, the Shower Spas were conceived with your pleasure and convenience in mind. And, to complete the spa experience, we offer our signature Timeless Spa shower kits, made from the finest natural ingredients.
A relaxing visit to the Shower Spa can help ensure you arrive at your destination ready to take on the day.
Hospitality Trumps Bottom Line at Emirates – April 2010
Dust cloud over Europe! Passengers stranded worldwide, usually without assistance from their airlines, except…
In keeping with its core values and traditional hospitality, Emirates Airlines stepped forward to ensure that each and every one of thousands of passengers delayed in Dubai and elsewhere received three meals a day and accommodations.
The cost to Emirates is well over $2 million a day in addition to its lost passenger revenue. But to passengers who would have been left out in the cold by other airlines, the value is priceless.
Maybe it's time for guests to consider travel with airlines that really care.
Burj Al-Arab Hotel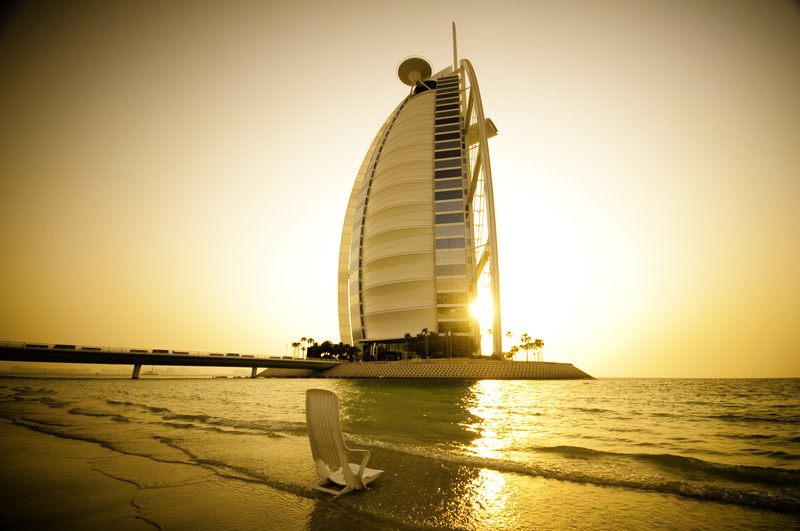 Designed to resemble a billowing sail, the hotel soars to a height of 321 metes, dominating the Dubai coastline. At night, it offers an unforgettable sight, surrounded by choreographed colour sculptures of water and fire. This all-suite hotel reflects the finest that the world has to offer.
With your chauffeur driven Rolls Royce, discreet in-suite check in, private reception desk on every floor and a brigade of highly trained butlers who provide around-the-clock attention, you can be assured of a highly personalized service throughout your stay.