All in 10 Days. See the top sights in Jordan and Lebanon on this locally escorted tour, including Amman, Beirut, Tyr, Sidon, Petra, Wadi Rum Martian Dome Luxury Camping and Jerash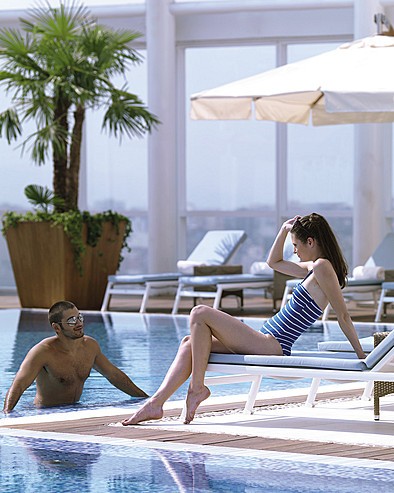 Upgrade to the Ultra Deluxe Four Seasons Hotels:
Beirut and Amman – Rates Listed Below
The Near East comes alive in this Jordan and Lebanon tour : We'll show you the wonders of fabled Lebanon – Roman citadels, Biblical sites, and the ancient/modern city of Beirut a locally escorted tour. Discover what in-the-know Sheiks, Jet-Setters, historians, and adventurers have been keeping to themselves: Lebanon glitters and gleams, with exquisite beaches, fine restaurants, storied sites, age-old traditions, cedar-clad mountains, and tranquil valleys. Europe and the East mix and mingle at this crossroads of three continents. Take a week in Lebanon, and you'll experience a good slice of the world in one small country. Come and discover Lebanon and Jordan with us.
Tour
DAY 1: AMMAN – Daily Arrival – Year Round – This is a Private Tour – Choose Your Own Date
Transfers are always on a private basis. Private air-conditioned vehicle. Private Chauffeur. Our local representative will meet you upon arrival and help with the transfer to your hotel in Amman.
DAY 2: MADABA, KERAK – PETRA (BL)
After breakfast, a brief stop at Amman Museum where we'll see some of the Dead Sea Scrolls.
THE SECRET DEAD SEA SCROLLS – A TALE OF WANDERING
The peoples of the Holy Land have wandered from homeland to dispersion, across the parted waters of the Red Sea, back to their homeland. So too, the Dead Sea Scrolls have followed an epic journey, from hazy origins in the time of the Second Temple, to secret caches, to their repositories today, where they are revered as the heritage of mankind.
It was in 1947 that the first scrolls were rediscovered by Bedouin shepherds in the Qumran Caves overlooking the Dead Sea. Inscribed in Hebrew and Aramaic and Greek on parchment and papyrus, unmolested since before the time of Christ, they were the earliest original holy writings ever brought to light. Only dimly appreciated at first, they embarked on a journey that took them through the hands of dealers and connoisseurs, to Bethlehem, Lebanon and New York, and finally to Jerusalem.
Discoveries continued, as 11 caves were explored, revealing scrolls and fragments of sacred texts and historical records of the construction of the Second Temple. Most found their way to the Rockefeller Museum, and later were incorporated into today's Shrine of the Book in Jerusalem.
But other treasures made their way to the Jordan Archaeological Museum, where they are displayed in an alcove at one end of the building, in an unpretentious setting that belies their importance. The collection includes a fragment of the Book of Isaiah, and the Dead Sea Bronze Scroll, an inventory of caches of valuables, composed in Aramaic characters, the vernacular language of Palestine at the time of Christ.
As you gaze and at the scrolls in the museum, reflect on the Biblical events of which they speak that took place in what is now Jordan. Lot's wife was turned into a pillar of salt, and Lot fled to a cave in what is now Safi. Lot's descendants ruled over Moab in Central Jordan. Sodom and Gomorrah were destroyed by fire. Jesus preached in the Decapolis, the ten Roman cities of northern Jordan and southern Syria. The Israelites crossed this land on the way to exile in Persia; and Moses viewed the Holy Land from Mount Nebo, and expired.
We drive south along the King's Highway, an ancient caravan route, to Madaba to visit the church containing the oldest known map of the Holy Land. Continuing to Mount Nebo, we enjoy the panoramic view of the Promised Land the way Moses saw it for the first time. Further on, at Kerak, we tour the ruins of its romantic Crusaders' castle of Renaud de Chatillon, one of a line which stretched from Aqaba to Turkey. Finally, we arrive at PETRA. Lunch is included enroute. Private guide will escort your from Amman.
DAY 3: PETRA (B)
Today the fabulous Nabatean City of Petra awaits us. Made famous in the Indiana Jones movie "Raiders of the Lost Ark," its ancient temples, tombs and striking Khazneh (Treasury) were hewn right from the pink and violet sandstone. We spend a full day here, and another night. Tours are always on a private basis. Private air-conditioned vehicle. Private Chauffeur and private guide.
DAY 4: PETRA – Wadi Rum – Luxury Camping (BLD)
Martian Dome Accommodation! Luxury Camping in Wadi Rum
Breakfast is included at the hotel before we head to Wadi Rum, where we board four-wheel-drive vehicles for an expedition to Wadi Rum, the "Valley of the Moon" where T. E. Lawrence ("Lawrence of Arabia") organized Arab resistance to Ottoman rule during World War I. Lunch box is included.
After our visit we head for a star gazing nighty in a Martian Dome accommodation in one of the Luxury camps in Wadi Rum.
It is essential to take several layers of clothes, including warm layers. This is desert weather, so there is a great drop and/or increase in temperatures with sunrise/sunset. Sample camp site: the Luxury Camping: Sun City Camp (Wadi Rum), or the RSCN Rummana Campsite at the Dana Nature Reserve. Dinner is included tonight. Your guide will always be available on hand, and will be escorting you at all times.
DAY 5: Jerash, The Dead Sea (BL)
Your private guide will continue to escort you for the drive to Jerash,  full day touring Jerash among the best-preserved Roman cities in the world, to tour its temples, theaters, churches and colonnaded streets. From Jerash, lunch is included en-route after which we drive back to the Dead Sea and your comfortable hotel.
DAY 6: Amman, Beirut (B)
After breakfast, transfer back to Queen Alia Airport and board your flight on Royal Jordanian Airlines to Beirut, air fare is included in our rates. You fly in over the blue Mediterranean and clusters of trading vessels of every size and shape in the great curve of the port and bay of Beirut sheltering under green mountains. Our local representative will be on hand to greet you, and to assist with entry formalities. Visas are issued upon arrival to a limited number of nationalities such as citizens of the USA, Canada, the EU, Japan, Australia and NZ and several other nations. We'll see you to your hotel. The remainder of the day is yours to relax, recuperate from your travel, stretch your legs, and make your first discoveries of Beirut. Our representative will be pleased to suggest a restaurant or an informal café, or a night club, depending on whether you prefer music into the wee hours, fine cuisine, or an authentic Arab meal . . . you'll find it all in Beirut.

Jeita Grotto. The Daily Star Lebanon.
Day 7: Byblos – Jeita – Harissa – Beirut (BL)
Breakfast is included daily at your hotel. We head this morning toward the Jeita Caves, a vast limestone complex south of Byblos and north of Beirut, inhabited in prehistoric times. The caves hold the world's largest known stalactite, and shelter a river that supplies water to Beirut, continue on to Byblos, one of the oldest inhabited cities anywhere, well worth the day we spend appreciating its many layers. Phoenician temples remain from thousands of years before the time of Christ, while a castle and the Church of St. John the Baptist bespeak the ebb and flow of the Crusades through the city. But Byblos is more than history. Its seaside location and backdrop of mountains make it a favorite locale for browsing, shopping, and lingering over a repast and beverages on terrace with views to ships, slopes, and treasured buildings. Later in the afternoon we'll stop at the hillside and ride the cable car to visit Our Lady of Lebanon at Harissa, high above the city of Jounieh, noted for its statue with a chapel inside, as well as for spectacular views. By nightfall, we'll find ourselves back in Beirut. Lunch is included today enroute (pre-set menu) served at  a charming local restaurant.
Day 8: Tyre – Sidon – Beirut (BL)
Full day in South Lebanon. The visit starts in Tyre, 85 km from Beirut. Tyre is the greatest of the Phoenician city-states. Its golden age came during the reign of Hiram, the most famous Tyrian kings who cultivated close ties with the Hebrew kings Solomon and David and contributed to the construction of the temple of Solomon by sending cedars wood and skilled workers. Today UNESCO lists Tyre as world heritage site.
Drive back to Sidon or Saida, one of the most important Phoenician city-state, its wealth came from the murex trade and glass manufacture, which was the best in the world at the time. Today Saida is a rapidly-growing town, the administrative and commercial capital of the south, where you can have a stroll in the old souks and visit the Crusader Sea castle, Khan El Franj, the Great mosque and many other interested places. Lunch is included today enroute (pre-set menu) served at a charming local restaurant.
Day 9: Deir El Qamar – Beiteddine Palace – Beirut (BL)
Drive to the Chouf Mountains to visit Deir El Qamar which translates literally as "monastery of the moon"; this charming village was choosing by Fakherddine as the capital of Lebanon in the 17th century.
Continue to Beiteddine Palace built in the 19th century over a period of 30 years by Emir Bechir II Chehabi around a former Druze hermitage. Today the palace is considered as the greatest surviving achievement of Lebanese architecture.
In the afternoon we will visit the capital of Lebanon: Beirut – a city of contrasts. Beautiful architecture with small houses nestling in the shadow of tall modern buildings. You will visit the down town, the corniche, and the pigeon grotto. Lunch is included today enroute (pre-set menu) served at a charming local restaurant.
Day 10: Beirut – Departure (B)
Your private chauffeur will call for you after breakfast, and we are on to the airport – of course with a private air-conditioned vehicle. Bon Voyage!
Rates per person in USD $
Per Person in:
Ultra Deluxe Hotels
Deluxe Hotels
First Class Hotels
Triple
US$ 6123.00
US$ 4992.00
US$ 4425.00
Double
US$ 6430.00
US$ 5285.00
US$ 4770.00
Single
US$ 7843.00
US$ 6505.00
US$ 5735.00
High Season Supplement: For June-Sep and Dec 15-31 please add %25 to any of the listed rates.
Your fully locally escorted tour includes:
All transfers, on a private basis, private air-conditioned vehicle. Private chauffeur.

Regional one-way airfare between Amman and Beirut in economy class with tax included. Ticket issued and delivered in Amman. When you book the Ultra Deluxe hotel category then your Amman Beirut flight will be booked in business class.

Private guided sightseeing as per itinerary. Private English speaking guide, if you prefer any other major language, please advise us in advance.

In Jordan, your guide will escort you from Amman all the way to Petra, Wadi Rum and Jerash.

Hotel accommodation based on your choice of hotel category, with breakfast daily.

Pre-set menu meals: as indicated in the itinerary: "L" = pre-set lunch, "D" = pre-set dinner.

Your professional guide will escort you throughout the tour, aside from the fact that you have your private chauffeur as well.

Admission fees to museums and sites as detailed in the itinerary.

Visa for Jordan & Lebanon. Limited to specific nationalities such as: Australian, NZ, USA, Canada, EU, Japan and others (please check with us if needed at the time of booking). You are responsible for having a valid passport, please email us at least 30 days in advance of

 

your arrival date, a very clear & crisp copy of the info page in your passport.
Additional Visa information – This applies only to Lebanon:
Lebanon will not issue visas for any passport holder that may carry any stamp or visa for Israel. 
The tour does not include:
International airfare from/to your home country.

Travel Insurance

Personal expenditures (beverages, laundry, special meals, etc.)

Tips to hotel, restaurant staff, drivers and guides.
Hotels
Click here for more information on hotels in Lebanon and Jordan.
Sample Ultra Deluxe Hotels or similar
Flying Amman / Beirut in Business Class

Amman

Four Seasons Amman

Beirut

Four Seasons Beirut

Petra

Petra Movenpick or Petra Marriott (Junior suite main building or Terrace Room)

Dead Sea
Kempinski Dead Sea Ishtar Hotel (Junior suite)
Wadi Rum
Luxury Camping: Martian Dome accommodation Camping at Sun City Camp (Wadi Rum), if you prefer the Royal Tent, please let's know in advance
Sample Deluxe Hotels or similar
Flying Amman / Beirut in Economy Class
Amman
Hyatt Amman, Marriott Amman
Beirut
Phoenicia, Hilton Beirut, Royal Tulip Beirut, or similar
Petra
 Petra Movenpick or Petra Marriott
Dead Sea
 Kempinski Dead Sea Ishtar Hotel
Wadi Rum
 Luxury Camping: Martian Dome accommodation Camping at Sun City Camp (Wadi Rum)
Sample First Class Hotels or similar
Flying Amman / Beirut in Economy Class
Amman
Imperial Palace Amman, or similar
Beirut
Radisson Beirut, Ramada Beirut or similar
Petra
Beit Zaman Petra Hotel, or similar
Dead Sea
Holiday Inn Hotel or similar
Wadi Rum
Luxury Camping: Martian Dome accommodation Camping at Sun City Camp (Wadi Rum)
Recommendations and conditions:
Every effort is made to adhere to the planned itinerary, however, for reasons beyond our control, it may be necessary to change routings, sequence of visits, and departure times.