A Grand 14-day Tour of these Two Gems of the Near East
Egypt and Jordan, including Cairo, Giza,
Dahshour, Petra and a Nile Cruise
Boarding Luxor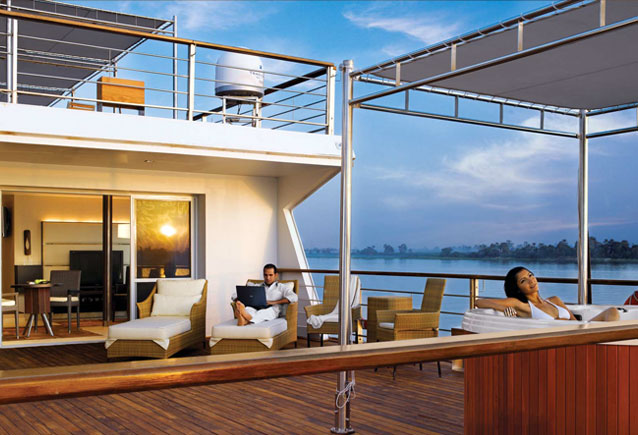 Indiana Jones himself couldn't squeeze more adventure into this journey: Cairo and the Pyramids, a cruise on the Nile, the fabled temples and tombs of Luxor and Thebes, the Red Sea and a trek to the mysterious ruins of Petra in Jordan.
Tour
DAY 1: Cairo – Tuesday- Weekly- Year Round
On arrival, our local representative will greet you at the airport and whisk you to your hotel. Visa may be issued upon arrival at Cairo Airport.
VIP Meet & Greet Upon arrival at Cairo Airport
Visa issued locally in Cairo (for a limited number of nationalities) no photos required. Our representative greets you at the airport and whisks you to your hotel. Visa will be issued upon arrival at Cairo Airport for a limited number of citizens such as: American, Australian, NZ, EU, Canadian, EU Singaporean and Japanese citizens. You are responsible for having your passport in order valid at least for 6 month beyond the date of your arrival in Cairo, our local rep. will meet you with a sign after you have cleared the passports control, claimed your luggage and exited the terminal, then escort you by private vehicle to the hotel. A welcome fruit basket & Egyptian pastry awaits you in your room with our compliments.
DAY 2: CAIRO – Giza – Dahshour – Wednesday (BLD)
After breakfast we drive to Giza and the mysteries of the Pyramids and Sphinx, for interested guests: enjoy the usual photo opportunity riding a camel with the Pyramids and the Sphinx in the background with our compliments, and then we will tour the Museum of the Royal Barge of Cheops. The museum is built over the rectangular pit that housed the Royal Barge for thousands of years, the wooden boat was readied for the king's daily journey with the sun god, Ra. Discovered in 1954, in a completely dismantled state, the 43-metre (140-foot) cedar boat is a rare window on the Royal boats used by the kings of Ancient Egypt.
We are glad to include as well the entrance fee to get inside the Great Pyramid, with our compliments, if interested, please read this first:
The King's Chamber in the Great Pyramid was not meant to be visited:
Getting to it is challenging, and once you enter, it is very difficult to turn back. The stone passage is only wide enough for one person. You must be in good physical condition, able to climb several flights of stairs, bend double, crouch and duck-walk for short distances. The King's Chamber itself is the world's most claustrophobic place, with dim light and heavy, hot, oxygen-poor air. There is no ventilation. If you are at all sensitive to claustrophobia or confinement, or if you have any sort of respiratory condition, for your own safety and the safety of others, you must not enter the pyramid because it is impossible to remove a person or to bring aid to them quickly, lunch is included at the Mena House.
Depending on the traffic, your guide may start the day with Dahshour then on the Pyramids after lunch.
We'll motor to the edge of Cairo to Dahshour at the newly-opened pyramid field south of Cairo. We visit the great pyramid of Senfru, father of Cheops, and other structures.
The "Discovery" of Dahshour
For almost half a century, the great field of huge pyramids near the desert village of Dahshour, 25 miles south of Cairo, has been off limits to the public. Confined within the perimeter of a military base were many pyramids, including the great 4500-year-old pyramid built by Senfru, father of Cheops. Senfru's pyramid, the largest in Egypt until his son built Giza's Great Pyramid, is rhomboidal in shape: it tapers more distinctly on its upper half. All the pyramids were coated in thick plaster at one time. Most have lost these protective, decorative sheaths, but Senfru's–miraculously–is still in place.
We stop at El-Haraniya before we head back to your hotel. Dinner is included at La Bodega restaurant or similar.
DAY 3: CAIRO – Thursday (BLD)
Your exploration of the ancient world begins today! First stop is the Egyptian Museum, with its treasures of the ancient pharaohs: mummies, statuary, precious stones and metals. After lunch a charming local restaurant, we'll also stop at the Citadel of Saladin and the Alabaster Mosque. Followed by a walking tour of Khan El Khalili and Muezzledeenallah ancient bazaar districts. Dinner is included at Abu-El Sid restaurant.
DAY 4: Cairo – Luxor – Friday (BLD)
After an early breakfast, we board a short flight heading for Luxor the mighty ancient capital of the Egyptian Empire. Private transfers at all times, our local rep. will escort you to your hotel where lunch is included. Today we will tour: Luxor Museum, The Ancient Workers Village at Deir El Medineh, and on to the Temple of Queen Hatshepsut at Deir el Bahari, and the Colossi of Memnon. Dinner is included at your hotel.
DAY 5: Board Your Nile Cruise – Luxor – Esna – Saturday (BLD)
After breakfast at your hotel, we head to your Nile cruise (or board your Nile cruise in Aswan), our local rep will escort you to your Nile cruise, where a welcome fruit basket awaits you in your cabin with our compliments. Today we visit the gigantic Temple of Amon at Karnak, the pharaohs' tombs in the Valley of the Kings, later on we cruise to Esna, where we enjoy a shipboard dinner.
DAY 6: EDFU & KOM OMBO – Cruising the Nile – Sunday (BLD)
At dockside, we board horse-drawn carriages for the short clip-clop ride through the town of Edfu to the stupendous Temple of Horus, the best preserved temple on the Nile. Returning to our ship, we set sail for Kom Ombo and its famous twin temples dedicated to the sun and the crocodile god. Complimentary Galabya, maybe to wear it for tonight's costume party.
DAY 7: ASWAN & PHILAE – On Board Your Nile Cruise – Monday (BLD)
We explore the Temples of Horus and Sobek at Kom Ombo, haggle with peddlers for souvenirs, then re-board our ship for the voyage south to Aswan. In the afternoon, we take a motor launch to the Temples of Philae, rescued from the rising waters behind the High Dam, dedicated to the Ancient Goddess ISIS:
Two millennia ago the Mediterranean world was enthralled by the mystery of Isis: "I, Isis, am all that has been, that is or shall be; no mortal man hath ever seen me unveiled." Called Aset by the ancient Egyptians, the goddess was a Madonna in the Mediterranean tradition that stretches far, far back to the primitive Mother Goddess from Anatolia, home to some of the oldest human communities on earth. Isis was the powerful and quick-witted protector of her son Horus, the Sun God. Ancient peoples throughout the Mediterranean regarded Isis and Horus as the perfect Madonna and Child. Another legend says she was also the mother of the fertility god Min who, judging from the depiction of him on temple walls, needed no help from Viagra! Isis is portrayed regally, as a queen seated on a throne (which may be the meaning of her name), often holding her son Horus as a baby. Other images show her with broad, magnificent gilded wings able to protect the world. Isis, the great Mother Goddess. Come explore her mystery in timeless Egypt when you Travel in Style!
Today's cabin amenity: Complimentary Egyptian sweets/pastry tonight.
DAY 8: Disembarkation from Your Nile Cruise – Aswan – Tuesday (B)
After breakfast we check-out and proceed to tour Aswan Dams then a short camel ride (if you prefer riding a horse rather than a camel, please let us know) and on to a nearby Nubian Village for tea with the locals. Followed by a tour of the Nubian Museum before heading back to your hotel. In the evening, we will enjoy a horse drawn carriage ride along the Nile corniche and a leisurely guided walking tour of Aswan's colorful bazaar.
DAY 9: SHARM EL SHEIK – RED SEA – Wednesday (B)
Now that you've seen the best of the Egypt of the Pharaohs, our guides escort you to the airport. You'll fly over the Sinai Peninsula and land at historic Sharm El Sheik on the Red Sea. You're at the beach and free to swim, or explore under the waters.
DAY 10: SHARM EL SHEIK – Thursday (B)
Relax! Today is set aside as a strategic mid-journey break. Spend some time in the sun, but don't miss your chance to snorkel or dive under Red Sea waters for an array of coral and glittering tropical fish.
DAY 11: Sharm El Sheikh – PETRA – Friday (BL)
We'll fly non-stop Sharm El-Sheikh Amman or via Cairo, our Jordan-based representative waits to greet you. You'll drive south under a towering ridge of mountains, and arrive at your hotel in Petra for the night. Complimentary Jordanian visa fee (valid only for American, Canadian, Australian, NZ, EU & Japanese citizens. Passports must be valid for at least 6 month upon arrival). Lunch is included enroute.
DAY 12: PETRA – Saturday (BD)
We'll spend the entire day at Petra, the stunning desert city hewn by the Nabateans from solid cliffs of pink and violet sandstone. Petra was known in the bible as Sela, and rediscovered only in 1812. You'll feel like Indiana Jones in Raiders of the Lost Ark as you penetrate into the city through a narrow sandstone gorge, the Siq, and wander among the Temple of the Winged Lion, tombs, Roman theater, and the imposing Treasury.
In the evening we will call on you for a unique experience:
Dine as a local: The Petra Kitchen is a delightful way to round out your Jordan travel experiences. Like any home kitchen, The Petra Kitchen is a relaxed, informal atmosphere where you'll gather to prepare an evening meal, working alongside local women under the supervision of our chef.
Each evening meal includes soup, cold and hot mezza (appetizers) and salads, and a main course—all typical Jordanian dishes. You will have get an inside glimpse of the secrets behind the famous regional cuisine of the Levant.
The Petra Kitchen offers an evening of learning, fun and a very special dining experience, with each dish gaining the special flavor of a reward well-earned. Great care has been taken to make The Petra Kitchen a truly Jordanian experience—right down to the furnishings, all crafted in Jordan, the tableware, all produced by the Iraq al Amir Women's Co-operative, and the aprons and table linens, all hand-embroidered by the Jordan River Foundation. Tour experience tonight includes the cuisine course, meal and all non-alcoholic beverages as well as take-home recipes for all dishes prepared that evening.
DAY 13: PETRA – JERASH – AMMAN – Sunday (BLD)
We drive to Jerash, among the best-preserved Roman cities in the world, to tour its temples, theaters, churches and colonnaded streets. From Jerash, we will escort you back to Amman and your hotel. Lunch is included enroute. Dinner is included at a local restaurant in Amman.
DAY 14: DEPARTURE FOR HOME – Monday (B)
Our local rep. escorts you to the airport of Amman for your flight home. Bon Voyage.
RATES per person in USD
 
Ultra Deluxe*
Deluxe
First Class
Triple
US$ 7,200.00
US$ 5,050.00
US$ 4,300.00
Double
 US$ 7,350.00
US$ 5,170.00
US$ 4,360.00
Single
 US$ 10,005.00
US$ 6,650.00
US$ 5,770.00
* Ultra Deluxe includes flying Business Class within Egypt. Private Egyptologist and guide, including on board the Nile Cruise.
HOTELS
Ultra Deluxe
 Deluxe
Hilton Level Hotels
 Modest First Class
Four Stars Hotels
Cairo Hotels
 Suite at the Semiramis InterContinental or Superior Room at Four Seasons Cairo
Cairo Sheraton, Cairo Marriott, Ramses Hilton, Cairo Sonesta, or similar
Novotel El Borg Oases Hotel or similar
Nile Cruise
 Suite with a private balcony on board one of the Sonesta All suites Ultra Deluxe Nile Cruises such as the M/S Star Goddess (Mozart Suite), or similar ultra deluxe cruises. For families or parties of 3 sharing in triple then it is a Beethoven Suite.
M/S Monaco, M/S Mojito, M/S Sonesta Moon Goddess or similar
M/S Nile Dream, M/S Ruby
Sharm El Sheikh
 Four Seasons Sharm El Sheikh
Royal Savoy Sharm El Sheikh Hotel, Marriott Sharm El Sheikh, Sonesta Sharm El Sheikh or similar
Novotel Sharm El Sheikh or similar
Amman
 Four Seasons Hotel Amman
Inter.Continental Amman, Grand Hyatt Amman or similar
Imperial Hotel Amman, International Hotel Amman or similar
Petra
Movenpick Petra, Marriott Petra, or similar
Golden Tulip Petra
Luxor
Sonesta St. George Hotel Luxor, Hilton Luxor, Steingenberger Luxor or similar
 Pavillon Winter Luxor or similar
Easter, Christmas, New Year's (Dec 20 – Jan 3): 15 % supplement will apply.
Children Discount: 30%  on the adult double rate, child must be younger than 12 years of age, must be traveling with a minimum of 2 adults.
Inclusions:
All transfers in Egypt and Jordan always on a private basis.

All domestic flights within Egypt, and Cairo Amman flight in economy class, tax included. (For Ultra Deluxe it is in Business Class)

Air-conditioned hotel accommodations with tax and service charges

Sightseeing with professional guide and entrance fees as indicated

Meals as indicated, with pre-set menu (B = Breakfast, L = Lunch, D = Dinner)

Nile cruise with all shore excursions and meals.

Large bottle of water (per person), delivered daily to your cabin on board the Nile cruise.

Small bottle of water (per person) with each meal, while you are on board the Nile Cruise.

Tea or coffee with each meal while you are on board the Nile cruise

VIP Meet & Greet At Cairo Airport

Our representative greets you at the airport and whisks you to your hotel. Visa will be issued upon arrival at Cairo Airport (photos are not required).

Egyptian Visa will be issued for a limited number of citizens such as: American, Australian, NZ, EU, Canadian, EU Singaporean and Japanese citizens.You are responsible for having your passport in order valid at least for 6 month beyond the date of your arrival in Cairo. 

Visa for Jordan. Limited to specific nationalities such as: Australian, NZ, USA, Canada, EU, Japan and others (please check with us if needed at the time of booking).

For your convenience: Wi-Fi internet access and mineral water with soft drinks are available in Jordan on board of all the vehicle for our VIP guests
Not included:
Tips.

Personal expenses and beverages.

Additional meals and services.

International air fare between your home country and Egypt / Jordan.

Trip interruption and cancellation insurance.