Tour Jerusalem, Marrakech and the Nile
All in 16 Days: Tour Starts Daily. Year Round
This is a private tour. Choose your own travel date
Explore the two gems of North Africa – Morocco and Egypt – then on to explore the splendors of Israel and Palestine, on this 16-day tour. Visit Casablanca, Marrakech, Cairo, Jerusalem and Luxor!
Tour
DAY 1 – MARRAKECH – Daily Arrival – This is a private tour – Choose your own date
Our staff escorts you to the airport for your flight to Marrakech. Air fare from Paris to Marrakech is included in our rates. Our international flight arrives in Casablanca. After completing customs and immigration formalities, we connect with our flight which takes us south to mystical Marrakech. Our staff escorts us to our hotel. Welcome mint tea & Moroccan sweets.
DAY 2 – MARRAKECH (BLD)
We board a horse-drawn carriage for a clip-clop tour of this ancient royal capital, including the Kotoubia, a former royal palace, and of course the labyrinthine souks (bazaars). Lunch is included at a charming local restaurant.
A complimentary Dinner is included at a local home:
Meet the locals. You may wish to bring token gifts to exchange with the host family (T shirt, small souvenirs of your home town). This evening we'll venture where few ordinary visitors ever tread… right into the homes of some of the people of Marrakech! You'll be invited to a family dinner, and while you enjoy wholesome home-cooked specialties, you'll learn about and appreciate the outlook, aspirations, and way of life of your hosts. Of course, if you prefer, you may enjoy a quiet evening with your travel companions – just let us know your preferences.
DAY 3 – OURIKA VALLEY, THE POTTERS VILLAGE OF TAFZA (BLD)
This morning, we'll head 30 kilometers outside of Marrakech to the lush valley of the Ourika River, which winds down from the peaks of the High Atlas, through clusters of mud-walled houses. Our visit coincides with one of the regular market days, and we'll walk among the stands of butchers and vegetable-sellers, merchants of cereals and olive oil, itinerant blacksmiths and sellers of patent medicines and herbal remedies. A barber sets up shop with nothing more than a scissors, hand clipper, and stiff wooden chair, an open-air eatery offers hot food freshly prepared on a brazier. We'll continue to Tafza to see how vases and lamp bases are made in home workshops, and to view quartz and amethyst and other minerals of the region. We'll be received for tea in the customary local manner. We'll meet up with local villagers at a well, help to draw water, and join in preparing a Berber meal of soup, tanurt (bread), and tajine (meat and vegetables cooked in a clay pot). Our hosts are modest local persons who will appreciate offerings of useful small items, such as pencils or notebooks, or even small treats, such as candy. We'll return to Marrakech through the stunning scenery of the valley. Dinner is included at a local Moroccan dinner with folk show.

Ourika Valley – A Day Trip from Marrakech, Morocco. Video by cookingwithalia.
Henna party (For ladies only):
One of the "insiders" excursions into Moroccan culture, a chance to attend a henna party, the painting of hands and body with this natural red dye is a symbol of joy at weddings and regarded as a way to enhance one's beauty, if interested in attending a Henna party, please let's know in advance.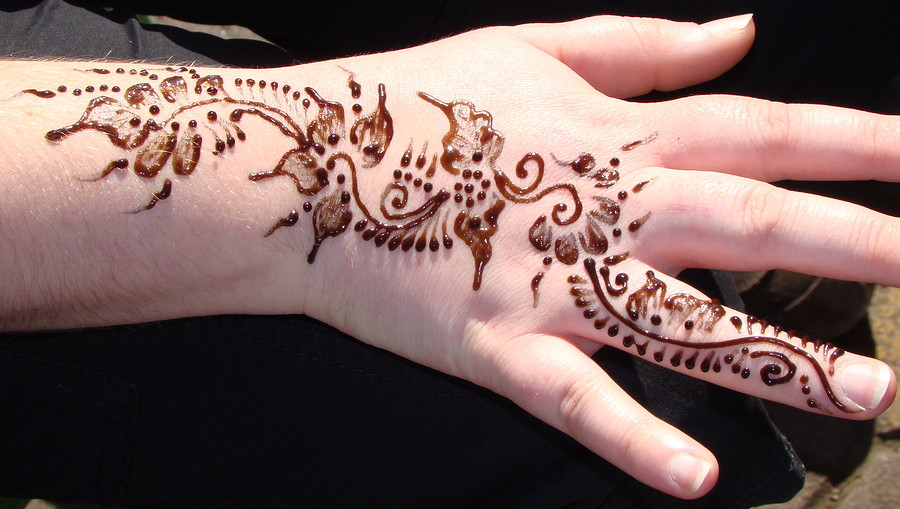 Day 4 – BY TRAIN TO CASABLANCA (BLD)
"Getting there is half the fun!" We board the train for our return to Casablanca, cruising through the lovely countryside past green fields, fruit-laden orchards, traditional villages and modern towns, with the lofty Atlas Mountains soaring in the distance. Our tour escort points out interesting features, and fills us in on Moroccan life and culture. After arriving in Casablanca, we visit the majestic new Grand Mosque of King Hassan II, second only to the Great Mosque at Mecca in size. We continue on a panoramic tour of the city and its souks. After dinner, we drive to the airport for our Royal Air Maroc night flight across North Africa to Egypt, air fare is included in our rate.
Day 5 – CAIRO (BD)
We arrive in Cairo with the dawn. Complimentary visa issued upon arrival at Cairo Airport, valid only for American, Canadian, Australian, NZ, EU & Japanese citizens. Passports must be valid for at least 6 months at time of arrival.
We drive through the awakening city to our hotel for breakfast and a bracing cup of coffee or tea. Refreshed, we visit the Citadel of Saladin and its Alabaster Mosque, enjoying spectacular views of the city below. We descend from the Citadel into Khan el-Khalili, the bazaar district, in search of Egyptian treasures. The rest of the day is yours: find a little local restaurant for lunch, go museum-hopping, take a nap, or stroll along the Nile, as you like. Dinner at the hotel.
Visa will be issued upon arrival, for a limited number of nationalities: such as American, Australian, Canadian, EU, Japanese, and NZ. Please pay the $ 15 fee in cash upon arrival (only in USD$ or Euros). Photos are not required, passports must be valid for at least 6 months beyond the date of arrival. You are responsible for your passport being valid and in order. After exiting the terminal, our local representative will escort you (private vehicle) to the hotel.
DAY 6 – CAIRO (BLD)
Today we visit Cairo's most famous monuments: the awesome pyramids of Giza, the Valley Temple and the timeless Sphinx. After lunch at the Mena House we drive to Dahshour, the newly opened pyramid field south of Cairo, where we visit several ancient structures, including the great pyramid built by Senfru, father of Cheops. Camel ride is included, it is more of a photo op with the Pyramids in the background, as you have a very full day. Dinner cruise on board the Hyatt Yacht.
DAY 7 – LUXOR (BL)
Very early morning flight to Luxor, upon arrival: proceed to cross the Nile and explore the city that was the Pharaohs capital for more than 20 centuries: Start with the Ramesseum, Medinet Habu and the Ancient Workers Village at Deir El Medineh, the first known "Workers Village" these were the true creative heroes who built the temples & tombs for the mighty Pharaohs of the Nile Kingdom.
Deir El Medinah is on Luxor's west bank. Here you get a totally different perspective on ancient Egyptian life at the ancient workers' settlement. While most of the imposing stone monuments and sites of Egypt honor the lives and after-lives of royalty, Deir el-Medinah gives us unique and surprising insights into the ordinary citizens who constructed and decorated the tombs.
Here we'll see the excavated homes shared by laborers with their domestic animals. These quarters were surprisingly large, with three good-sized rooms, courtyard, kitchen, and even storage cellars. While ancient Egypt might not have been a workers' paradise, we'll see that artisans and builders were highly regarded in their community. We are proud to be the only operator to offer regular visits to this singular ancient settlement in its tour and cruise programs.
Of course there is more: We visit the Valley of the Kings (including King Tut's Tomb), Valley of the Queens including Queen Hatshepsut Deir El Bahari Temple and the Colossi of Memnon.
Lunch is included at Al-Moudira, or return to your hotel for lunch. Afternoon horse drawn carriage ride through the local village and souks, stop for a tour at the small yet charming Luxor Museum. For your tours: Private air-conditioned vehicle. Private Egyptologist.
DAY 8 – LUXOR/ Cairo (B)
This morning tour the stupendous Great Temple of Amon at Karnak, and visit the Sacred Lake and red granite quarry with its huge unfinished obelisk. We tour as well the great temple of Amon Ra, on our way to the airport for our flight back to Cairo and your hotel, all tours and transfers are on a private basis. Private air-conditioned vehicle, private chauffeur, private guide for the tours.
DAY 9 – CAIRO – Home Hosted Dinner -(BL)
The world-famous Egyptian Museum, which holds the treasures of Tutankhamon, is our first stop today, after which we wander the narrow streets of Old Cairo (once a Roman fort). We go on to the Jewish Quarter, then the Coptic Christian Quarter, stopping at the churches of Abu Serghius and Al Molaka, the Coptic Museum, and the Ben Ezra synagogue. Lunch is included at Hadaik Al-Azhar or similar.
Meet the locals – Complimentary Family dinner:
This evening we'll venture where few ordinary visitors ever tread… right into the homes of some of the people of Cairo and Egypt, of course, if you prefer, you may enjoy a quiet evening with your travel companions – just let us know your preferences.
DAY 10 – On Desert Safari for the Day – Fayoum Oases – And you thought the Pyramids were old (BL)
We leave Cairo by sunrise (private air conditioned car/driver/guide). Full day Fayoum Oases including: Hawara Pyramid, El Lahoun Pyramid, Ruins of Karanis, and drive by Lake Qarun. Lunch is included at a local restaurant.
The wilds of the desert begin right on the outskirts of Cairo, and continue for hundreds of miles to the east and west, through sands, rock, mountains, oases, and a surprising variety of scenery and inhabitants.
Join us for a day ranging across the desert like modern nomads. In place of camels, we'll travel in comfortable, reliable four-by-four Toyota Land Cruisers. Your guide and drivers will meet you at your hotel, and soon you'll leave bustling Cairo behind as you undertake the drive toward the Oasis of El Fayoum, 150 kilometers to the southwest. Hard as it is to believe, a great inland sea once covered these sands. It was a holy reserve of sacred crocodiles, symbolized by the god Sobek.
We'll visit the temple of Kom Oshim, drive over ancient lake beds, and alongside the waters of today's Fayoum Lake to reach the fishermen's village of Chak Chouk. There we'll stop for a lunch of fish caught fresh that morning. There will be time to wander the village lanes and discreetly watch the everyday activities of baking flatbread, irrigating crops from the lake's waters, and bringing in the catch. We'll also include the craft and pottery museum where the best works of local artisans are on display.
Then it's into our four-by-fours again, for an off-road adventure! We'll head alongside and across desert washes, between dunes, and over ancient lake beds for 35 kilometers to the Valley of the Whales (In Arabic: Wadi-El-Hitan). Incredibly, these great mammals once thrived – almost forty million years ago – in waters surrounded by sands. We'll stop and gaze in amazement at their fossilized remains alongside smaller sea creatures that remain in stone. This valley was discovered in 1936, by the German geologist George Schweinfurth in the northwestern corner of Wadi El-Rayan.
The valley provides evidence of one of the major changes in this mammal evolution has been declared by the UNESCO to be a World Heritage Site. It is believed that these land based whales once had feet that may have helped them somewhat while ashore. A team from the University of Michigan discovered in the late 80's that these Zeuglodon whales did have rudimentary feet, this was a startling discovery, suggesting that whales of Wadi -El-Hitan had recently started living in water as well, these whales were not related to any of the whales we have today, rather a more slender body and may grow up to 75 feet long. Several skeletons of whales are exposed in the sand. George Schweinfurth named this extinct specie the Zeuglodon Isis Whales.
In the evening, you'll return to your hotel in Cairo. Land transportation in air-conditioned four-wheel-drive Toyota Land Cruiser with the services of driver and English-speaking driver. Lunch is included
DAY 11 – TEL AVIV – JERUSALEM (B)
Air fare is included Cairo to Tel Aviv in economy class, tax included. Our local rep. meets you at the airport, assists with arrival formalities, and escorts you to your Jerusalem hotel. When you choose your own date, we may have to change tours / sites visits around to accommodate religious holidays and Sabbath. Private air-conditioned vehicle, private chauffeur, private guide for the tours.
DAY 12 – JERUSALEM (tours are subject to change in Jerusalem subject to the weekend and religious holidays) (B)
We start our explorations of Jerusalem, holy city to Christians, Jews and Muslims, with a drive to the Mount of Olives, which offers panoramic views. We visit the Church of Pater Noster and the Chapel of the Ascension on our way to the Garden of Gethsemane. From the Garden, we enter Jerusalem's walls to the Old City for a visit to the Western Wall and the Dome of the Rock. We follow in Jesus' footsteps along the Via Dolorosa to the Church of the Holy Sepulcher. Private air-conditioned vehicle, private chauffeur, private guide for the tours.
DAY 13 – JERUSALEM (B)
Now that you've had a tour of the city, set out on your own to discover its charms: the narrow bazaar streets of the Old City, the cheerful cafés of New Jerusalem, and the broad boulevards surrounding the modern city.
DAY 14 – JERUSALEM & BETHLEHEM (B)
We start our tour at the scale model of Jerusalem as it appeared in Herod's time, then go on to the Shrine of the Book to see the sacred Dead Sea Scrolls. Then it's on to Ein Kerem and Bethlehem for a visit to the Church of the Nativity, stopping at the Shepherds' Field on the way back to Jerusalem. Private air-conditioned vehicle, private chauffeur, private guide for the tours.
DAY 15 – BETHANY, DEAD SEA & MASADA (B)
We drive to Bethany and the site of the Good Samaritan's inn, then continue through the Judean Hills down to the Dead Sea, below sea level. At Qumran, we see the caves where the Dead Sea Scrolls were discovered. We go on to the verdant oasis of Ein Gedi, and return to Jerusalem passing by fabled Jericho, the oldest city in the world. Private air-conditioned vehicle, private chauffeur, private guide for the tours.
Day 16 – DEPARTURE (B)
After breakfast, our staff escorts you to the airport. Bon Voyage. This tour starts in Marrakech weekly, year round.
 RATES per person in USD
 

Deluxe Hotels

First Class

Triple

US$ 8410.

US$ 7412.

Double

US$ 8580.

US$ 7590.

Single

US$ 9801.

US$ 9186.
Your tour includes:
Regional airfare from Casablanca / Cairo / Tel Aviv, including tax in economy class with tax.
Domestic airfares within Egypt and Morocco as well as Cairo Tel Aviv, all in economy class, including tax
First-class day train Marrakech-Casablanca and sleeper train Cairo-Luxor, including tax and service
All airport and train station transfers in Morocco and Egypt as described in the tour itinerary, always on a private basis
Your hotel room at a carefully-selected deluxe, first class, whichever you prefer, including tax & service. Egypt: we use Hilton/ Sheraton/Meridien/ Sonesta for Deluxe or for First Class: Shepherd's or similar
B = Breakfast, (or aB, American Buffet Breakfast), L = Lunch, D = Dinner and all Egyptian airport taxes.
Private guided sightseeing as listed in the itinerary including all entrance fees. US, Australian, EU, Canadian, NZ, and Japanese passport holders need a visa to enter Egypt. You will obtain a visa at the airport upon arrival in Cairo With our compliments, as long as you have an American or Japanese passport that is valid for at least 6 month. Visas are not required of US and Canadian passport holders for entry into Morocco.
What's not included:
Insurance of any kind.
Tips.
International air fare from/ to your home country
VERY IMPORTANT NOTE ON LUGGAGE: When flying between North Africa cities and Tel Aviv you will be allowed only one piece of luggage to be checked in plus one for the carry on.
Sample Hotels (or similar):
Jerusalem Hotel
Quiet European elegance, comfort, and affordability meet in the Jerusalem Gold Hotel to create a hidden sanctuary amid the overwhelming blaze of history, diversity, and faith that is Jerusalem.
The Jerusalem Gold Hotel along with a world renowned architect has designed a haven of tranquility and warmth set into the very hub of local and national transportation in Jerusalem, thus allowing guests to enjoy the seemingly impossible combination of calm and serenity, with the ultimate accessibility.
Jerusalem is one of the most popular and cherished cities in the world. The Jerusalem Gold hotel is an up scale hotel, situated a mere 25 minutes from the Israel's International Airport. The Jerusalem Gold Hotel is located at the gateway to Jerusalem, the capital city of Israel, touching the heart of the city center, at 234 Jaffa Street. The 11 story, hotel stands across from "Binyaney Hauma", Israel's International Convention Center, and is adjoining the new modern Egged Central Bus station with its contemporary shopping mall.
The Jerusalem Gold Hotel is walking distance from the city center and right near the central bus station, from which you can find transportation to every city in Israel.
Pray at the West Wall, visit the Old City of Jerusalem, the City of David, the Israel National Museum, the Knesset- Israeli Parliament, the famous Mahane Yehuda Shuk, the Rose Gardens, and so much more.
Whether you are a tourist, or on a business trip rest assured that the staff at the Jerusalem Gold Hotel will offer you a unique lodging experience with genuine hospitality.
Guest Rooms
The hotel has 196 elegant rooms, rooms for handicapped, (Brail numbers on all doors) including 24 Jr. Suites. Every room has sound-proof window frames, equipped with, television, internet, E-mail, video games, mini fridge, safety deposit boxes (laptop size), telephone with international line, bathroom with a bath, Air-conditioning, elegant Mahogany furniture, etc.