Splendors of Istanbul and Turkey
and The Lost City of Petra
An Ultra Deluxe 21-Day Private Tour of Turkey and Petra
Choose Your own Travel Date
Our "private" Tours are for those
who can afford and expect the "BEST"
Indiana Jones himself couldn't squeeze more adventure into this journey to the enchanting land of Istanbul, Anatolia and Petra.
Come with us to tour the heartland of Anatolia, meet Turkey's real people, see how they live, share meals with them, and go beyond what the average tour promises. We'll meet artisans and learn their crafts, hike through striking landscapes, and explore the deep history, art, culture and society of biblical Cappadocia, the treasures of Istanbul, Ephesus and more. Petra: Famous the world over for their Bedouin ethic of hospitality, Jordan is a gem of the middle east that delights and surprises. Jordan offers the traveler a piece of living history that they can walk through and experience. While the evidence of Jordan's colorful history tantalizes the traveler, it is closer to you than you would think if the only images you have seen of Jordan are in films. Compare with the 14-day edition. Combine with Petra and Jerusalem.
Daily Departures. April – Oct. Some tourist sites are closed on different days of the week. Visits in Istanbul may be moved around to accommodate your dates and the sites "open" hours.
Tour
DAY 1: WELCOME TO ISTANBUL! Daily: April – Oct!
Our local rep. meets your flight at Istanbul's Atatürk International Airport and escort you to your hotel located in the heart of the city's historic district.
DAY 2: ISTANBUL'S TOP SIGHTS (BL)
Today we explore Istanbul's top sights, including the imperial palace of Topkapi, with its sumptuous 500-room Harem (Ticket included), ruled by the second most powerful person in the vast Ottoman Empire: the Valide Sultan (Queen Mother). A short walk takes us to the Byzantine Hippodrome and, beneath it, the eerie Sunken Palace cistern. Finally, we dive into the Grand Bazaar, the world's oldest "shopping mall," to look for treasures in its 4000 shops, guided walking afternoon tour of this charming ancient world. Lunch is included in a charming local restaurant with bottled water).

Istanbul: the Grand Bazaar. Video posted by The Guardian.
DAY 3: Belle Epoque – ISTANBUL! (BL)
Breakfast at the hotel. Morning walking tour: We start with our guide in Karaköy where the Venetian and other earlier foreign bankers and shipping companies set shop and had their headquarters (this is a walk back in time to the Renaissance period), then take the Tünel up to istiklal Caddesi; stop in the whirling dervish tekke, and walk past the various old palatial and historical embassy buildings (now consulates), and point out the charming architecture. Stop for tea (included) at the famous Pera Palace Hotel. Walk at least as far as Galatasaray Square, and have lunch (included) in the Çicek Pasaji (Flower Passage), bottled water is always included with your lunches and dinners on this tour; then walk up to Taksim Square and be picked up for the afternoon 20-30 minutes brief concert of the "Mehter" Ottoman Sultans Imperial Band. "Mehter," a scene from the 18th century with the band dressed up in 18th and 19th-century Ottoman costume. By late-afternoon, board your private air-conditioned vehicle with your private guide and head back to your hotel. Remainder of the day at leisure.
DAY 4: BOSPHORUS – Private Cruise (BL)
Istanbul's history was formed by the Bosphorus, the winding strait that separates Europe and Asia, connecting the Black Sea with the Sea of Marmara. Now, as in ancient times, it is a maritime vital link between the countries bordering the Black Sea and those of the rest of the world. Today we take a leisurely PRIVATE Bosphorus cruise northward along this historic waterway. Along its shores are ranged palaces great and small – Topkapi, Dolmabahçe, Beylerbeyi, Küçüksu, and Hünkar Iskelesi. Four great fortresses rise on the hills, reminding us that to control the Bosphorus was to control the destinies of nations. Our afternoon cruise (morning cruise for the October-April season) of two continents, crossing from Europe to Asia and back, includes visits to the Navy's Museum ( our focus is to marvel at the private magnificent boats used by the Ottoman Sultans), the Bosphorus Bridge, Çamlica Hill lookout, and stupendous Dolmabahçe Palace.
Lunch is included at a charming local restaurant, bottled water included.
DAY 5: ISTANBUL – Whirling Dervishes Ceremony (B)
Istanbul is all yours. A full day at leisure, any way you like it. Grab your Lonely Planet guidebook to Istanbul and stroll along the restored 19th-century thoroughfare of Istiklal Caddesi, once known as the Grand Rue de Péra. Search for spices and folk remedies in the Egyptian Bazaar. Admire the medieval mosaics in the city's many Byzantine churches. Shop in the chic boutiques around Taksim Square. Climb the Galata Tower, built by the Genoese six centuries ago, for a panoramic view of Old Istanbul.
This evening your guide will call on you for a leisurely walk (if the hotel is in Sultan Ahmet area, otherwise we will drive of course) to the Whirling Dervishes Ceremony in Istanbul, with entrance fees included. The ceremony held in Sirkeci area within an historic Turkish Bath structure. It will be your choice that we walk both ways or use the tram one way or even ride the tram both ways (for guests who are in the Sultan Ahmet Area), tram tickets are included and will be purchased by your guide. We will follow the main street passing through the hearth of old city or using the tram down to Sirkeci station where also legendary final stop of Orient Express is located. The ceremony starts at 19.30 but we recommend getting to the place by 18.30, for the introduction ceremony. The Whirling Dervishes ceremony takes about one hour. We will stop at a charming Turkish sweets corner for tea/coffee and some local sweets (all included).
Day 6: Turkish and Ottoman  Cooking Class (BL)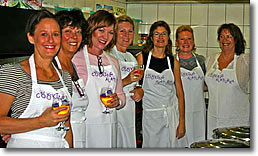 This morning we'll venture where few ordinary visitors ever tread… Cooking Ala turka: Half-day Turkish cooking classes and restaurant. Learn how to cook authentic Turkish foods inbetween visiting Istanbul's many sights. Classes are generally held from 10:30 to 14:30. We prepare five typical Turkish dishes in a group of 6-10 persons and then have them for lunch in our restaurant. You will have aprons at your disposal and you will get the recipes to take with you. Private classes are held as well (supplement applies): Cooking with Chef Eveline Zoutendijk.
Later in the day we will tour: Yildiz Palace Park and the Ihlamur Kasri, a mini-palace south of Yildiz, and back to yout hotel.
DAY 7: ISTANBUL to CAPPADOCIA (BD)
We fly to Kayseri (business class for the domestic flights within Turkey) for an adventure into fabled Cappadocia. This is a journey back into time. Here, you'll settle in at one of the deluxe cave style hotels (Or more contemporary ones based on your preference). Cave Suites or Gamirasu Cave Hotel.
In the afternoon, we explore the foremost sights in this historic, visually striking region. Our first stop is the Göreme Open Air Museum, with its dozens of ancient cave-churches carved from the soft volcanic stone. Many still contain their beautiful colored fresco decoration. Next we explore the monastic valley of Zelve, where whole monasteries were carved into the rock. In the Pasabag and Dervent valleys we view the "fairy chimneys," pinnacles of volcanic rock formed by wind and water erosion over millennia. We enjoy a panorama of the Red and Rose Valleys before we head back for our hotel where dinner is included this evening ( bottled water included) . Transfers are always with a Private air-conditioned vehicle and a private chauffeur.
DAY 8: EXPLORING CAPPADOCIA – WHITE VALLEY (BL)
Today we explore the foremost sights in this historic, visually striking region and continue our explorations of Cappadocia with a visit to the natural rock hewn citadel of Uçhisar, one of the highest points in Cappadocia, and the nearby Pigeon Valley. Then we explore the lunar landscape of the White Valley to see its spectacular rock pillars, fairy chimneys, tunnels, caves and passages, after the tour we drive through the typical Cappadocian towns of Ürgüp and Ortahisar to experience daily life in this rich farming region, and perhaps to do some shopping, lunch is included enroute with bottled water, then we make the short drive to Avanos, a traditional pottery-making town, to visit its innovative "cave cultural center". The staff and students welcome us to enjoy Turkish tea and sweet cakes. We return to your hotel for a good night's rest. Private air conditioned vehicle – Private chauffeur – Private guide.
DAY 9: CANYONS – LABYRINTHS (BD)
We drive across the rolling steppe of Central Anatolia to the dramatic canyon of Ihlara, filled with historic churches. A leisurely walk takes us through this dramatic scenery and past a dozen churches to the villages of Belisirma and Selime. Following our canyon walk, we drive to the town of Derinkuyu and descend into an underground labyrinth carved thousands of years ago. Hundreds of cave-rooms and passageways descend eight levels into the earth. Store-rooms, kitchens, larders, and churches show that this "underground city" was capable of housing thousands of people when danger threatened. On our way back we stop at the striking Agzikarahan Caravansaray, built by the Seljuk Turks in the 11th century as a way-station for the rich camel caravans plying the Silk Route between Europe and Asia.
In the evening we visit an underground restaurant for a traditional Turkish folklore show, with dances and costumes from several regions rich in folklore, including Gaziantep, the Mediterranean, and the Black Sea. The mysterious and alluring art of belly-dancing, round out this enjoyable evening of traditional Turkish dance.
DAY 10: Kayseri/ IZMIR / Kusadasi (B)
We fly to Izmir via Istanbul (business class for the domestic flights within Turkey), from Izmir Airport we drive to Kusadasi and your hotel where dinner is included this evening. Afternoon at leisure.
DAY 11: EPHESUS – KUSADASI (BL)
In the morning light. Then it's off to biblical Ephesus to see the Basilica of St. John the Evangelist, who came here with the Virgin Mary. Passing the ruins of the Temple of Artemis, one of the seven wonders of the ancient world, we reach Ephesus, the most impressive ancient city on the Mediterranean. Your tour includes the Terraced Houses. After our tour we continue to the hilltop House of the Virgin Mary, said to be her last home on earth.
Sirince Village Tour is included in the afternoon. This old Orthodox Village, 30 kilometers from Kusadasi, was once "Cirkince" (ugly). Indeed its inhabitants gave this name on the purpose as they did not want to be bothered by foreigners nor to share the beauty of their village. Still after years, visitors understood that the village was not ugly and called it "Sirince" (pretty). Today the village is a perfect synthesis of Turkish-Greek culture as of the 1920's; after the Turkish Independence War, people exchange between Greek and Turks has occurred and all the typical Greek houses, though they kept their original outside characteristics, have received the local layout inside. At Sirince Village you will have chance of seeing the local life at a village and purchasing some small local souvenirs and handicrafts. The village is also famous for its local grape and other fruit wines. During the lunch, mingle with the local people of the village as you will be a guest in their village for a simple cup of traditional Turkish coffee at the main coffee house of the village. Depending on the number of guests, a gypsy woman may read your fortune after you finish your coffee. We spend the night again in the Aegean resort of Kusadasi.
Day 12- Pergamum – Asclepion (BL)
Day We drive to Pergamum. Arrival to Bergama, we drive to Acropolis. The Temple of Dionysus and The Altar of Zeus covered with magnificent friezes depicting the battle between the Olympian gods and their subterranean foes but most of these famous buildings removed to Berlin by the 19th century German excavators. Then we head on to Asclepion where was neither the first nor the only medical & psychological treatment center. After we have lunch at a local restaurant, visit the cathedral sized Red Basilica. St john the Divine wrote that Red Basilica was one of the seven churches of the Apocalypse, singling it out as the throne of the devil. Overnight at Kalehan Hotel in Selcuk. Private air-conditioned vehicle, private chauffeur at all times for all your transfers and touring in Turkey.
DAY 13: Kusadasi (BLD)
Breakfast and lunch are included at the hotel. Full day at leisure to explore on your own, or ask us for available optional tours. Dinner is included at a charming local restaurant with folk music.
DAY 14: Izmir – Istanbul – Amman (B)
After breakfast, you will have morning at leisure. We will arrange for a late check-out in time for the afternoon flight to Istanbul and onward to Amman. When you check-in at the airport you check your luggage all the way to Amman. Drive to Izmir Airport to board your flight to Istanbul. Upon arrival in Istanbul, please proceed on your own and follow the signs to check-in and board your connecting flight to Amman. Bon Voyage.
Sample flights: SUBJECT TO CHANGE without notice:
Izmir-Istanbul
TK2327
16.50-17.55
Business Class
Istanbul-Amman
TK 812
20.45-23.55
Business Class
Air fare is included back to Istanbul in Business class with tax included connecting onward to Amman in business class. Flights are always subject to change even on a last minute basis. Amman, Petra and while in Jordan, for your convenience: Wi-Fi internet access and mineral water with soft drinks are available in Jordan on board of all the vehicle for our VIP guests.
Please secure your Jordanian visa from the Jordanian Consulate nearest you. Upon arrival, our local rep. will meet you after you clear formalities and proceed to the Four Seasons Hotel Amman: Superior Room.
DAY 15 – AMMAN (BLD)
Enjoy a private tour of Amman. Visit the Roman Theater, the Citadel, the Archaeology and Folklore Museums, old and modern Amman and one of the many art galleries in this enchanting capital city. Then the King Abdallah Mosque and on to the Amman Museum:
THE SECRET DEAD SEA SCROLLS – A TALE OF WANDERING
The peoples of the Holy Land have wandered from homeland to dispersion, across the parted waters of the Red Sea, back to their homeland. So too, the Dead Sea Scrolls have followed an epic journey, from hazy origins in the time of the Second Temple, to secret caches, to their repositories today, where they are revered as the heritage of mankind.It was in 1947 that the first scrolls were rediscovered by Bedouin shepherds in the Qumran Caves overlooking the Dead Sea. Inscribed in Hebrew and Aramaic and Greek on parchment and papyrus, unmolested since before the time of Christ, they were the earliest original holy writings ever brought to light. Only dimly appreciated at first, they embarked on a journey that took them through the hands of dealers and connoisseurs, to Bethlehem, Lebanon and New York, and finally to Jerusalem.Discoveries continued, as 11 caves were explored, revealing scrolls and fragments of sacred texts and historical records of the construction of the Second Temple. Most found their way to the Rockefeller Museum, and later were incorporated into today's Shrine of the Book in Jerusalem.But other treasures made their way to the Jordan Archaeological Museum, where they are displayed in an alcove at one end of the building, in an unpretentious setting that belies their importance. The collection includes a fragment of the Book of Isaiah, and the Dead Sea Bronze Scroll, an inventory of caches of valuables, composed in Aramaic characters, the vernacular language of Palestine at the time of Christ.As you gaze and at the scrolls in the museum, reflect on the Biblical events of which they speak that took place in what is now Jordan. Lot's wife was turned into a pillar of salt, and Lot fled to a cave in what is now Safi. Lot's descendants ruled over Moab in Central Jordan. Sodom and Gomorrah were destroyed by fire. Jesus preached in the Decapolis, the ten Roman cities of northern Jordan and southern Syria. The Israelites crossed this land on the way to exile in Persia; and Moses viewed the Holy Land from Mount Nebo, and expired.
The tour will also include a stop at the Wild Jordan Café. Wild Jordan is the vision of the Royal Society for the Conservation of Nature (RSCN), a non-governmental organization devoted to the care and protection of Jordan's natural heritage. The Society was created in 1966 under the patronage of His Majesty, the late King Hussein. Its work is focused on the establishment of protected areas (nature reserves), enforcement of wildlife protection laws. Construction of the Wild Jordan Center was financed by USAID Jordan. It's located in the heart of old Amman overlooking the Temple of Hercules… the Café served all nature and organic foods and drinks… Two whole floors are devoted to the unique crafts and gifts made by the people living around Jordan's nature reserves, like Dana and Mujib. All the crafts are inspired by nature and use natural materials. Here is their web site for more info. Lunch is included at a local charming restaurant.
In the evening visit Kan Zaman Village for dinner, a Folklore show and a preview of the many handicraft ateliers. Private air-conditioned vehicle, private chauffeur, private guide.

Petra (Jordan)- A World's Marvel. Video posted by Joy & Peace of Living.
DAY 16: PETRA (BLD)
Breakfast is always included daily at the hotel. Your private guide will always escort you throughout the Petra trip. We drive south along the King's Highway, an ancient caravan route all the way to Petra Madaba Church and Moses Lookout. We drive to Madaba to visit the church containing the oldest known map of Palestine and the Holy Land. Continuing to Mount Nebo, we enjoy the panoramic view of the Promised Land the way Moses saw it for the first time: Moses observation point or lookout. Lunch is included en-route with bottled water, tea/coffee are included at Hikayet Sitti Restaurant or similar.
Delicious Jordanian home cooking:
In the midst of the beautiful City of Madaba and its narrow streets, a cozy house has been restored to a beautiful restaurant. Jordanian food at its best – home cooking in a Jordanian home turned into a restaurant. Not far from the church that has the mosaic floor. The restaurant offers, as well, an outdoor patio. True warm hospitality! Bottled water is included with all your lunches and dinners on this tour.
Petra, the stunning desert city hewn by the Nabateans from solid cliffs of pink and violet sandstone. Petra was known in the bible as Sela, and rediscovered only in 1812. You'll feel like Indiana Jones in Raiders of the Lost Ark as you penetrate into the city through a narrow sandstone gorge, the Siq, and wander among the Temple of the Winged Lion, tombs, Roman theater, and the imposing Treasury. Horse Ride is included in Petra. If you prefer, you may walk if you wish.
Petra has a lot to tell. The visit starts at the visitor's center, where each person is assigned a Bedouin guided horse for the journey to the entrance of the lost city. After passing some tombs, which are located outside the city, the visitor passes through the SIQ, an immense crack in the Nubian sandstone. It is a winding, one-kilometer-long fissure between overhanging cliffs that seem to meet more than 300 feet overhead.
Near the end of the passage, the SIQ, with great style, makes one last turn and out of the gloom in towering brightness appears Petra's most impressive monument, el Khazneh – The Treasury. This is one of the most elegant remains of antiquity, carved out of the solid rock from the side of the mountain, is nearly 140 feet high and 90 feet wide.
Beyond el Khazneh the visitor is surrounded on both sides by hundreds of Petra's carved and built structures, soaring temples, elaborate royal tombs, a carved Roman theater, large and small houses, burial chambers and much more. The Victorian traveler and poet, Dean Burgon, gave Petra a description which holds to this day – "Match me such a marvel save in Eastern clime, a rose-red city half as old as time." After that, we will return to the hotel to get prepared for a special dinner. In the evening we will call on you for a unique experience:
Dine as a local:
The Petra Kitchen is a delightful way to round out your Jordan travel experiences. Like any home kitchen, The Petra Kitchen is a relaxed, informal atmosphere where you'll gather to prepare an evening meal, working alongside local women under the supervision of our chef.
Each evening meal includes soup, cold and hot mezza (appetizers) and salads, and a main course—all typical Jordanian dishes. You will have get an inside glimpse of the secrets behind the famous regional cuisine of the Levant.
The Petra Kitchen offers an evening of learning, fun and a very special dining experience, with each dish gaining the special flavor of a reward well-earned. Great care has been taken to make The Petra Kitchen a truly Jordanian experience—right down to the furnishings, all crafted in Jordan, the tableware, all produced by the Iraq al Amir Women's Co-operative, and the aprons and table linens, all hand-embroidered by the Jordan River Foundation.
Tour experience tonight includes the cuisine course, meal and all non-alcoholic beverages as well as take-home recipes for all dishes prepared that evening.
Hotel: Movenpick Petra: Junior Suite.
DAY 17: Sunrise Over the Dunes – Wadi Rum (BL)
Please set your wake up call with the hotel operator. Your guide will reconfirm the exact time. May we suggest a very early morning breakfast to allow you to head out and watch the sunrise over the Sahara, this is only a suggestion, if you prefer to skip the sunrise over the dunes, please let us know. We board a four-wheel-drive vehicle Jeep Tour for an expedition to Wadi Rum, the "Valley of the Moon" where T. E. Lawrence ("Lawrence of Arabia") organized Arab resistance to Ottoman rule during World War I. After our visit, we enjoy a cup of tea with the local bedouins before we head for lunch and then drive back to your hotel.
Day 18: DESERT CASTLES Day 4- The Dead Sea (BL)
After an early breakfast we head north for a full day tour to the Desert Castles: Qasr Amra Bath and its Zodiac Dome, the Fortress like Qasr Karana, and the Roman Fort, turned into residence by the Ummayds: Qasr El Hallabat, and the black basalt Roman/Medieval fort at Azraq, then we start heading  back north  to the Dead Sea the lowest spot on Earth, overnight at the Kempinski or Movenpick Dead Sea Resort. Lunch is included today enroute. Deluxe: Kempinski Ishtar Dead Sea (Ishtar Superior room).
Day 19 – Dead Sea- Baptism Site – Galilee (BL)
The Baptism site in Jordan, is considered a very important pilgrimage holy site. It is on the east bank of the Jordan river, less than 30 miles from Amman and very close to the Dead Sea. Bethany (Baptism site).
After breakfast, drive down to Pella in the Jordan Valley. Visit Um Qais, Gedara of the Bible (Matthew 8:28-34) for a spectacular view of the Sea of Galilee, the Yarmouk River. Return to your hotel.
BAPTISM SITE IN JORDAN:
For Christians, the most significant event associated with the River Jordan is undoubtedly the baptism of Jesus Christ by John the Baptist. Interestingly enough, this also took place very close to Beit 'Abara, where Joshua, Elijah and Elisha crossed the river. In New Testament times, it became known as Bethany, the village of John the Baptist. This Bethany is not to be confused with the village of Bethany near Jerusalem, where the Bible says Lazarus was raised from the dead.The Bible clearly records that Jesus was baptized by John the Baptist (Matthew 3: 13-17), and that John the Baptist lived, preached and baptized in the village of Bethany, on "the other side of the Jordan" (John 1: 28). The baptism site, known in Arabic as al-Maghtas, is located at the head of a lush valley just east of the Jordan River. It is now protected and by early 1999 it will be accessible to visitors. After Jesus' baptism at Bethany, he spent forty days in the wilderness east of the River Jordan, where he fasted and resisted the temptations of Satan (Mark 1: 13, Matthew 4: 1-11).
Lunch is included enroute (bottled water is always included), return to your hotel and enjoy the Dead Sea views, the sunset, the hotel spas, luxurious facilities and maybe a swim.
DAY 20: AJLOUN – JERASH (BL)
Your private guide will head out with you from your hotel and on to tour Ajloun then on to Jerash, among the best-preserved Roman cities in the world, to tour its temples, theaters, churches and colonnaded streets. Lunch is included at a local restaurant. Return to the Kempinski Dead Sea.
DAY 21: Amman Airport
Enjoy breakfast at the hotel, then it is off to Amman Airport. Transfers are as always on a private basis. Bon Voyage.
Rates per person in USD $ – Minimum 4 Guests:
Five Star Hotels
Deluxe Five Star Hotels using
Four Seasons Hotel Istanbul
Triple
$11,210.
$13,679.
Double
$11,560.
$13,900.
Single
$14,349.
$16,300.
Rates per person in USD $ – Minimum 2 Guests:
Five Star Hotels
Deluxe Five Star Hotels using
Four Seasons Hotel Istanbul
Triple
$12,350.
$14,550.
Double
$12,670.
$14,765.
Single
$15,655.
$17,050.
YOUR TOUR INCLUDES:
Comprehensive sightseeing by private air-conditioned sedan/ mini coach /vehicle, with a private chauffeur, and private professional licensed guide as listed. This is a private tour, if you wish to change, amend, delete or add any site/tour, we are happy to custom tailor this tour.
Domestic airfares, within Turkey and between Turkey and Amman in business class with tax included
All admissions and museum fees
All transfers in Turkey and Jordan are ALWAYS on a private basis, private air-conditioned sedan, with a private chauffeur, and private professional licensed guide
Hotel accommodation as listed based on the category of your choice, for example, deluxe properties such as Hyatt, Conrad or an Ottoman Mansion style boutique hotels in Istanbul based on your preference. For Cappadocia we will be happy to book a Cave-Style hotel based on your preference and availability at the time you book with us.
Table d'hote (set-menu) meals as indicated in the tour itinerary: cB = continental breakfast; L = set-menu lunch; D = set-menu dinner. One large bottled water for each guest with each lunch and dinner meal.
Visa for Jordan, issued upon arrival, rules are subject to change without notice.
Rate doesn't include:
Visa Fee for Turkey: (procure yours online in advance of travel at www.evisa.gov.tr/en/)
International air fare from/to your home country.
Trip/travel insurance
Tips to escorts, drivers, hotel and restaurant staff.
General Sample of best available 5 Star Hotel Listing in Turkey (or similar):
Istanbul: The famous Istanbul Hilton, the deluxe Gezi Bosphorus Hotel, Conrad Hotel, Hyatt Hotel, Inter.Continental or similar. If you prefer a boutique style Ottoman Mansion Hotel, please let's know in advance. Sample: Blue House, Arena, Yesil Ev, Sultanahmet Sarayi, Sultanhan or similar
Kusadasi: Korumar Hotel or similar
Pamukkale: Colassae Hotel or similar
Antalya: Talya Hotel or similar
Konya: Riixos Hotel or similar
Cappadocia: Museum Hotel, Cave Suites hotel, Kapadokya Lodge or similar
General Sample of best available 5 Star Hotel Listing in Turkey (or similar):
Istanbul: The famous Istanbul Hilton, the deluxe Gezi Bosphorus Hotel, Conrad Hotel, Hyatt Hotel, Inter.Continental or similar. If you prefer a boutique style Ottoman Mansion Hotel, please let's know in advance. Sample: Blue House, Arena, Yesil Ev, Sultanahmet Sarayi, Sultanhan or similar
Kusadasi: Korumar Hotel or similar
Pamukkale: Colassae Hotel or similar
Antalya: Talya Hotel or similar
Konya: Riixos Hotel or similar
Cappadocia: Museum Hotel, Cave Suites hotel, Kapadokya Lodge or similar
Sample hotels used in Jordan for this tour
These hotels are used for both categories
The Kempinski Hotel Ishtar Dead Sea
Your every wish is our command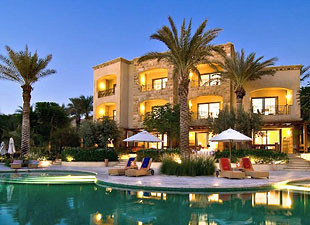 Experience the lavish lifestyle at the Kempinski Hotel Ishtar Dead Sea. Indulge in true luxury at the lowest point on Earth with the finest facilities and services?. In a region unlike any other, hidden away for centuries in the cradle of time and at 400 meters below sea level, where nature and history have so wonderfully conspired, is the Kempinski Hotel Ishtar.
Four Seasons Hotel Amman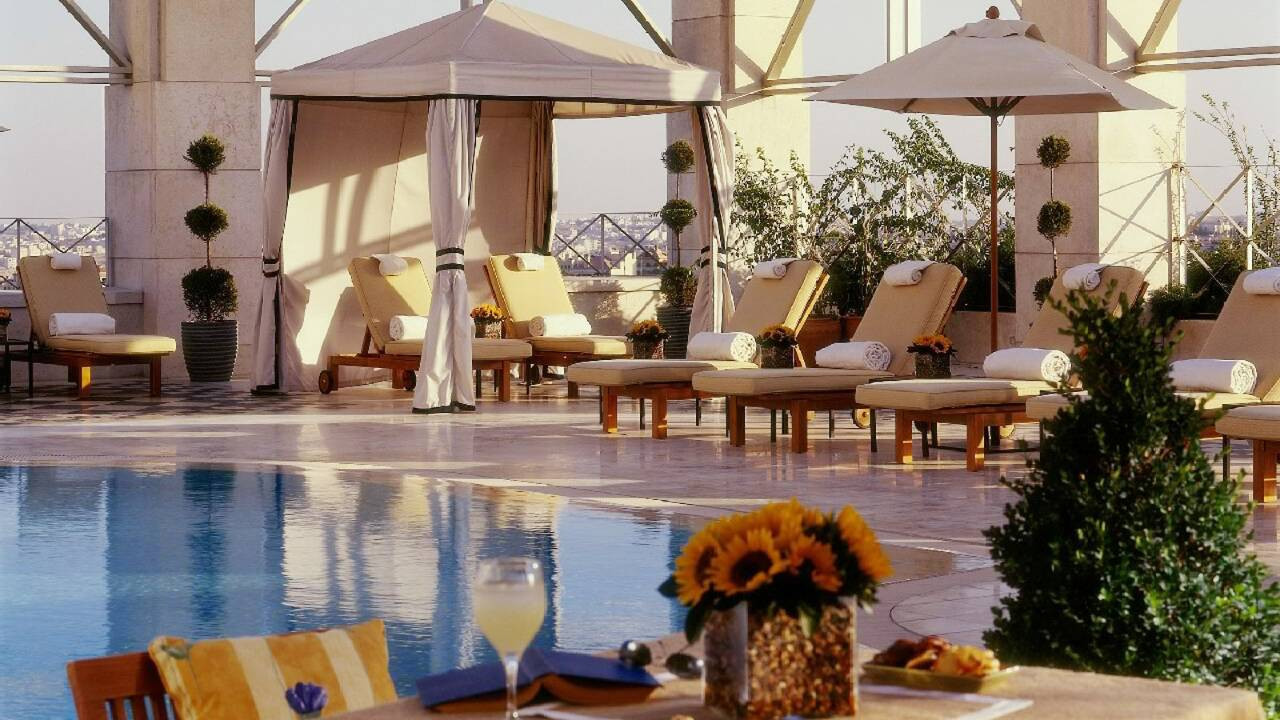 Set atop the highest of Amman's seven hills is Four Seasons Hotel Amman, a majestic luxury hotel with large rooms, modern amenities and unparalleled service that set a new standard of quality and excellence.
Movenpick Resort Petra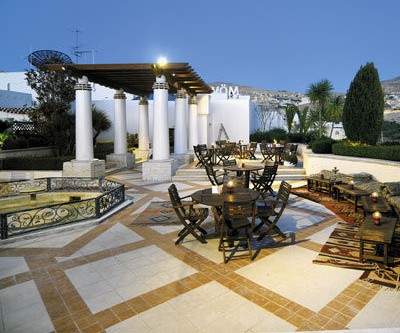 Movenpick Resort Petra
Five Star Resort in Petra, Jordan
The Movenpick Resort Petra is located directly at the entrance to the historic Jordanian city of Petra. This resort with an oriental flair features an exciting combination of natural stone, handcrafted wood and Middle Eastern fabrics and textures. With 183 newly renovated rooms and suites and a wide variety of restaurants for your culinary cravings, the Movenpick Resort Petra will certainly provide long lasting memories. Enjoy your time spent in one of the world's most extraordinary destinations.