Mediterranean Honeymoon Wishes
Tour Greece and Turkey – Having it all
Istanbul, Ephesus, Athens, Santorini in 12 Days
What's your preferred destination around the Aegean Sea? The Classic sites beckon with the glories of empires past. Thriving bazaars exude the mystery of the Orient. Hidden coves, sun, beaches and sails seduce you to a legendary island removed from the everyday world. Which will you choose?
Fortunately, you can do it all! On this honeymoon wishes tour, Travel in Style weaves the great travel adventures of Greece and Turkey into a seamless classic of its own. You'll gaze in awe at the treasures of Istanbul, and venture to the cradle of classical civilization in Pergamon, Izmir, Ephesus, and Kusadasi. You'll ascend to the Acropolis in Athens, and plumb the pleasures of the Plaka. Then it's away from the madding crowds, to treasure three full days in a hideaway on the Greek isle of your dreams: Santorini. Pack your bags, and take off on any day of your choosing, from April through October.
Tour
DAY 1 – Start in ISTANBUL – or in Athens – Arrive on any day of your choosing, from April through October
Our local personnel will be on hand when you arrive at the international airport to escort you to your lodgings where a fruit basket awaits. You'll have time to rest up from your flight, and stretch your legs as you make your initial discoveries of this capital of Byzantine emperors and Ottoman sultans, where East and West have long clashed, met, and blended.
DAY 2 – ISTANBUL (BL)
We'll visit historic and modern Istanbul today. High points will include the Hippodrome, the Museum of Turkish and Islamic Arts, and the stunning Blue Mosque. Then it's on to Aya Sophia, whose heritage as both a basilica and emblem of Islamic architecture neatly sums up the strains that have created modern Turkey. We'll fit in the fabled Topkapi palace, with its formal gardens, salons of state and stately boudoirs of the sultan's harem; as well as the Treasury, whose collection includes priceless Chinese porcelain. At the Grand Bazaar, there will be occasion to assemble your own treasure from over 5000 stands, kiosks, and shops, filled with carpets, leatherwork, and treasures and trinkets from all points eastward.
DAY 3 – ISTANBUL (BL)
This morning, we'll stretch our legs as we take in the sights, sounds, and aromas of Istanbul up-close. We'll start off with our guide to re-discover the Belle Epoque, when Constantinople was the Paris of the East. From the traditional Karaköy district, where overseas bankers and shipping companies had their headquarters, we'll ascend via the Tünel-an antique subway line-up to Istiklal Caddesi, a sedate nineteenth-century thoroughfare lined with former embassies. We'll stop in at the tekke of the renowned whirling dervishes. And in keeping with the traditional surroundings, we'll be hosted to tea at the landmark Pera Palace Hotel. We'll continue on foot, at least as far as Galatasaray Square, and lunch in the Çicek Pasaji (Flower Passage); then it's on to busy Taksim Square to rendezvous with our coach. We'll venture farther a field in the afternoon, to Yildiz Palace Park and the Ihlamur Kasri, a refined little palace south of Yildiz, and the Military History Museum in Harbiye, arriving in time for the strains of Mehter, the traditional Ottoman military band. After a late-afternoon lunch at a charming local restaurant, we'll venture into the legendary bazaar and a walking tour of this ancient district with scenes from " Raiders of the lost Arc".
DAY 4 – PERGAMON. IZMIR – Selcuk – Seljuk (BL)
After breakfast, we'll escort you to the airport, where you'll board your plane for the flight south, following the shore of the blue Aegean to Izmir, known also in history as Smyrna. Once we de-plane, we'll proceed to Bergama-Pergamon in Classic times-where we'll ascend to an impressive acropolis. Among the features of the site are the Altar of Zeus, the Temple of Dionysus, and the surviving parts of a library that in its day held 200,000 volumes and rivaled Alexandria's. Nearby, we'll see the Asclepion, a clinic where the illustrious Galen tended to his patients. For Deluxe: Kismet Hotel or Korumar Hotel, and First Class category in: Selcuk (Seljuk): Kalehan Hotel, or similar.
DAY 5 – EPHESUS, Selcuk (Seljuk) (BL)
We'll take advantage of the morning light to ascend Kadifekale, the commanding hill of Izmir where Alexander the Great erected a fortress. Then we'll proceed to Ephesus of Biblical times, passing along the way the Temple of Artemis, one of the Seven Wonders of the ancient world. We'll visit the Basilica of St John the Evangelist, who arrived in this one-time Mediterranean metropolis from ancient Palestine in the company of the Virgin Mary. Stops will include the Ephesus museum, and the hilltop House of the Virgin Mary, said to be Her last home on earth, and declared sacred by Pope John XXII in 1961. Lunch is included enroute.
Off to Sirince Village: This old Orthodox Village, 30 kilometers from Kusadasi, was once "Cirkince"(ugly). Indeed its inhabitants gave this name on the purpose as they did not want to be bothered by foreigners nor to share the beauty of their village. Still after years, visitors understood that the village was not ugly and called it "Sirince" (pretty). Today the village is a perfect synthesis of Turkish-Greek culture as of the 1920's. After the Turkish Independence War, an exchange between the Greek and Turkish people occurred and all the typical Greek houses, though they kept their original outside characteristics, received the local layout inside. At Sirince Village you will have chance of seeing the local life at a village and purchasing some small local souvenirs and handicrafts. The village is also famous for its local grape and other fruit wines. During lunch, mingle with the local people of the village as you will be a guest in their village for a simple cup of traditional Turkish coffee at the main coffee house of the village. Depending on the number of guests, a gypsy woman may read your fortune after you finish your coffee.
DAY 6 – IZMIR, ISTANBUL, ATHENS (B)
After breakfast, we'll call for you and escort you to the Izmir airport, where you'll board your flight (domestic air fare in Turkey and between Turkey and Greece are included in business class if/when available at the time of your booking), fly to Istanbul, connecting to Athens, where our representative will escort you to your hotel in the bustling city center. The rest of the day is yours to enjoy as you wish. Stroll, browse for curios and treasures, and perhaps dine at a cafe in the old Plaka district and take in a folklore show.
DAY 7 – ATHENS – Private Tour (BL)
Enjoy the sights, sounds, and flavors of the Greek capital, today we have included a Full  day private tour of  the Acropolis Museum, Syntagma Square, and the towering Acropolis and the Acropolis Museum. Lunch is included at a charming local restaurant. Aftrenoon guided  walking tour of the Plaka old district. Private air-conditioned vehicle, private chauffeur, private guide.
DAY 8 – ATHENS, SANTORINI (B)
We'll call for you and see you to the airport for your flight over the blue Aegean to Santorini (Air fare included in economy class) , Isle of Ancient "Atlantis?!", where you'll find a room waiting in a four-star beach hotel. Or a cliff-side Villa.
DAY 9 – Santorini (B)
Enjoy breakfast at your lovely hotel (or Villa),or venture out,to explore ON YOUR OWN. Akrotiri,reputedly the site of fabled Atlantis. Then on to Athinios port to take a boat across to the dormant volcano, and ascend through a crater-pocked moonscape to the crater. Visit Thirassia Island and watch sunset in Oia. Return to your hotel/villa early evening, the decision is totally yours.
DAY 10- Santorini- Own activities (B)
To stay in your lovely hotel and enjoy the beach, the service, and the amenities, or to venture out to explore some of the dramatic cliffs, coves, and villages… that is the question! No doubt, you'll mix a bit of both; Relax, and revisit a favorite café or shop,sip an ouzo or retsina at a waterside café, discover a beach or two, pick up a loaf of fresh bread and cheese and olives, and picnic on a hillside as you look out to sailboats at sea.
DAY 11- SANTORINI (B)
Enjoy the views from your villa, discover a black-sand beach, savor the sea breezes from the terrace of a café, or try your hand at fishing. Or arrange a winery visit or another excursion. The choice is yours.
DAY 12 – Santorini/Athens – Departure (B)
If your flight out of Athens is very early morning today, then best to fly Santorini Athens on Day 11, in which case we will have you staying at the Sofitel Athens Airport Hotel. Do your last-minute shopping this morning, or just linger deliciously in bed. Then we'll call for you and see you to the airport to begin your journey home. If you wish to extend your stay, please let's know in advance. Bon Voyage.
RATE in USD $ per person
Tourist Class
First Class
(4 stars)
Deluxe
(5 stars)
Triple occupancy
$ 5680.00
$ 6431.00
$ 7675.00
Double Occupancy
$ 5796.00
$ 6655.00
$ 7845.00
Price includes:
Air transportation Istanbul / Izmir/ Athens in business class if/when available at the time of your booking, with tax included.
Air fare Athens/ Santorini/Athens,  in economy class, as per the itinerary and dates you choose (subject  availability).
Transportation between airport and hotels in Greece, always on a private basis,
Guided sightseeing as indicated in ATHENS, including entrance fees.
preset menu meals as indicated, please check each day for the code: "B" for breakfast, " L" for lunch and dinner as indicated "D", etc.
Accommodations with breakfast (B) as indicated below, or at comparable properties, according to availability:

Athens: Divani Palace Acropolis: 5 Stars Moderate. Titania, Electra Palace (four stars).
Istanbul: Hyatt, Hilton or Ceylan Intercontinental or similar for the deluxe, Madison, Arena, Aygun Plaza or similar for 4 stars
Kusadasi: Korumar or similar for the deluxe, or Kismet for boutique Hotels, Adakule or similar for 4 stars
Sample Villas/ Apartments in Santorini: For Deluxe rates: Dana Villas with a view of the Caldera & the sea (Firostefani), "Astra Apartments", "On The Rocks" or Chromata Apartments with a view of the caldera and the sea (Imerovigli.). For first class accommodation in the: "Cliff Side Suites, Volcano View Villas, Tzekos Villas Or Rose Bay on Kamari Beach Hotel (four stars)
Not Included:
International air transportation.
Trip Cancellation insurance
Optional excursions, such as tours on Santorini, sailing, cruising Any meal not specifically mentioned, beverages, and personal expenses Gratuities for local personnel
Visa Fee for Turkey: (procure yours online in advance of travel at www.evisa.gov.tr/en/)
Visa fee for Greece if needed based on your nationality.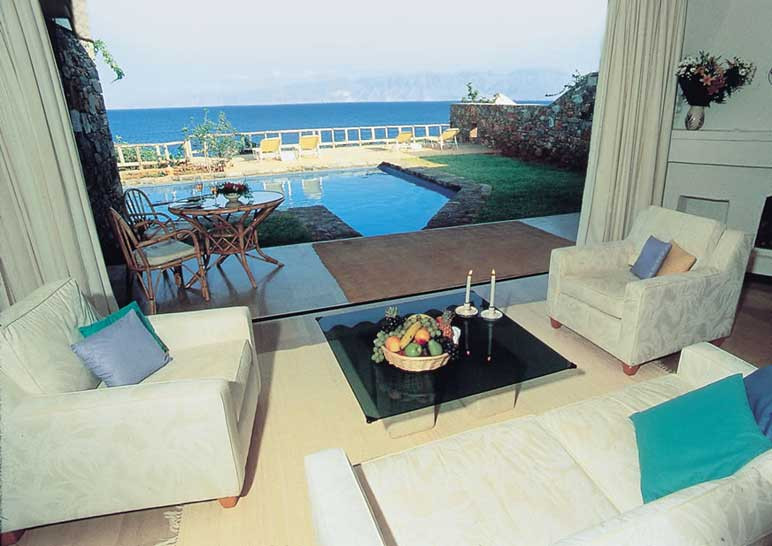 Prefer to upgrade to your own villa with private pool and Jacuzzi in Crete?
Perfect for a Family vacation, your Honeymoon or Wedding Anniversary
Please click here
What others say about our service in Greece:

Omar:
We had a perfect vacation in Greece!
Dinner our first night at the rooftop restaurant of the Titania overlooking the Acropolis as the sun set and the lights came on!
Santorini was magical – though we enjoyed the sunsets from Fira instead of Oia. We did rent an ATV and got to Red Beach and Oia on day trips.
The ferry to Crete made half the boat sick – but not us!
The Movenpick in Crete was really beautiful – a luxurious place to rest after a long week.
We were upgraded to executive suites by both the Titania and the Athens airport Sofitel, you should know. They took good care of us!
We loved the Ouzo, the shopping, the sunsets, the beaches, the colors of the sea and sky, the friendly waiters, the people at the Tzekos Villas, the shop owners – we loved Greece!
We WILL return someday, especially to Santorini!
And contacting you via the Internet to arrange it was the perfect way to set it up.
Let us know if we owe you money – the hotels said everything was pre-paid though we charged a few things, like bottled water, to our rooms.
Thank you again, Omar, for everything! I've already referred a couple of other people to you. You do a fine job!
Gratefully,
Jodi and Stan