Private Tour  — The Honeymoon Edition
A grand 10 day tour of Tunisia
Choose your own date,
or arrive weekly on Thursday in Tunis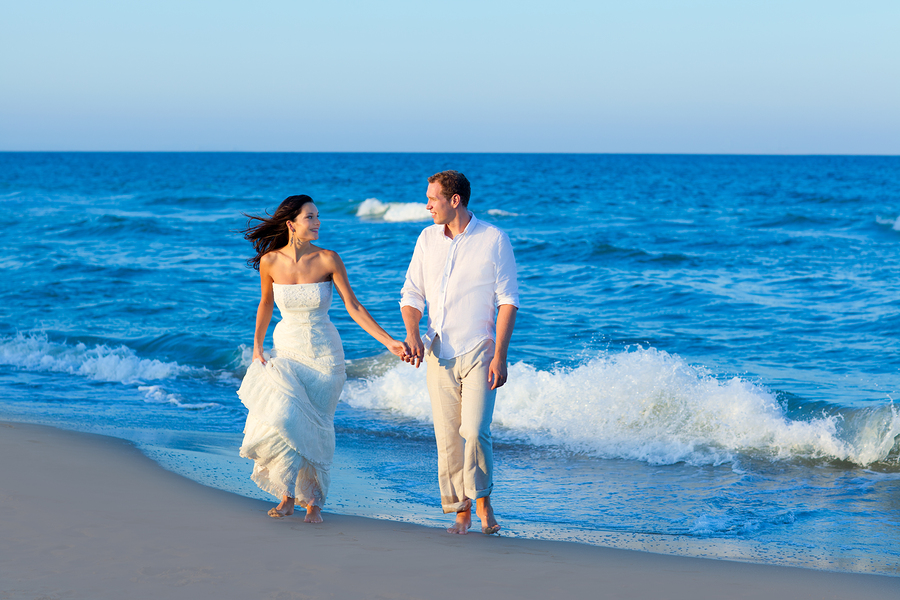 We'll take you through Carthage, Dougga, Thuburbo Majus desert oases, curious troglodyte dwellings, a Roman amphitheater, and unspoiled beaches. You'll appreciate the breathtaking beauty of a land that has drawn wanderers over the centuries. Compare with the 12-day version.

The Mediterranean resorts of Europe are wonderful, but they can be crowded and expensive. So where do discerning Europeans go to find the perfect laid-back, affordable Mediterranean vacation? Why, they go to Tunisia, of course!
The clear blue water, the shimmering sun, the white sand beaches are all the same in Tunisia, the southern shore of the Mediterranean, just across the sea from Sicily and Sardinia. The prices are lower, the pace is more relaxed, and the cuisine and service in this former French colony are French-inspired. (Everyone speaks French as well as Arabic, and many people in hotels, restaurants and other tourist spots speak some English, too.)
Tunisia's history has always been linked to Europe's. Hannibal of Carthage crossed from Tunisia to Europe with 30,000 men and a few dozen elephants and humbled the Roman legions. Rome ultimately triumphed, however, and Tunisia became the Roman province of Africa. Today the picturesque ruins of great Roman cities are spread throughout the Tunisian countryside.
Be sure to see Tunisia's African side as well: its legacy of Umayyad, Abbasid and Ottoman culture and cuisine, the picture-perfect desert oases shaded by date palms, and the markets filled with handicrafts and exotic spices.
Tour
DAY 1: TUNIS – Choose your own arrival date / Daily arrival – Year round.
This is a private tour – Private vehicle, private chauffeur.
Our local staff will meet you upon arrival at Tunis Carthage International Airport. You'll be assisted with the formalities, and escorted to the fine Hotel Africa El Mouradi (5-star) or similar. There will be time to relax and recuperate from your journey and enjoy the excellent facilities. If you wish, you can adventure into the center of Tunis to start your exploration of the winding alleys of the souk, filled with treasures of beaten brass and basketry and carpets, and merchants who will welcome you with traditional mint tea.
DAY 2: THUBURBO MAJUS – DOUGGA – Private vehicle, private chauffeur (BLD)
After breakfast at the hotel, we start our full day to Thuburbo Majus. This town of Libyan and then Punic origin sided with Carthage and thus had to pay a tribute to Rome. Thuburbo Maius reached its apogee in the 2nd c with 10,000 inhabitants and and impressive array of of monuments: the forum, built in 161-2, the capitol (168) and a number of temples (Temple of peace, Temple of Mercury, Temple of B'a alat, Temple of Caelestis, Temple of Saturn) of which one later became a basilica. We'll tour as well the market, Roman bath and the amphitheater.
We'll enjoy lunch at a local restaurant before proceeding to Dougga: A Numidian city, mentioned in the 4th century B.C. by Diodorus the Sicilian as Tocai, tukka was from the 2nd to 1st century B.C. one of the residences of the Massyle Kings (MASSINISSA, MICIPSA,JUGURTHA). In Roman times the municipal land was split into two parts; the Numidian city, and a pagus (rural area) under the authority of Carthage, Whole again, thugga was a municipium in 205 and honorary colonia in 261. With some 5,000 residents, thugga had a municipal bourgeoisie which endowed her with a number of rich monuments. The monuments are incredibly well preserved, allowing us to imagine the infrastructure this small Proconsular town possessed: 12 temples, 3 of which were transformed into churches in the 4th Century, 3 Roman baths, numerous fountains, aqueducts and more. Thugga slowly lost its glory, though it still enjoyed brief periods of revival in the 3rd, the 4th and 6th centuries (Byzantine fortress). Though it was never deserted, archaeological research required the removal of its residents to a new Dougga lying below classical thugga. Return early evening to our hotel Hotel Africa El Mouradi (5-star) or similar in time for dinner.
DAY 3: CARTHAGE, SIDI BOU SAID (200 Kilometers) – Private vehicle, private chauffeur (BLD)
We'll marvel at the ruins of Carthage, a true metropolis of the ancient world, as evidenced by its theater, circus, baths, port installations, and extensive urban plan. We'll lunch at a fine local restaurant, then speed forward in time to the middle ages as we visit the picture-perfect Moorish village of Sidi Bou Said. With its whitewashed walls and narrow laneways, it's the perfect setting as we stop for traditional mint tea. Back in Tunis, we'll stop at the Bardo Museum, to view the most extensive Roman mosaics in the world. We'll then head for the Medina, the old quarter of the city, with its warrens of shops filled with wares ranging from humdrum to exotic. Hotel Africa El Mouradi (5-star) or similar.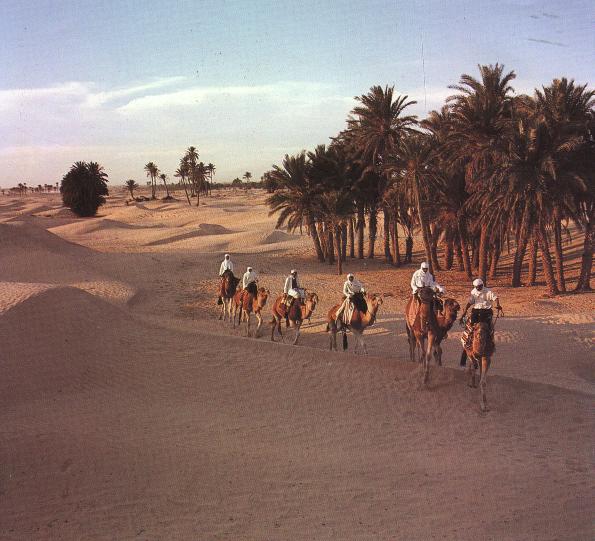 DAY 4: HAMMAMET, SOUSSE, EL DJEM, SFAX – Private vehicle, private chauffeur (BLD)
After breakfast we'll set off to explore Hammamet, a cosmopolitan port where sun-worshippers from all over happily coexist with fishermen and traditional ways. We'll stop at the port of El Kantaoui, and then proceed back into time to venerable Sousse, once the Phoenician City called Hadrumatum. We'll stroll through the medina, the old quarter, cooled by sea breezes, and visit the museum as well as the Ribat, a stronghold of the warriors of Islam. Continuing to Sousse, once the Phoenician city of Hadrumatum, we walk through the medina (old city), cooled by breezes off the harbor, and visit the Roman catacombs. Our next stop is El Jem, which boasts a Roman coliseum very similar to the famous one in Rome. Our busy day continues with a drive to Sfax. Dinner and overnight at hotel: Les Oliviers Palace (5-star)  or similar.
DAY 5: SFAX – Djerba Private vehicle, private chauffeur (BD)
After breakfast we drive to the coastal city of Gabes, a Roman outpost of old and a traditional market center where, for centuries, goods from across the sea and across the desert have changed hands. We'll visit the oasis, where palm groves and gardens flourish. We'll then cross to Djerba, an island where Ulysses once encountered the legendary Lotus-Eaters. We will explore the old quarters, including the synagogue of Hara Sghira, Hara Kebira with its modern Jewish community, and Guellala, with its craft stalls, and to see the waterfront and fishing fleet, and the lively town of Houmt Souk. Dinner is included at your Hotel: Melia Djerba Menzel or similar.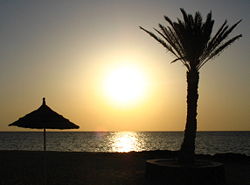 DAY 6: Djerba (BD)
Breakfast and dinner at your hotel. Full day on your own. Enjoy your hotel facilities or water sports, or simply lounge on the beach and take in the beauty of this true Tunisian Mediterranean riviera.
Sample choices of beaches on Jerba / Djerba:
Djerba La Nomade – The beach at Club Med boasts a health centre which is a spa based on water therapy, amongst the many facilities of the resort and of course the great white sandy beach.
Djerba Palm Beach – In front of the Sofitel hotel about 5 kilometers from the capital is one of the finest beaches on the island for swimming and snorkeling.
Melia Djerba Menzel – Beautiful palm trees are abound on this beach , beautiful warm blue waters.
DAY 7: Djerba (BD)
Breakfast & dinner at your hotel. One more day in this Mediterranean paradise. Enjoy the island as you wish  or ask us for available optional tours.
DAY 8: MATMATA, KEBILI, DOUZ – ( 300 Kilometers) – Private vehicle, private chauffeur (BLD)
After breakfast  we cross back to the main land. Our route takes us through terrain of increasingly sparse grasses and shrubs, into the desert to Matmata. We'll stop to look in on a community of miniature underground houses, where the earliest settlers sheltered from the extremes of the desert above — as do the Berbers of today. We'll enjoy a full day of desert adventure. We'll visit the village of Kebili, largest of a cluster of oases, islands of life in a harsh landscape, then proceed to Douz, fabled as the Gateway to the Sahara. There, a special treats awaits, the opportunity to sample a caravan trek! This close encounter with a camel is entirely at your option! This is included in our rate on a complimentary basis.
DAY 9: GAFSA, SBEITLA, KAIROUAN, TUNIS – Private vehicle, private chauffeur (BLD)
Departure directly to SBEITLA via CHOTT EL JERID & Metlaoui. We'll delve more into Tunisia's rich and varied past today, as we motor overland through pleasant, rolling coastal lands, the ancient crossroads between desert oases and the cultivated coastal lands. We'll wonder at the Roman ruins of Suffetula, as well as the great mosque. We'll lunch at the 3-star Hotel Sofeiula then drive to Kairouan Kairouan, an ancient, holy, and vibrant city noted for its historic mosques and centers of learning. Kairouan also is noted for its souk, and the crafting of carpets and leather goods. Visit a carpet shop & the aglibythes pools. Of course, there will be time to check out these wares. DINNER and OVERNIGHT IN KAIROUAN.
DAY 10: DEPARTURE – (B)
After breakfast our local personnel will escort you to the international airport where you'll start your homeward journey. Private vehicle, private chauffeur.
 RATES per person in US$: Arrive any date – Private Tour/Private Guide
Sharing in Double or triple Occupancy:
$ 3140.
In Single occupancy:
$ 4760.
Prices include:
Round-trip transportation between airport, always on a private basis, private air-conditioned vehicle, private chauffeur.
Hotel Accommodations as mentioned in itinerary, in comfortable three or four-star (first-class) hotels, with private facilities.
Meals as indicated from preset menu (B = breakfast, L = lunch, D = dinner).
Guided sightseeing as indicated in air-conditioned coach, including all admission fees.
Not Included:
International air transportation. Optional excursions, such as camel ride.
Any meal not specifically mentioned beverages, and personal expenses.
Gratuities for local personnel.
Travel insurance (available upon request).
Airport taxes.