Private 10-day luxury tour of Italy, departing whenever you like,
with visits to Assisi, Florence, Perugia, Reggio Calabria, Rome,
Siena, Tivoli, Torgiano, Vatican City, Venice, & Villa d'Este.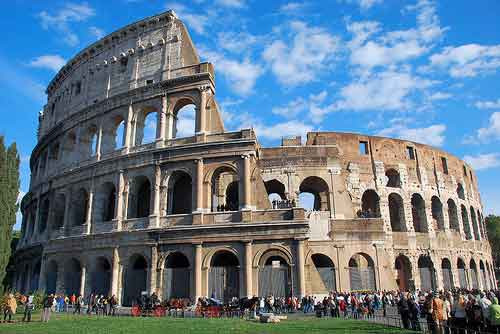 This private tour is yours to enjoy as you wish, beginning on any date you wish. The itinerary given below is a proposed program. You may add or omit stops, or spend more or less time, according to your personal preference. We will make all the arrangements for you accordingly. Compare with the 26 in-depth private tour of Italy.
Tour
Day 1 – Welcome to VENICE!
Our representative meets you at Venice Airport and assists with the transfer to your hotel by private boat. Welcome to Venice, your base for three nights. The rest of the day is yours to enjoy as you wish, wandering the serpentine paths, bridges and canals of this magical city.
Day 2 – VENICE and its ISLANDS
After breakfast, your local English-speaking guide meets you at your hotel and takes you on a tour of St. Mark's Square, once called the "gathering place of Europe." You enter and tour its two outstanding landmarks: St Mark's Basilica, a triumph of Byzantine-style architecture nicknamed the "church of gold," and the Palace of the Doges, with it famous arcades.
Time for lunch. What will it be? Whatever you wish! Your guide can suggest good restaurants in a variety of styles, or you can sit down in any place that catches your fancy. In the afternoon, your boat takes you on a private tour of the islands of the Venice lagoon, including Murano, famous for its glass-blowing artistry and Burano, known for the making of fine, delicate lace. After your visit to the islands, your boat returns you to your hotel through the canals of Venice, with the evening free to enjoy as you wish.
Day 3 – Introduction to FLORENCE
Our representative meets you at your hotel after breakfast and assists with your transfer by private boat to Piazzale Roma and Venice Railway Station, where you board a high-speed train, take your seats in First Class, and enjoy the ever-changing panorama of the Italian countryside as the train takes you to Firenze (Florence), a trip of about two hours. At the Firenze railway station, you rendezvous with our representative who assists with your transfer by private air-conditioned vehicle to your hotel, your home for the next four nights. Lunch is as you wish, as usual. Dine at your hotel, or ask the concierge for suggestions of a good place nearby.
In the afternoon, your local guide meets you at your hotel and takes you on a half-day tour of Florence. You visit the Academia Museum, with its sublime statue of David by Michelangelo; admire the magnificent façade of the Duomo, Florence's cathedral, and the famous bronze doors of the Battistero di San Giovanni (Baptistery). You continue to the Piazza della Signoria, the hub of Florence; and the best-known bridge crossing the River Arno, the much-photographed Ponte Vecchio, lined with shops as in medieval times.
The evening is yours to enjoy as you like, relaxing at your hotel or wandering the beguiling streets of Florence.
Day 4– The ART of FLORENCE
This morning you concentrate on Florence's claim to fame: some of the history's greatest works of art. You visit the Uffizi Gallery, home of Botticelli's Birth of Venus and Leonardo da Vinci's Annunciation, and then pay homage to some of Italy's greatest artists, scientists, authors and musicians with a visit to the beautiful Basilica of Santa Croce, the burial-place of Michelangelo, Galileo, Machiavelli and Rossini.
You've heard of culinary delights with "Florentine" in their name. Here's your chance to find your own delights: wander through Florence on your own, find the restaurant of your choice, and sit down to a memorable Florentine mid-day repast, followed by an afternoon on your own, exploring or resting as you like.
Day 5 – SIENA and SAN GIMIGNANO
After breakfast, drive through the Italian countryside for less than two hours to Siena, one of Italy's most beloved cities. Your local guide will show you all the points of interest in its historic center, including the plaza that is the site of Siena's most famous event, the biennial horse race known as the Palio.
Siena is famous among Italians for its cuisine. Sample it yourself today as you enjoy lunch, with restaurant suggestions from your guide. After lunch we depart for the charming hillside town of San Gimignano, known for its medieval architecture and encircling fortress-like walls with numerous towers. After strolling along its historic streets and squares, and enjoying views of the countryside from this hillside vantage point, we return to Florence in time for dinner and an evening at leisure.
Day 6 – FLORENCE TO PERUGIA or TORGIANO VIA ASSISI
Depart for Assisi after breakfast, and after a drive of just over two hours through the countryside, meet your local guide in the center of Assisi. Take a leisurely walking tour of the town's historic center, the "birthplace of the Franciscan order," visiting the San Francesco Basilica (a World Heritage Site), and the massive Gothic Santa Chiara Basilica. For lunch, find any restaurant that appeals to you, assisted by restaurant suggestions from your guide.
In early afternoon, depart for Perugia (or Torgiano, if you prefer), about an hour's drive, to enjoy its famous hilltop views, narrow winding streets, and "Baci" chocolates. Tour the historic city center, including the elegant Renaissance Palazzo Capitano del Popolo on the Piazza Matteotti, and the 14th-century Cathedral. In late afternoon, return to Florence, and your hotel, for a restful evening.
Day 7 – PERUGIA or TORGIANO TO ROME VIA ORVIETO
Meet your driver after breakfast and depart for the one-hour drive to the dramatically-situated Umbrian town of Orvieto, surrounded by sheer cliffs. Your local guide shows you the historic town center, including the Romanesque and Gothic Cathedral which holds Luca Signorelli's frescos of the Last Judgment; the Torre del Moro, the "Tower of the Moor" (named after a figure on the building's coat of arms) which gives sweeping views of the city; and the Piazza del Popolo, followed by some time to wander around on your own and enjoy this charming setting. After lunch on your own, as you like, you depart for the 2-1/2-hour drive to Rome, arriving in the Eternal City, and your hotel, in the late afternoon.
Day 8 – FULL DAY TOUR OF ROME – VATICAN CITY, PLAZAS & FOUNTAINS
After breakfast, your guide conducts you to the Vatican Museum, one of the greatest in the world, featuring some of the most important masterpieces of Renaissance art; the Sistine Chapel to see Michelangelo's crowning artistic achievement, the ceiling frescoes; the massive and spectacular St. Peter's Basilica, the holiest of Catholic sites and the greatest building of its age. After lunch on your own—lots of great restaurant choices in Rome!—your guide takes you on a tour of Rome's Plazas & Fountains. You visit Piazza Navona, built on and following the shape of a 1st-century stadium; the famous Baroque Trevi Fountain; the Spanish Steps, the widest staircase in Europe and Rome's most popular gathering-place; and the vast Piazza del Popolo, which was once the traveler's first view of Rome. The evening is yours to enjoy as you wish.
Day 9 – HALF DAY TOUR OF ANCIENT ROME
Today you tour the timeless classics of ancient Rome: the Coliseum; the Roman Forum, meeting-place of ancient Rome and now a site of archeological wonder; and the Basilica of San Pietro in Vincoli (St. Peter in Chains), the home of Michelangelo's statue of Moses.
Now that you know your way around Rome a bit, after lunch at a restaurant of your choice, on your own, the rest of the afternoon is yours for your own explorations.
Day 10 – Departure – Rome
After breakfast, your English speaking escort will assist with your private transfer from your hotel to Palermo Airport. Bon Voyage. Compare with the 26 in-depth version.
Rates per person in USD $
 
Ultra Deluxe
Category A
Category B
Triple
$ 12,998. USD
$ 9,397. USD
$ 8,335. USD
Double
$ 13,550. USD
$ 9,990. USD
$ 8,750. USD
Single
$ 17,502. USD
$ 14,055. USD
$ 12,755. USD
Child: Younger than 12 year of age at time of travel must share with 2 adults to enjoy a 15 % discount.
Prices include:
Locally private guided sightseeing and all ground transportation always on a private basis (deluxe private air conditioned vehicle) as indicated, private chauffeur.
An English speaking tour escort.
American or buffet breakfast daily, plus 1 lunch.
Accommodation including tax, and service charges.
All Entrance fees.
First-class, reserved-seat train tickets as indicated.
Ferry tickets as indicated.
Not Included:
Personal expenses, beverages, and meals not specifically included.
Gratuities for local personnel porterage.
Drinks/beverages.
Travel insurance
International airfares from/ to home country.
Hotels or similar
Ultra Deluxe
Category A
Category B
Roma
Rome
ST. Regis Grand Hotel
Deluxe roomThe Westin Excelsior Grandluxe roomHotel Eden Deluxe Room
Intercontinental De La Ville Deluxe roomHotel Majestic Rome Superior room
Palazzo Manfredi Galadiatori Hotel Rome
Prestige roomHotel Art By The Spanish Steps in RomeDel Borgognoni Hotel in Rome
Florence Firenze
Four Seasons Hotel Firenze.
Premier room
Grand Hotel Villa Medici
Deluxe roomThe Westin Excelsior Hotel Florence.
Deluxe roomLungarno Hotel Florence Classic room
Santa Maria Novella Hotel Square view Room
Venezia
Venice
Hotel Danieli Venice
Deluxe room
(Lagoon view)
The Westin Europa
& Regina Hotel Venice
Metropole Hotel Venice
Classic room
Milan Milano
Four Seasons Hotel Milan
Deluxe roomBulgari Resort Milan
Deluxe room
Park Hyatt Milan
Park room
The Westin Palace Milan
Double roomManzoni Hotel Milan
Deluxe roomSheraton Diana Majestic Hotel Milan.
Classic room
Sample Hotels or similar:
Hotel Danieli Venice (5 star Deluxe Hotel)
Located in one of the most prestigious locations in Venice, just a few steps from Saint Mark's Square, overlooking the lagoon and its myriad islands.
Florence: Grand Hotel Villa Medici (5 star Hotel)
An historical residence located in the center of Florence, walking distance from all major art sites and shopping.
Torgiano /Perugia: Hotel Brufani Palace (5 star Deluxe hotel)
Situated in the heart of Medieval Perugia in a panoramic position.
Torgiano /Perugia: Le Tre Vaselle Hotel (5 star hotel)
This 17th century building rises within the medieval wall of Torgiano, a peaceful village in the hearth of Umbrian countryside.
Rome Hotel Eden (5 star Deluxe Hotel)
Just a few steps away from the hotel you will discover such attractions as Via Veneto, the Spanish Steps and Via Condotti.
Rome Hotel Majestic (5 star Hotel)
Prestigious location in the heart of the Eternal City on Via Veneto.
Sorrento Grand Hotel Excelsior Vittoria (5 star Hotel)
A historic Grand Hotel with a unique location, overlooking the sea and facing Mount Vesuvius
Reggio Calabria Hotel Alta Fiumara
Historical palace located in the Scylla district, a few steps from the sea and a 2-minute walk from the town's little harbor
Scilia/Reggio Calabria Hotel Principe Di Scilia (Historical residence)
Historical palace located in the Scylla district, a few steps from the sea and 2 minute walk from the town's harbor
Hotel San Domenico DI Taormina (5 star Deluxe Hotel)
Centrally Located, approximately 10 minutes' walk from the city center
Agrigento Villa Athena Hotel (5 star Hotel)
Right in the Valley of the Temples archaeological park, a UNESCO World Heritage site, Villa Athena is situated only 200 meters from the Concordia Temple, an ancient Doric masterpiece and one of the best-preserved Greek temples outside of Greece.
Palermo Villa Igiea (5 star Deluxe Hotel)
Hilton Villa Igiea is located in the Acquasanta district of Palermo, overlooking the bay and at the foot of Monte Pellegrino. The hotel is approximately 3 kilometers from Palermo's historic city centre.