Women-Only Tour of Morocco
All in 8-Days With All Meals Included
Romance and Grace of the East
The romance and grace of the East – the sophisticated, cultured ladies of the Harem; the grace, the skill, and the allure. Belly dancing was only one of the cultural delights of the Harem. Come and see them all!
While you're here, get to know Moroccan cuisine, and even attend a belly dancing workshop to experience the romance of the Harem firsthand. You've seen–you've felt–the rhythms and motions of oriental dance in the movies, or, more genuinely, during your travels in the East.
Now, Travel in Style affords you the opportunity to immerse yourself in the sensuous art of belly dancing and other oriental rhythms during a stay in Morocco. You'll attend daily dance workshops in the fabulous desert fortress that is Marrakech. Of course, you'll have time to see the palaces and souks of the city as well. And your guide will use her network of contacts to Provide an entrée to Moroccan home life and customs as rarely experienced by outsiders. Join us for this unique experience.
Abdul our guide was informative as well as gracious. We are learning why Morocco ranks #3 for hospitality worldwide. Another love affair with an intriguing country.

Kathy & Jack – Florida
Tour
DAY 1 – MARRAKECH -The first Sunday of each month (D)
Our Morocco-based local representative will greet you at the international airport of Casablanca, and assist you with the transfer to board your short flight onward to Marrakech. You will need to clear customs and passports formalities in Casablanca. Morocco doesn't require visa for a limited number of nationalities such: American, Australian, NZ, EU, Canadian and Japanese citizens. You are responsible for having your passport in order and valid for at least 6 months beyond the date of your arrival. On arrival in Marrakech, our local rep, will greet you and usher you to your hotel. You'll have time to relax with a mint tea in the local style, and to stretch your legs. In the evening, we'll meet with our dance workshop instructor. Dinner is included at the hotel.
DAY 2 – MARRAKECH – The Flavors of Morocco – Monday (BLD)
After breakfast, it's time for our first workshop, a two-hour session of belly dance and Berber/folk dance. But it isn't all serious study!
One of the special ways of understanding a culture is through its cuisines–not only sampling exotic tastes, but experiencing the preparation of dishes, how they figure in ritual and ceremony, and how they have grown out of the earth and traditions We'll proceed to the Ecole Hotelière, Marrakech's own hospitality & Culinary Academy and training school, for a demonstration of the preparation of pastry-style doughs. We'll stay for a lunch of salads, tagine of Maghdour kebab, and refreshing fruits.
In the afternoon, we'll see some of the sites of this city, which Winston Churchill called "the most beautiful place in the world at sunset"! Our stops will include the Koutoubia, the landmark mosque of the city, with a tower that duplicates the Giralda of Seville, in Spain; the hidden tombs of the Saadian dynasty; the Menara pavilion and gardens; the ruins of sprawling Badi Palace; the Bahia Palace, with room after stately oriental room of intricate plaster work and sedate hidden gardens; the Ben Yousef medersa; and the Koubba (chapel) of el-Ba'adiyn. We'll return to our hotel for dinner.
DAY 3 – MARRAKECH- Tuesday (BLD)
We'll have another three-hour dance workshop in the morning, covering belly dance and other forms of oriental dance, then we'll rendezvous at the Yacout restaurant, this time to see the detailed preparation of bestilla. In this uniquely Moroccan dish, a squab or chicken is prepared in a sauce of lemon, egg, almond and onion, enveloped in a thin dough called warfa, and garnished with cinnamon and sugar. We'll stay for lunch, on bestilla, of course.
After lunch, we'll set out to discover the souks of Marrakech, those labyrinthine warrens of stalls and shops where goods from near and far have changed hands over the centuries. We'll have a chance to witness artisans at work, creating the very goods that are on display, including crafters of fine brassware, and tanners and dyers of skins, working over great open-air crocks that appear to survive from another world. Of course, we'll save time for Djemaa el-Fna square, with its circus atmosphere of itinerant dancers, jugglers, acrobats, storytellers, soothsayers, snake charmers, medicine men, water sellers, and public scribes. Our eventful day concludes with a fine Moroccan dinner in a private room at Dar Haj Idder, accompanied by an oriental band, and dancing–which we can now join in!
DAY 4 – MARRAKECH – Belly-Dance Class- Hamam – Moroccan Spa – Henna Party – Home Hosted Dinner – Wednesday (BLD)
After our morning session of belly dance and oriental dance, we'll spend the afternoon in a hammam, the traditional Moroccan steam bath, with scrubbing and a ritual all its own. Followed by Henna party (of course you may simply attend to enjoy the ritual).
One of the "insiders" excursions into Moroccan culture, a chance to attend a henna party, the painting of hands and body and the coloring of hair with this natural red dye is a symbol of joy at weddings and regarded as a way to enhance one's beauty (all this painting may be washed away in few days), you may wish to simply limit the henna painting to your hands – it is your call. Lunch is included at a charming local restaurant.
You'll finish the day with a memorable experience of Moroccan hospitality, dinner in the home of a Marrakech family in the old Medina.
Complimentary Dinner is included at a local home:
Meet the locals. You may wish to bring token gifts to exchange with the host family (T shirt, small souvenirs of your home town). This evening we'll venture where few ordinary visitors ever tread… right into the homes of some of the people of Marrakech! You'll be invited to a family dinner, and while you enjoy wholesome home-cooked specialties, you'll learn about and appreciate the outlook, aspirations, and way of life of your hosts. Be assured, as curious as you may be about your new friends, they're sure to have questions about your own background. Once the ice is broken, you'll enjoy a lively evening, and find that you have more in common than you ever suspected. Of course, if you prefer, you may enjoy a quiet evening with your travel companions – just let us know your preferences.
DAY 5 – MARRAKECH – Thursday (BLD)
We'll have our morning dance workshop. Then it's time for an unusual excursion into Moroccan culture, through a henna party. The painting of hands and body and the coloring of hair with this natural red dye are a symbol of joy at weddings and a way of enhancing one's beauty. We'll all share in this time-honored tradition. Dinner will be in a private room at the Douirya. Once again, we'll have a band, and the occasion to practice our dancing.
DAY 6 – MARRAKECH – Culinary Experience – Local Family Hosted Lunch – Friday (BLD)
This morning, we'll have our last dance workshop–and we'll reflect on how far we've progressed in just a few days! Then we'll spend an afternoon getting to know Moroccan culture through its food, as we visit a local family and learn how to prepare traditional pastries.
Before sunset, our local rep. will call on you and we are off for a camel ride on the outskirts of Marrakech and enjoy the sunset over the palmgrove and the sahara. We'll return to our hotel for dinner.
DAY 7 – OURIKA VALLEY, THE POTTERS VILLAGE OF TAFZA – Saturday (BLD)
This morning, we'll head 30 kilometers outside of Marrakech to the lush valley of the Ourika River, which winds down from the peaks of the High Atlas, through clusters of mud-walled houses. Our visit coincides with one of the regular market days, and we'll walk among the stands of butchers and vegetable-sellers, merchants of cereals and olive oil, itinerant blacksmiths and sellers of patent medicines and herbal remedies. A barber sets up shop with nothing more than a scissors, hand clipper, and stiff wooden chair, an open-air eatery offers hot food freshly prepared on a brazier. We'll continue to Tafza to see how vases and lamp bases are made in home workshops, and to view quartz and amethyst and other minerals of the region. We'll be received for tea in the customary local manner. We'll meet up with local villagers at a well, help to draw water, and join in preparing a Berber meal of soup, tanurt (bread), and tajine (meat and vegetables cooked in a clay pot). Our hosts are modest local persons who will appreciate offerings of useful small items, such as pencils or notebooks, or even small treats, such as candy. We'll return to Marrakech through the stunning scenery of the valley. Dinner at the hotel.
Our farewell dinner will be set in a private room at the Diaffa, to the accompaniment of an oriental band. We'll try out our newly acquired skills, and a jury will select the recipient of an oriental dance costume, valued at $500. May the best dancer win!
DAY 8 – DEPARTURE FROM MARRAKECH (B) Sunday
After breakfast, our local personnel will call for you and see you to Marrakech Menara airport to begin your journey home, via Casablanca. Bon Voyage!
 Rates per person in US$
In Triple occupancy
US$ 4440.00
In Double occupancy
US$ 4560.00
In Single occupancy
US$ 5420.00
Rate includes:
Marrakech: Sofitel Hotel with the High Atlas Mountain View, or a charming boutique riad / hotel: The Riads: Riad La Maison Arabe, the Jardin de La Medina, Riad Monceau or similar
All ground transportation in Morocco Accommodation in first-class (four-star) hotel in Marrakech.
Meals as indicated with preset menu (B = continental breakfast, L = lunch, D = dinner)
Oriental dance workshop and classes as indicated in private meeting room at hotel.
Guided tours, excursions, and activities as described, including the services of a lady guide, and all entry fees.
All meals as described.
Prize to winner of competition on last evening, as described: an oriental dance costume, valued at $500. May the best dancer win!
Not Included:
Tips.
Travel Insurance
Personal expenses and gratuities
Beverages
International air fare from/to your home country
Henna party (For ladies only – Complimentary Basis):
Subject to Availability
One of the "insiders" excursions into Moroccan culture is a chance to attend a henna party. The painting of hands and body with this natural red dye is a symbol of joy at weddings and regarded as a way to enhance one's beauty. If interested in attending a Henna party, please let us know in advance.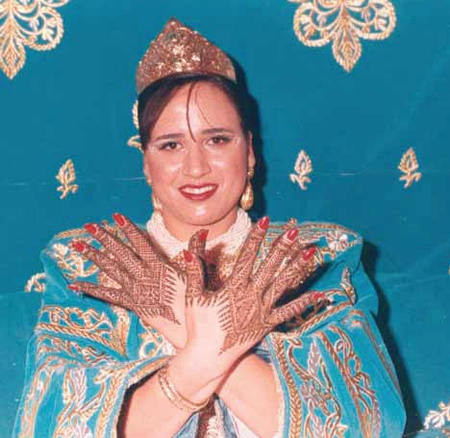 Accommodations at a Riad
This is where a traditional welcoming mint tea and a fruit basket await you. Your personal requirements and relaxation are foremost. These luxurious yet delightful Riads are usually a former palace, mansion, or large residential house restored to 1930s, 1940s grandeur. The Riad classical plan is: substantial walls and orientation to a central patio with venerable trees providing a haven of peace in the midst of bustling Marrakech. Guests are accommodated in usually only five – ten guest suites, each with sitting area and the finest oriental appointments, fireplace (subject to the category you choose), air conditioning, and European-style dining room (subject to the category you choose). Some are with private terraces that provides a secluded window on the active life of romantic and mysterious Marrakech or Fes.
Honeymoon in Morocco and Egypt
Hi Omar,
I wanted to post about my experience with Travel in Style.com . The company based in San Fran planned the most amazing trip for me and my new husband for our honeymoon. It was a trip that combined Morocco and Egypt into a 11 day trip. We signed up for a private tour and the only people with us during the trip were our guides and drivers (which was great for an intimate honeymoon vs. a tour bus with 20 plus people all waiting for each other to go places, etc).
First, we got to Morocco and already had a driver through the agency there to greet us to take us to Marrakesh (from the Casablanca airport). The drive was nice and the car clean. Our driver was really nice and was very professional. We got dropped off and brought to the cutest hotel named Riad Chergui (more like a bed and breakfast which was much more intimate and fun!) and shown to our rooms after we were greeted with tea and cookies from the staff there. They were just absolutely helpful in helping us get anything we needed throughout our stay there (i.e. dress ironed, a bag to carry home souvenirs, cigarettes, etc.). The hotel itself was clean and charming, and we had a very nice room with windows that opened to the courtyard below. The pool and chairs were spotless everyday and the breakfast was always tasty and served to us when we came to downstairs to eat. I absolutely recommend this place to everyone.
While in Marrakesh, we went to do activities pre-planned by Travel in Style and everything worked out exactly as described in our itinerary. We always had a guide and driver on time when we were going around the city and our guide even came with us to help us bargain with the stores to get the best souvenirs at the best prices. It was a relief to us, who were a little hesitant to visit some of these countries at first, to have a very knowledgeable guide and to have someone around when we wanted him and not around when we wanted to do our own discoveries. The trip was set up so that some days we only had plans in the morning and after our planned lunch, we would have the rest of the day to do our own things (perfectly planned in this way!). Our lunches and dinners planned in our itineraries were at beautifully decorated restaurants with the best service, and we really had a chance to experience Moroccan food. It was great.
While in Marrakesh we had a camel ride and a cooking class scheduled, which were great since we wanted to do some different types of activities while we were there. The camel ride was so fun and we got some great pictures. The cooking class was hands-on and we learned how to make a Moroccan meal with the recipe so we could take that home with us and be able to have a Moroccan dinner. We just loved it!
We continued on for the second half of the trip to Egypt which was planned just as nicely. We ate at the best restaurants and really got the feel for the country. Here we did a lot more site seeing of course, and we always had our guide and driver there to take us around and show us the sites. They took us to a pyramid that was the first successful one created and when we went, we were the only tourists there (of course we also went to see the ones in Giza) so we really got to enjoy the scenery and pictures without a ton of other tourists around. Also, while in Egypt, we had a planned dinner with an actual Egyptian family who opened up their home to us. It was great to see the country from that perspective and really get to know what the people are like.
In summary, these are just a few great things I could say about the Morocco/Egypt tour we took through Travel in Style and I HIGHLY recommend them for anyone looking to experience these countries without all the hassles of planning it all in detail (since they do this for you) and of trying to figure out how to get around while there (that is where the private drivers really came in). They really took out all our worry and we had an amazing experience.
THANKS!!
Tina and Vishal
Posted on Frommer.com