Give us a week and we'll give you a grand tour of Morocco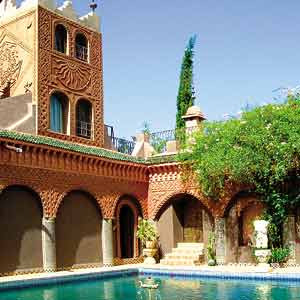 Tour the Imperial cities in as the grand Vizier would have! The grace and splendor of the Orient, traditional Arab hospitality, and the fine service and amenities of a boutique hotel, all come together in the Moroccan Riad. This seven-day package affords a sampling of these unique accommodations, along with an array of unforgettable experiences, ranging from train and camel rides to dinner in the home of a local family. Add a beach resort stay at El Jadida in a 14-day version. Click for the 11 day edition with a sea side extension to Essaouira or the 11-day Ultra Deluxe edition with luxury camping in the Sahara.
Tour
DAY 1 – Tour Starts Daily in Marrakech – Choose Your Own Date – Year Round Tour
Our local rep. will meet you at the Marrakech Menara airport and escort you to your accommodations at (sample deluxe) Riad Malika (or similar), where a traditional welcoming mint tea and a fruit basket await you. Your personal requirements and relaxation are foremost. The formality of check-in can wait. This luxurious yet delightful Riad is a former palace restored to 1930s grandeur. Its substantial walls and orientation to a central patio with venerable trees provide a haven of peace in the midst of bustling Marrakech. Guests are accommodated in only five guest suites, each with sitting area and the finest oriental appointments, fireplace, air conditioning, and European-style dining room. The private terraces of Riad Malka provide a secluded window on the active life of romantic and mysterious Marrakech.
DAY 2 – Marrakech (B)
You'll spend today seeing Marrakech, including the Koutoubia, the landmark mosque of the city. Perhaps you'll note its similarity to its sister tower, the Giralda of Seville, in Spain. You'll continue to the Saadian Tombs, and the Bahia palace, built in the nineteenth century, with room after stately oriental room with intricate plaster work and finely detailed columns, and sedate hidden gardens. In the afternoon, you'll discover the old city and always-lively Djemaa El Fna Square, populated by water sellers, magicians, peddlers, politicians, and animal tamers, who carry on an endless flurry of activities straight out of the middle ages. If you have a spare moment, the souks of Marrakech will always keep you entertained.
DAY 3 – Marrakech, Camel Ride, Home Hosted Meal (BLD)
This morning you'll ride through Marrakech in a horse-drawn carriage. Lunch is included at a charming local restaurant.
Later, we'll call on you to take you for your sunset camel ride, in the 13,000 acres of palm groves around Marrakech. You'll finish the day with a memorable experience of Moroccan hospitality, dinner in the home of a Marrakech family in the old Medina.
Dinner is included at a local home- Home Hosted Meal:
Meet the locals. You may wish to bring token gifts to exchange with the host family (T shirt, small souvenirs of your home town). This evening we'll venture where few ordinary visitors ever tread… right into the homes of some of the people of Marrakech! You'll be invited to a family dinner, and while you enjoy wholesome home-cooked specialties, you'll learn about and appreciate the outlook, aspirations, and way of life of your hosts. Be assured, as curious as you may be about your new friends, they're sure to have questions about your own background. Once the ice is broken, you'll enjoy a lively evening, and find that you have more in common than you ever suspected. Of course, if you prefer, you may enjoy a quiet evening with your travel companions – just let us know your preferences.
DAY 4 – MARRAKECH, FIRST CLASS TRAIN RIDE – CASABLANCA, RABAT, MEKNES, FEZ (BLD)
Our local rep. will assist with your transfer to Marrakech railroad station. Your guide will board the train with you and escort you.
Tickets in a first-class compartment and lunch are provided. You'll roll in comfort through stunning mountain scenery to Casablanca. Once you detrain, we'll escort you to visit the Hassan II Great Mosque, a monument to Moroccan artisanry and architecture. Then we'll continue to Rabat, the capital of the kingdom, where we'll stop at the mausoleum of Mohamed V, built in the Spanish-Moorish style, and at the nearby Hassan Tower. We'll continue by way of Meknes to arrive in the evening to Fez, and your accommodations at the Dar Ghalia Riad. A welcome mint tea and a fruit basket await you. In the heart of the Medina, the old city of Fez, Dar Ghalia is a palace that dates back to the seventeenth century, restored and selectively modernized to provide both traditional surroundings and modern comforts. The architecture of Dar Ghalia has been respected, resulting in a range of accommodations, from double rooms to apartments to suites to a Douiria, or separate guesthouse, with its Hammam, a traditional steam bath. A Moroccan-style breakfast is included, and other meals may be taken in the dining room, or on the terrace, with its superb panorama of the Medina. Dinner is included at the hotel. For Deluxe category: Riad Fes or similar.
Oh my gosh we just checked on to the Riad Fez, it is stunning and our suite looks like the bridal suite with fabulous lace curtains and silk drapes. Pictures to follow. The planning of the itinerary has been perfect from the charm and sophistication of Riad Monceau to the natural elegance of Gazelle D'Or to the mountain beauty of the Cascade Hotel to the sounds of the waves crashing and the seagulls calling at the The Ramparts to this exquisite hotel, Riad Fez. What a place to conclude our trip.

Akmed our guide and Moncif the driver are both outstanding. Akmed is the most caring, attentive and well informed guide we have had and we thought the Turkey and Egypt guides were fantastic. Moncif our driver has been just as great in his role as Akmed.

Thanks so much. Kathy and John
DAY 5 – FEZ, VOLUBILIS, MOULAY IDRISS (BLD)
We'll set out in the morning for the site of Volubilis, once the capital of the Roman province of Mauritania Tingitania. We'll have lunch en route, and continue to Moulay Idriss, the picturesque shrine village named for the founder of the kingdom, who is interred here. In the evening, dinner is included tonight at a charming local restaurant.
DAY 6 – FEZ – Walking Tour – Cooking Class (BLD)
Put on your walking shoes this morning for a trip in time back to the ninth century, as we explore the old city of Fez. Its Medina and its labyrinth of souks have been declared a world cultural treasure. Your Chef and cooking instructor will join you in the vegetable souk to get all what you may need for your cooking class and lunch. Back at you hotel maybe you will savor the benefits of the Hammam (included where available based on the hotel that is available at the time of your booking), the traditional relaxing and restorative steam bath at Dar Ghalia or similar.
Dinner is included at your hotel.
Cooking & Culinary Experience in Morocco:
What a great last day. We went to cooking school and yes John did it too! We got there and they promptly handed us our shopping baskets and off to the local market where we bought all of the ingredients including a live chicken the our chef picked out and had de-feathered and made ready for cooking.

John learned to chop!! It was a great way to spend out last day, thank you Omar for the itinerary!
DAY 7- FEZ – Casablanca – Departure (B)
We'll call on you early in the day and escort you to Casablanca Airport. Bon Voyage. Compare with the Ultra Deluxe edition with luxury Royal camping in the Sahara.
Rates are per person in US $
Deluxe
Riad /Hotels
First Class
Riad/Hotels
Tourist Class
Riad/Hotels
In Triple Occupancy
US$ 3481.
US$ 3191.
US$ 2980.
In Double Occupancy
US$ 3591.
US$ 3267.
US$ 3030.
In Single Occupancy
US$ 4695.
US$ 4400.
US$ 4180.
Children of 9 years of age or younger: 50 % discount. Infants: 2 years or younger: Pay only 10 %
Your tour includes:
Accommodation as described, three nights in suite at Riad Malika in Marrakech, and three nights in traditional room at Dar Ghalia in Fez, breakfast included. Dinner hosted in a local home in Marrakech
Continental (cB) or full breakfast (B) daily; set-menu dinner (D) as shown in the itinerary.
Escorted guided sightseeing tours by air conditioned private motor coach as indicated in the itinerary, including all entry fees. Half-day horse-drawn carriage tour in Marrakech. Camel ride in Marrakech palm grove. Sound and Light show in Fez.
All transfers within Morocco.
First-class train ticket from Marrakech to Casablanca.
Tea, mint tea or coffee upon arrival at your hotel in Casablanca on Day 1.
Hammam session
Not included:
International airfares or domestic airfares in Morocco.
Drinks at meals
Personal expenses
Gratuities for local personnel
Trip interruption and cancellation insurance