Upscale – Private Tour of Morocco
A Grand 14 days with extended stay at the seaside Essaouira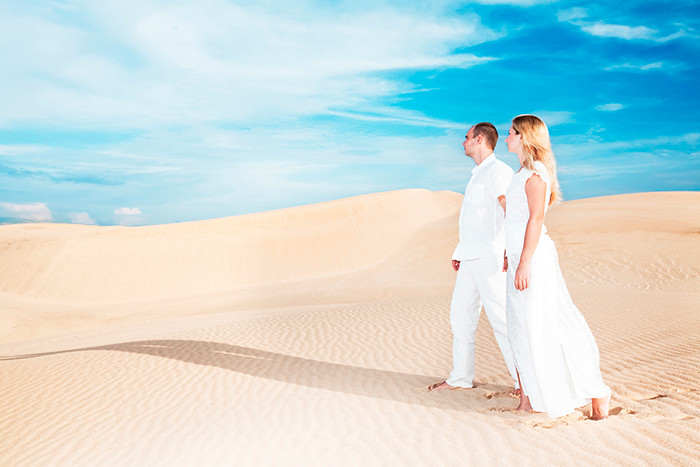 Experience the romance of old Morocco everywhere on this 14-day tour, in ancient kasbahs standing sentinel against invaders, along the winding lanes of the medinas of Fez and Marrakech, the seaside town of Essaouira, the Roman Ruins at Volubilis, Moulay Idris and in your very lodgings, palaces and venerable homes that have been brought to life again as Riads, combining the best of Arab hospitality with the appointments of fine boutique hotels. Compare with Taroudant, Imouzzer Ida Outanane 15-Day version. Compare with the 20 day edition, or the 12 day version.
Essaouira: Oct 2014
There are all of these tiny restaurants at the beginning of the port with beautiful fish displays. We did have lunch at a lovely beach side restaurant Chalet de Plage that has been there for 100 years, off to another fish restaurant for dinner. Everyone must visit this fascinating country sometime in their life.
Love, Kathy and John
Tour
Day 1 – Marrakech (arrive any day – private touring- Choose Your Own Date)
You'll land at the airport of fabled Marrakech. Our local staff will greet you and usher you directly to your accommodations at an upscale Boutique Riad/Hotel: Marrakech: Jardin de Medina, Riad Monceau, Riad Kniza, or similar (subject to availability at the time we receive your booking), where a traditional welcoming mint tea and a fruit basket await you. Your personal requirements and relaxation are foremost.
Day 2 – Marrakech (BLD)
This morning you'll take a private tour of Marrakech by horse-drawn carriage. You'll see the Koutoubia, the landmark mosque of the city, and perhaps you'll note its similarity to its sister tower, the Giralda of Seville, in Spain. You'll continue to the Bahia palace, built in the nineteenth century, with room after stately oriental room of intricate plaster work and finely detailed columns, and sedate hidden gardens. Finally, you'll see the Majorelle Botanical Gardens of Yves Saint Laurent, planted with trees and flowers from all over the world. In the afternoon, you'll discover the old city and the always lively Djemaa El Fna Square, populated by water sellers, magicians, peddlers, politicians, and animal tamers, who carry on an endless flurry of activities straight out of the middle ages. If you have a spare moment, the souks of Marrakech will always keep you entertained. Lunch is included at a charming local Moroccan restaurant. Dinner is included at the hotel.
Day 3- Marrakech (BD)
Morning tour of the local souks and bazaars, a shopper's paradise. Return to your hotel for the siesta.
Late afternoon,we'll escort you to the Palm grove on the outskirts of Marrakech for a wonderful experience of camel riding at sunset. Before we head for our gourmet Moroccan dinner with staff in traditional dress, Gnaouas singers and dancers, their music reflect both Arabic and African influence, Arabo-Andalusian music will serenade us, the evening will culminate with the traditional Belly dancer performance, gourmet Moroccan food.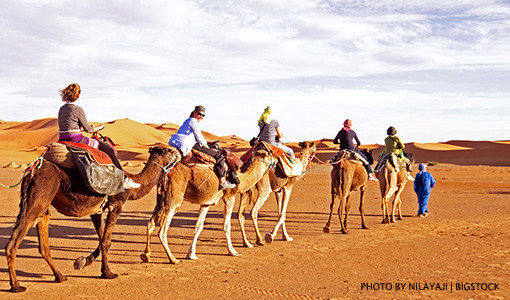 Day 4 – Trek in the High Atlas (BLD)
After breakfast in you hotel, leave to Amizmiz, 54 Kilometers from Marrakech. On the way you will see the Oumnast Kasbah then the Lalla Takerkoust Dam built between 1929 and 1935 with its man made lake. It will take you about an hour to reach Amizmiz, a typical Berber village, where we tour the Kasbah and the "Mellah" (Jewish quarter). Every Tuesday an important country market is held, where all the villagers from the area come for their weekly shopping and gossiping. There you can buy interesting Regragra potteries. Your guide will welcome you in his home for a traditional Berber breakfast then you will start your hiking first through Sidi Hossein valley to reach Tizi Oughourane. On the way you will see picturesque landscapes of the Atlas mountains and Berber villages with their houses built in stone and earth. After a typical lunch accompanied by mint tea, you will come back to Amizimiz by a different itinerary and be transferred back to busy Marrakech by late afternoon. Remainder of the day at leisure. Enjoy a delicious dinner at the hotel. Compare with Taroudant, Imouzzer Ida Outanane version.
DAY 5 – OURIKA VALLEY, THE POTTERS VILLAGE OF TAFZA (BLD)
This morning, we'll head 30 kilometers outside of Marrakech to the lush valley of the Ourika River, which winds down from the peaks of the High Atlas, through clusters of mud-walled houses. Our visit coincides with one of the regular market days where we'll walk among the stands of butchers and vegetable-sellers, merchants of cereals and olive oil, itinerant blacksmiths and sellers of patent medicines and herbal remedies. A barber sets up shop with nothing more than a scissors, hand clipper, and stiff wooden chair, an open-air eatery offers hot food freshly prepared on a brazier. We'll continue to Tafza to see how vases and lamp bases are made in home workshops, and to view quartz and amethyst and other minerals of the region. We'll be received for tea in the customary local manner. We'll meet up with local villagers at a well, help to draw water, and join in preparing a Berber meal of soup, tanurt (bread), and tajine (meat and vegetables cooked in a clay pot). Our hosts are modest local persons who will appreciate offerings of useful small items, such as pencils or notebooks, or even small treats, such as candy. We'll return to Marrakech through the stunning scenery of the valley. Dinner at the hotel.
Day 6 – ESSAOUIRA (BLD)
Breakfast at the hotel. Drive to Essaouira, a a charming fishing harbor. Renowned for generations for its production of "Murex", a small shellfish used to make the purple dye for Roman togas. Check-in at your hotel where lunch awaits you. Remainder of the afternoon at leisure. In the evening your guide will call on you for a stroll along the water front and dinner at one of the local restaurants.
Day 7 – ESSAOUIRA (B)
Breakfast is included always at the hotel. Day at leisure. Essaouira is now a very active fishing harbor, with some influence by the Portuguese who settled here in the 16th century. Later on Sultan Mohamed Ben Abdellah used it as a base for his corsairs. Today, protected from the sea and the wind behind its commanding fortified medieval walls, Essaouira shelters a flourishing craftsmanship in marquetry, working wood with ebony, mother of pearl and silver thread to make tables, chessboards, caskets and bracelets.
Day 8 – Essaouira (B)
Half day walking tour of the old souks and town. Remainder of the day at leisure.
Day 9 – Casablanca (B)
Breakfast at the hotel, We'll escort you by private air conditioned car/van heading for Casablanca. Remainder of the day at leisure.
Day 10 – Casablanca / Fes (BL)
Breakfast at the hotel. Tour the old souks & local vegetable markets in the old Medina with the Witches Market, where herbs and spices used in traditional cures, magic spells, talisman and potions are sold, Olives souks and the market of Bab Marrakech. Lunch included at a local restaurant. Tour the Grand Mosque of Hassan II the largest in the world after that of Mecca (entrance tickets included), then on to Fes (private air-conditioned vehicle), and your hotel or boutique Riad / Hotel – subject to availability at the time of booking. You'll be welcomed with a traditional mint tea,and a fruit basket.
Day 11 -Fes (BD)
Put on your walking shoes this morning for a trip in time back to the ninth century, as you explore the old city of Fez. Its Medina and its labyrinth of souks have been declared a world cultural treasure. Your afternoon is free for relaxation or shopping or further exploration as you wish. In the evening it's dinner and a show, with a difference. The food is Moroccan-style, of course; and the show is a fascinating view into Moroccan life, including a traditional wedding ceremony, Arabo-Andaluisan music, and an enticing performance by a belly dancer.
DAY 12 – Fes, Volubilis, Moulay Idriss (BL)
We'll set out in the morning for the site of Volubilis, once the capital of the Roman province of Mauritania Tingitania. We'll have lunch en route, and continue to Moulay Idriss, the picturesque shrine village named for the founder of the kingdom, who is interred here. In the evening, you'll attend a Sound and Light show in the Medina of Fez, in which illumination and jets of water along with words help portray the history of the city.
Day 13 – Fes – Cooking Classes (BD)
Spend a day in appreciation of Moroccan pleasures. In the morning, you'll join a demonstration of Moroccan cuisine, known around the world. You will have tasted Tajine, harissa, couscous, and much more. Now you'll learn more about how these plates and sauces are prepared, and of the many influences that have created the national cuisine. In the afternoon, you will savor the benefits of the, the Hammam traditional relaxing and restorative steam bath. Your farewell dinner will be at your hotel.
Day 14 -Fez – Casablanca (B)
Early morning drive from Fez to Casablanca airport, private air-conditioned vehicle, private chauffeur. Bon Voyage. Compare with Taroudant, Imouzzer Ida Outanane version.
Rate per Person: Based on Luxury 5 Stars Hotels
Triple
US$ 6720.00
Double
US$ 6925.00
Single
US$ 7810.00
Luxury 5 Star Hotels
Marrakech:
Jardin de Medina. Riad Monceau. Riad Kniza, or similar
Ouarzazate:
Berber Palace Hotel Ouarzazate or similar
Essaouira:
Palais des Remparts, Riad Loussia. Heure Bleue Riad or similar
Rabat:
Villa Mandarine
Fes:
Riad Fes/Relais & Chateaux
Casablanca:
Royal Mansour Hotel
Rate per Person: Based on Modest 5 Stars Hotels / Riads
Triple
US$ 5110.00
Double
US$ 5310.00
Single
US$ 6410.00
5 Star Hotels
Marrakech:
Atlas Asni & Spa or similar
Essaouira:
Les Isles Hotel or similar
Casablanca:
Idou Anfa Hotel or similar
Fez:
Ramada Hotel or similar
Rate per Person: Based on Modest 4 Stars Hotels / Riads
Triple
US$ 4610.00
Double
US$ 4810.00
Single
US$ 6010.00
4 Star Hotels
Marrakech:
Atlas Medina & Spa or similar
Essaouira:
Atlas Essaouira Hotel or similar
Casablanca:
Golden Tulip Farah Hotel or similar
Fez:
Les Merinides Hotel or similar
Your tour includes:
All transportation in Morocco, private air conditioned sedan, mini van depending on the number in your party.
All airport transfers in Morocco as described in the tour itinerary
Accommodation as described, (always subject to availability, we keep the right to use alternative hotels within same category).
Welcome mint tea, roses, and fruit basket upon arrival at your Riads / Hotels
Meals as indicated: cB = Continental breakfast; L = set-menu lunch; D = set-menu dinner
Ground transportation in chauffeured, air-conditioned Mercedes Benz automobile or where applicable chauffeured four wheel drive Turbo Land Rover. Half-day horse-drawn carriage tour in Marrakech.
Services of licensed English-speaking guide.
Entrance fees to sites visited.
Camel ride in Marrakech palm grove.
Not included:
Personal expenses
Gratuities for local personnel
Trip interruption and cancellation insurance
International air fare from/to home country.
Henna party (For ladies only – Complimentary Basis):
Subject to Availability
One of the "insiders" excursions into Moroccan culture is a chance to attend a henna party. The painting of hands and body with this natural red dye is a symbol of joy at weddings and regarded as a way to enhance one's beauty. If interested in attending a Henna party, please let us know in advance.