Morocco
Riad Fès – Relais & Châteaux is located in the heart of the ancient city of Fez. Restored to its original glory, it successfully combines refinement with inspiration and invites you to relax and enjoy your stay in a serene atmosphere with decor reminiscent of the Arabian Nights. You will have the opportunity to travel back in time and enjoy the splendor and authenticity of the lifestyle enjoyed by the Fassi nobility. The prestigious history and refined civilization of this Imperial city are reflected in the Spanish Moorish architecture and attention to detail in the decor.
Their rooms offer an outstanding combination of modern and traditional decoration. There is the 'Moroccan' style with traditional furnishings, zellige floors, plasters decorated walls and exquisite moroccan fabrics; the 'Oriental' style with refined tones and forms dark wood and bathrooms in black or white tadelakt; the 'Baraco-andalous' style with its grey tadelakt walls, black zellige and its Blanc de Carrare marble bathrooms; and the 'Contemporain' style immerses you in a universe mingling warm colors and fine materials such as stone and wood in a harmony of modernity, comfort and design.
In the heart of a medieval city known for its diverse savory eateries, Riad Fès – Relais & Châteaux offers one of a handful of fine dining restaurants that should not be missed when visiting Fez. A delightful selection of Moroccan cuisine with an original Riad Fès twist is served in any of the two dining rooms or in the outdoor areas, around the pool or on the roof terrace. Take time to peruse the extensive menu which offers a wide selection of fresh Moroccan dishes that are individually prepared for each guest.
In need of rejuvenation? A full treatment of traditional hammam or simply a relaxing or tonic massage in their Spa is the answer. A haven of purity and tranquillity created by the designer Christophe Pillet, Spa Riad Fès by Cinq Mondes invites you to enjoy a unique experience in luxurious and comfortable surroundings.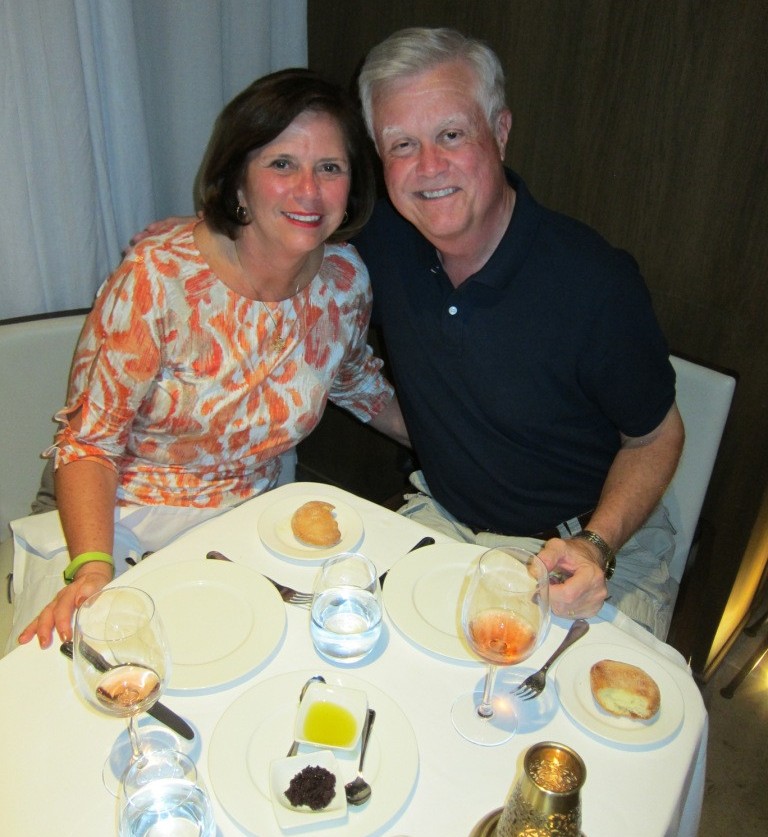 We arrived this evening at the Riad Fez, which is a spectacular combination of 5 separate Riads/houses. All I can say is these pictures do not do it justice. We will get more tomorrow. We left Essouira this AM and drove to Casablanca and had lunch there at a lovely seaside restaurant and then saw the magnificent mosque. This mosque is the 2nd largest in the world outside of Mecca, more pics later.
We have a suite here and the lace and damask curtains look like a wedding dress, John and I feel like we are in the bridal suite. We can't wait to see Fez tomorrow. Fez is the cultural capital of Morocco. –John and Kathy