Cape Town Twelve Apostles Hotel
and Sanbona Game Reserve
A 14 Day Grand Tour of South Africa
A 14-Day stay grand tour of Cape Town, Arabella Western Cape, Franschoek Wine Valley and Sanbona Game Reserve, with tours in Cape Town and Safari game drives. Choose your own arrival date.
Tour
Day 1: Arrive in Cape Town
Our Cape Town representative will be on hand to meet you at the airport and escort you into the city. On the way, you'll appreciate the strategic location that has for centuries made the Cape a crossroads of world trade, and a meeting point where nations have met, traded, melded, come into conflict, and ultimately formed the mosaic of today's South Africa. In less than 20 minutes, you'll reach the Twelve Apostles Hotel and Spa (Ultra Deluxe category) or similar, with breakfast daily, in a classical room.
Where Wilderness Parkland Reaches To The Heart Of The City
The Twelve Apostles Hotel and Spa stands at the edge of the world. On one side, a line of majestic mountains – The Twelve Apostles – reaches towards the heavens; on the other, the sun sets on breeching whales, playful dolphins, and crashing Atlantic rollers. And all around, you can walk the wilderness trails of the Table Mountain national park. We'll even pack you a picnic.And yet this luxury 5-star boutique hotel is just a few minutes from worldly, cosmopolitan Cape Town. City-centre theatres and art galleries, plus the shops and restaurants of the vibrant Victoria & Alfred Waterfront are only 15 minutes away via our free car transfer service – quicker still if you use our helipad.Nearest of all is the elegant town of Camps Bay with its beautiful golden beaches. Or, if you prefer adventure to sun-soaked relaxation, we can arrange sea fishing, shark and scuba diving, or whale watching trips.Further afield are the Cape winelands (private tours by arrangement), notably the town of Hermanus where you can visit one of SA's leading boutique vineyards, Bouchard Finlayson, see whales from the shore and, beyond that, the ancient tip of Africa where the Atlantic and Indian oceans meet.
Day 2: Cape Town (B)
Today, at the very extreme end of Africa, we'll discover and explore one of the oldest and most cosmopolitan cities on the continent. Our half-day tour begins with pickup at your hotel at 8 a.m. We'll head for Table Mountain and, weather permitting, ascend a thousand meters by cableway to appreciate stunning views of the city and the waters offshore. Then it's onward to The Castle, the oldest building in South Africa, with its Military Museum, and relics of a strategic past. A signal cannon is still fired daily. We'll see the Company Gardens, once a vegetable farm for the early colony, now an exquisite botanical exhibit and public venue. Oddly, though not the capital, Cape Town hosts South Africa's Parliament, which we'll see right in the Gardens, along with City Hall, where Nelson Mandela made his first address as a freed man, and Slave Lodge, dedicated to the history of forced servitude in South Africa and the British Empire. We'll explore the colorful Malay Quarter of multi-colored houses and mosques set on hills in the Bo-Kaap district, and have a chance to see where diamonds from South Africa's mines are cut. Afterwards, you'll have time to return on your own to some of the fascinating spots you've seen. Just make sure you turn in early . . . we have a long day tomorrow.
Day 3: Cape Town and Aquila Game Reserve (BL)
We'll start at 6 a.m. to get in the best wildlife viewing possible. Our private conveyance will take us to Aquila Private Game Reserve, just two hours from Cape Town in the open veld of the Karoo. Aquila protects some of the major game species of Africa, including lions, elephants, water buffalo, rhinos, and rarely seen mountain leopards. After welcome refreshments, we'll set out with a ranger on our game drive in a 4×4 vehicle. In addition to the "big five," we'll also spot, depending on the season and current conditions, wildebeest, springboks, zebra, giraffe, eland, baboons, hartebeest, and many, many others. Birders will discover the booted eagle in the summer and flamingos during rainy times. Rare black eagles are at home here, among 172 bird species. Bring extra memory cards for your camera! We'll enjoy a buffet lunch and have time to relax by the pool (or by the fire in winter) before we head back to Cape Town.
Day 4: Cape Town – Complimentary Home Hosted Dinner
(B)
Full day at leisure, enjoy your luxury hotel, or ask us for available optional tour. You'll have one more opportunity to experience the excitement of this great city and, of course, do some last-minute shopping.
This evening we'll venture where few ordinary visitors ever tread . . . right into the homes of some of the people of Cape Town! You'll be invited to a family dinner, and while you enjoy wholesome home-cooked specialties, you'll learn about and appreciate the outlook, aspirations, and way of life of your hosts. Be assured, as curious as you may be about your new friends, they're sure to have questions about your own background. Once the ice is broken, you'll enjoy a lively evening, and find that you have more in common than you ever suspected. Of course, if you prefer, you may want enjoy a quiet evening with your travel companions – just letting us know your preferences. You may wish to bring token gifts to exchange with the host family (T shirt , small souvenirs of your home town).
Day 5: Cape Town – The Spier  (B)
Breakfast is included as usual at your hotel. Private transfer to the Spier.
Guests at Spier have a number of leisure options to choose from. Nowhere else in the Cape would you have access, within easy walking distance, to a Wine Centre, a seasonal open-air theatre, swimming pools, a spa, children's activities, craft exhibitions, wildlife encounters, horse riding and a nearby a golf course – and yet still be in the heart of the Winelands.
The Spier Hotel, built in 2000, is a place in which to relax and unwind. The 155-bedroom hotel is built on the banks of the Eerste River and has panoramic views of the Helderberg mountains and vineyards. The Spier Hotel provides four star comforts in a charming village-style setting with comfortable, spacious bedrooms grouped around six private courtyards and individual pools. Spier puts its focus on sustainability and wherever possible locally made and environmentally friendly products are used.
Spier also offers stimulating experiences, from exploring the collection of contemporary South African and African art to discovering the art in Spier's wines. Guests can wander around the extensive grounds, landscaped with indigenous plants, or ramble along the river banks, watching the bird life or simply enjoy the peace.All standard rooms are spacious at 60sqm with large comfortable beds that invite guests to relax and enjoy the quiet country atmosphere. The rooms are beautifully but simply appointed, with quality the key to the décor. Every room has its own art from the Spier collection hanging on the walls, giving each a touch of individuality. The en suite bathrooms boast both a big bath, and a shower. Each room has its own television with satellite television channels to choose from and a shaded outdoor patio.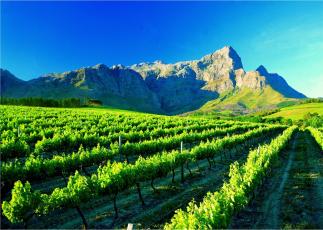 Day 6: The Spier  (B)
Breakfast is included as usual at your hotel. Full day on your own, to enjoy your deluxe hotel facilities and the surroundings: Indulge yourself in a variety of massage and holistic treatments including aroma therapy and reflexology. Take advantage of the facials, manicures and pedicures given by nimble-fingered consultants as well as other specialized skin care therapy and treatments at the boutique spa located at the Spier Hotel.
Spier, in the heart of South Africa's Cape Winelands, is more than an innovative and iconic destination. It is a place of hope that delivers experiences that rejuvenate mind, body and soul.
The fabric of Spier's rich history was created out of a journey that began in 1692 and has been embroidered for over three centuries. The original Manor House and slave bell, as well as the oldest dated wine cellar in South Africa, have been impeccably restored for future generations to stay in touch with the past.
Art, culture, wine, food, nature and conservation – these are the pillars of the Spier experiences and all are manifest on the estate, giving guests the opportunity to see, smell, hear, feel and taste for themselves the variety of unexpected encounters available at Spier.
Day 7 and Day 8: Franschhoek (B)
Our journey to the historic wine-growing district begins when we call on you with a private vehicle after breakfast. Historic Franschhoek lies 80 kilometers to the east, amid rolling vineyards under sentinel mountains. Its name recalls the French Huguenots who settled in the seventeenth century. Here in South Africa's counterpart to Napa and Bordeaux, you'll partake of the delights of local vintages along wine routes that include the domains of Boschendal, Chamonix, Dieu Donne, Graham Beck, La Motte, L'Ormarins, the Rupert & Rothchild Vignerons, and Vrede en Lust.
During your stay, you can relax amid majestic surroundings, or choose from a menu of experiences. Several golf courses set among the vineyards offer a variety of challenges. Mountain streams and reservoirs are stocked with rainbow trout and smallmouth bass. Ride a horse, or stroll the trails that wind through the Franschhoek, Drakenstein and Boland mountains, or choose a challenging route from peak to peak with overnight camping in between. You can find your adventures on the spot, or we can make arrangements beforehand so that you can make the most of your time. We can even provide trail permits, where required.
In between your outings, enjoy fine dining, browse art galleries, and visit cheese factories to round out an unexpected country experience in South Africa.
Situated in the heart of South Africa's wine country, Spier's Wines are core to the business. Spier Wines has produced award-winning wines that have won global recognition.
Day 9: Sanbona Game Reserve (BLD)
After your idyll in the wine country, we'll call for you after breakfast in our private vehicle to take you eastward to spend several days in the Sanbona Game Reserve, set in the Little Karoo at the foot of the Warmwaterberg Mountains. Its name is a tribute to the ancient San people of the region, and its 54,000 hectares of rolling plains hold treasures that include rock art, regional flora, white lions, and the rare riverine rabbit. Sambona is an adventure in conservation, wildlife sighting, and luxurious accommodations. A hearty lunch will be served upon your arrival. In the afternoon, you'll take a game drive in a Land Cruiser. Sightings might include white lions, which are being re-introduced to the wild by the Reserve; and elephants, leopards, buffalo, white rhinos, and cheetahs, depending on the season and local conditions. Dinner will be served back in the lodge. At your leisure in the evening, you can enjoy drinks and listen to and identify the sounds that surround you. Optional massages and treatments are available.
Day 10: Safaris – Sanbona Game Reserve (BLD)
You'll take two game drives today, and experience that species that reveal themselves at different times of day. After a wake-up call and a light repast of tea, coffee and pastries, you'll take a morning drive. Sightings might include giraffes, zebras, and South Africa's distinctive antelopes, including springboks, elands, and gemsboks. You'll return for a late full breakfast, and a break at the lodge, where you can enjoy the pool, or just relax. Your afternoon game drive departs after a late lunch, followed by dinner.
Day 11: Safaris – Sanbona Game Reserve – Back to Cape Town (B)
This program is always subject to change and times are approximate and are subject to change during summer.
We'll set off early again on our morning drive after coffee, tea and snacks. This is our last chance to see, and photograph, the local fauna. Keep an eye out for ostriches and rare riverine rabbits, among the most endangered species in the world. A full breakfast follows, after which we'll board our vehicle for the drive through the Western Cape. We'll reach Cape Town in the late afternoon, and check back into the Southern Sun Waterfront Hotel, or a comparable establishment. Take advantage of your time to appreciate the Cape sunset, sophisticated dining, and shopping. Treasures at surprisingly affordable prices include jewelry, leather goods, and works of art. Of course, you'll pick up a bottle or two of one of the fine wines that you've sampled during your stay.
Day 12: Hermanus – South Africa – Arabella Western Cape Hotel & Spa (B)
After breakfast, a private transfer to the Arabella Western Cape Hotel & Spa, "a Luxury Collection Hotel." Overlooking the largest natural lagoon in Africa, The Arabella Western Cape Hotel & Spa is placed in the lap of a coastal amphitheater of seductive beauty on the 112-hectare Arabella Country Estate. One of the most acclaimed luxury resorts that South Africa offers, every aspect of our five-star hospitality is thoughtfully conceived to make your time away feel relaxed and unhurried.
Located just a 20-minute drive from the whale watchers haven of Hermanus, our hotel boasts the Kogelberg Nature Reserve and the 18-hole championship golf course on the Arabella Golf Estate. The region is rich in fynbos, bird life, exquisite mountain landscapes, and endless recreational activities. Here, just 100 kilometers from Cape Town, you will enjoy access to comforts and amenities that replenish your energy and refresh your spirit. A world of rare beauty, where elegance is timeless, service is seamless, and every day abounds with simple pleasures. A place where exquisite luxury is reflected in sublime details.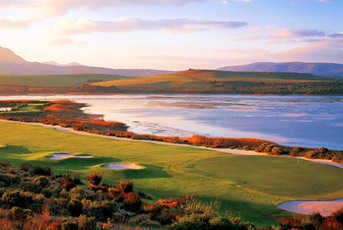 Day 13: Hermanus – South Africa – Arabella Western Cape Hotel & Spa (B)
Full day at leisure to enjoy this ultra deluxe hotel and surroundings.
The rooms at our five-star deluxe hotel in South Africa are designed with the colours and textures of the landscape subtly reflected in every detail, creating a seamless sense of harmony. Careful attention is paid to every exquisite detail, creating a luxurious, spacious retreat, with beautiful bathrooms to add to your comfort.
Contemporary African ocean décor and the finest amenities impart an ambience of superior comfort. Each room is abundantly endowed with views. Even the bath itself offers an opportunity to soak up the vista. Sumptuous white bed linen, goose down duvets and pillows, and rosewood furniture enhance a sense of indulgence.
You may choose the kind of view you wish to gaze out at from your expansive balcony – either facing the sweeping aspects of the golf course and the tranquil lagoon, or looking out over the sun drenched pool and immaculately groomed gardens.
Superior communications and entertainment systems facilitate prompt, effortless contact with the outside world. And yet, reflecting the Arabella Luxury Collection philosophy, a calming ambience conspires in every conceivable way to make the busy outside world feel far removed. As a guest of our five-star deluxe hotel, you will enjoy unlimited access to the spa facilities, to heap pleasure on the experience.
The Arabella estate is located in the Kogelberg Biosphere Reserve and is surrounded by the Cape Floral Kingdom, one of the richest plant kingdoms in the world. It is situated adjacent to the Rooisand Nature Reserve, which is managed by Arabella under mandate from the Western Cape Nature Conservation Board.
Kogelberg Nature Reserve is often considered the heart of the Cape Floral Kingdom because of the exceptional quality of its fynbos. The reserve lies within the southern stretch of the rugged Hottentots Holland mountain range, and has remained isolated and remarkably unspoiled. Its high mountain peaks, steep kloofs, valleys, and several tributaries of the pristine Palmiet River create a sense of remote wilderness.
Our hotel overlooks one of South Africa's largest and most beautiful natural lagoons – the Bot River lagoon, and is only an hour's drive from Cape Town. We are also located near the Cape Wine Route, the southernmost tip of Africa, Cape Agulhas, and are less than a 15-minute drive from Hermanus.
Day 14: Cape Town – Departure (B)
After breakfast transfer to the airport. Bon Voyage!
Rates are in USD $. Rate Is Per Person
Double (rate per person)
$ 7010.00
Single (rate per person)
$ 9521.00
Inclusions:
Hotel accommodation as listed or similar, with tax and continental breakfast daily
Private guided tours in Cape Town as listed, including all entrance fees.
Two nights accommodation at Sanbona Game Reserve, with all three meals daily, in a standard room, and a game drive each day during your stay at the "Game Reserve".
All transfers while in South Africa, always on a private basis.
Not Included:
Passport and visa fees.
International air fare
Trip interruption and cancellation insurance
Excess baggage charges or shipping charges
Gratuities
Additional personal expenses, beverages, and meals not specifically mentioned in the itinerary
Any airport taxes
Sanbona Game Reserve
Situated only 2 ½ hours from Cape Town Sanbona Wildlife Reserve offers 54 000 hectares of undulating mountains and plains, indigenous flora and fauna, at the foot of the Warmwaterberg, in the heart of the Little Karoo, between Montagu and Barrydale on the famous Route 62, the vision of the San is becoming a reality. Sanbona Wildlife Reserve, 54 000 hectares of undulating mountains and plains, indigenous fauna and flora, rock formations and rock art make this a destination not to be missed. Specialist guiding is a key element in providing a memorable and varied experience. The name Sanbona is a combination of the "San" people who roamed this area for thousands of years and "bona" which represents their vision in order to position this portion of the Little Karoo. Be it a journey of rejuvenation and self-discovery or absorbing the various essences and activities, Sanbona Wildlife Reserve represents in true form the philosophy of the Mantis Collection – taking care of the small things in life.