Staying at Feynan Ecolodge
Choose Your Own Arrival Date
Private Tour of Jordan • Dana nature Reserve and Petra
A Private 6-Day Arabian Adventure. See the top sights in Jordan on this fully escorted private tour of Jordan including Amman, Petra, Dana Nature Reserve (staying at the famed Feynan EcoLodge), and the Dead Sea. We have even included all the tips – no hidden charges – no additional tax. Compare with the 6 day version. Add Shaumari (Shummari) Wildlife Reserve. Combine this tour with any Travel in Style tour to Egypt or Turkey for an even more exciting vacation adventure.
Tour
DAY 1 – AMMAN -Arrive any day – Choose your own arrival day – Year Round.
Our local representative will meet you upon arrival and help with the transfer to your hotel in Amman.
Deluxe Hotel Category: Amman Grand Hyatt Hotel or similar
First Class Hotel Category: Geneva Hotel Amman or similar
DAY 2 – Amman – Dana nature Reserve – Feynan EcoLodge (BLD)
Your own private guide will be escorting you from Amman all the way throughout the trip. Today, we drive south along the King's Highway, an ancient caravan route. Lunch is included enroute. All our lunches on this tour include tea or coffee, as well as one large bottle of water for each guest. We will drive to Dana Nature Reserve. For guests who will be hiking, please advise if you prefer the 2 or 4 hour hiking trail.
Feynan Eco Lodge Hotel. A travel video by Samuel Jeffery and Audrey Bergner.
Dana nature reserve:
Dana Nature Reserve is a system of valleys and mountains, which extends from the top of the Rift Valley down to the desert lowlands of Wadi Araba, an elevation drop of over 1600 meters. It embraces two major bio geographical zones and four distinct vegetation zones and contains a remarkable diversity of landscapes, ranging from wooded highlands and rocky slopes to gravel plains and sand dunes. It supports a wide variety of wildlife, including many rare species of plants and animals. The total number of species recorded so far consists of 697 plants, 3 of which are new to science, and 282 animals. Many of these are now very rare and some threatened with extinction: animals like the Gray Wolf, Nubian Ibex, the Lesser Kestrel, Eagle Owl and the Desert Monitor Lizard.
Dinner awaits you at the unique Feynan Ecolodge:
Escape the beaten path. A sensory experience awaits. Deep in the heart of the mountainous Dana Biosphere Reserve, at the end of a rugged track, an idyllic candle-lit lodge rests in the magnificent Wadi Feynan.
Here, set against the glorious desert landscape, guests staying at the 26-room lodge can be found adventuring through the untouched outdoors, sipping mint tea with the native Bedouin, exploring local archaeological sites or simply unwinding in the serene courtyards and terraces of the candle-lit complex; safe in the knowledge that they are vacationing in a socially and environmentally-responsible way.
Hailed as one of the top fifty ecolodge's in the world by National Geographic Adventure Magazine, the solar powered Feynan Ecolodge offers the most developed eco-experience in Jordan; an experience made possible by a unique partnership between Eco Hotels and the Royal Society for the Conservation of Nature, a Jordanian NGO devoted to the protection of the Kingdom's finest natural landscapes.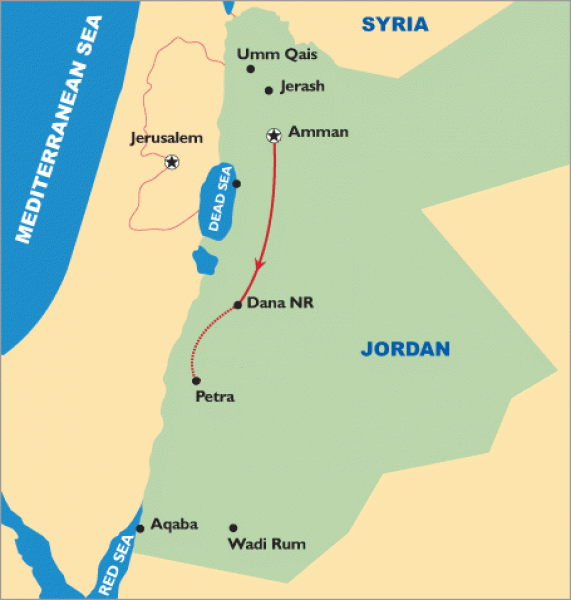 DAY 3 – Feynan- Dana Nature Reserve – Petra (BLD)
Your own private guide will be escorting you all the way throughout the trip. After an early breakfast, for guests who are photographers, you may wish to rise very early before sunrise to capture some magnificent shots. Morning hike (2-4 hours based on your preference) of course your guide will always be with you. Then head further south on our way to Petra. Lunch is included at the lodge. All our lunches on this tour include tea or coffee, as well as one large bottle of water for each guest. Finally we reach Petra – the fabulous Nabatean City of Petra awaits us. Made famous in the Indiana Jones movie "Raiders of the Lost Ark," its ancient temples, tombs and striking Khazneh (Treasury) were hewn right from the pink and violet sandstone. Ride into Petra on a horse or a camel, as you wish.
In the evening we will call on you for a unique experience:
Dine as a local: The Petra Kitchen is a delightful way to round out your Jordan travel experiences. Like any home kitchen, The Petra Kitchen is a relaxed, informal atmosphere where you'll gather to prepare an evening meal, working alongside local women under the supervision of our chef.
Each evening meal includes soup, cold and hot mezza (appetizers) and salads, and a main course—all typical Jordanian dishes. You will have get an inside glimpse of the secrets behind the famous regional cuisine of the Levant.
The Petra Kitchen offers an evening of learning, fun and a very special dining experience, with each dish gaining the special flavor of a reward well-earned. Great care has been taken to make The Petra Kitchen a truly Jordanian experience—right down to the furnishings, all crafted in Jordan, the tableware, all produced by the Iraq al Amir Women's Co-operative, and the aprons and table linens, all hand-embroidered by the Jordan River Foundation.
Tour experience tonight includes the cuisine course, meal and all non-alcoholic beverages as well as take-home recipes for all dishes prepared that evening.
DAY 4 – PETRA- WADI RUM- Madaba – The Dead Sea (BLD)
Your guide will take on another morning tour of Petra for some hidden treasures off the beaten path that we may have missed yesterday. Your guide will then escort you to Wadi Rum, where we board four-wheel-drive vehicles for an expedition to Wadi Rum, the "Valley of the Moon" where T. E. Lawrence ("Lawrence of Arabia") organized Arab resistance to Ottoman rule during World War I. After our visit we drive back north to Madaba to visit the church containing the oldest known map of the Holy Land, continuing to Mount Nebo, we enjoy the panoramic view of the Promised Land the way Moses saw it for the first time and on to the Dead Sea,the lowest spot on Earth, where we spend the night, and your hotel where dinner awaits you:
For deluxe hotel category: Kempinski Ishtar Dead Sea, the Mövenpick Dead Sea or similar.
For First Class hotels: Dead Sea Oases Hotel or similar.
Lunch is included today. All our lunches on this tour include tea or coffee, as well as one large bottle of water for each guest. For guests who prefer to spend this night at Wadi Rum, please click here.
DAY 5- The Dead Sea (B)
Full day at leisure. You may wish to take advantage from the world famous Dead Sea spas, or just experience floating in the waters of the Dead Sea.
DAY 6 – Departure (B)
We drive to Amman's Queen Alia Airport. Bon Voyage.
RATES per person: in US$
 
Triple
Double
Single
First Class hotels
$2200.
$2300.
$2400.
Deluxe Hotels: (Junior Suite in Petra)
$2784.
$2917.
$3469.
Ultra Deluxe Hotels: Four Seasons in Amman (superior Room); Kempinski Dead Sea Ishtar (Junior Suite)
$3559.
$3638.
$5309.
This tour operates daily – Amman, year round.
Your fully escorted tour includes:
All transfers are on a private basis, private air-conditioned vehicle, private chauffeur.
All guided sightseeing as per itinerary, always on a private basis, with a private guide escorting you from Amman all the way including Dana Nature Reserve.
Accommodation with breakfast daily.
Pre-set menu meals as indicated in the itinerary: L = Lunch, D = Dinner, all our lunches on this tour include tea or coffee, as well as one large bottle of water for each guest.
Admission fees to museums, Dana Nature Reserve and sites as detailed in the itinerary.
Tips to hotel and restaurant staff, drivers and guides in Jordan
Visa for Jordan. Limited to specific nationalities such as: Australian, NZ, USA, Canada, EU, Japan and others (please check with us if needed at the time of booking).
The tour does not include:
International airfare.
Travel Insurance
Personal expenditures (beverages, laundry, special meals, etc.)
Tips