See the top sights in Jordan on this escorted tour, including Amman, Petra, Wadi Rum and Jerash. For Private Touring, daily arrival, please click here.
Tour
DAY 1 – AMMAN – Wednesday- Group Tour – Weekly – Year Round
Arrive on a Wednesday for group travel or any other day of the week for an additional supplement. Our local rep.will meet you upon arrival and help with the transfer to your hotel in Amman. Add a camping experience in Wadi Rum, or Add an extra day in Amman.
DAY 2 – MADABA, KERAK – PETRA Thursday – Group Tour (BL)
We drive south along the King's Highway, an ancient caravan route, to Madaba to visit the church containing the oldest known map of Palestine and the Holy Land. Continuing to Mount Nebo, we enjoy the panoramic view of the Promised Land the way Moses saw it for the first time. Further on, at Kerak, we tour the ruins of its romantic Crusaders' castle of Renaud de Chatillon, one of a line which stretched from Aqaba to Turkey. Finally, we arrive at PETRA. Lunch is included enroute.
In the evening enjoy a visit to Petra by night – this is an awe-inspiring adventure! To view Petra at night by the light of 1,800 candles is truly an out-of-this-world experience! Walk through the Siq to the Khazneh following a candle-lit path and enjoy the haunting music of the Bedouin at the Treasury. Tours start at 8.30pm and finish at 10.00pm. Allow yourself plenty of time to walk through the Siq, you don't want to miss the show.
Discovering the Ancient City of Petra, Jordan. Video by The Planet D
DAY 3 – PETRA- Friday- Group Tour (BD)
Today the fabulous Nabatean City of Petra awaits us. Made famous in the Indiana Jones movie "Raiders of the Lost Ark," its ancient temples, tombs and striking Khazneh (Treasury) were hewn right from the pink and violet sandstone. We spend a full day here, and another night.
In the evening we will call on you for a unique experience:
Dine as a local: The Petra Kitchen is a delightful way to round out your Jordan travel experiences. Like any home kitchen, The Petra Kitchen is a relaxed, informal atmosphere where you'll gather to prepare an evening meal, working alongside local women under the supervision of our chef.
If you prefer to have your dinner at the hotel, please lets know in advance and we will amend accordingly. Petra Kitchen: Each evening meal includes soup, cold and hot mezza (appetizers) and salads, and a main course—all typical Jordanian dishes. You will have get an inside glimpse of the secrets behind the famous regional cuisine of the Levant.
The Petra Kitchen offers an evening of learning, fun and a very special dining experience, with each dish gaining the special flavor of a reward well-earned. Great care has been taken to make The Petra Kitchen a truly Jordanian experience—right down to the furnishings, all crafted in Jordan, the tableware, all produced by the Iraq al Amir Women's Co-operative, and the aprons and table linens, all hand-embroidered by the Jordan River Foundation.
Tour experience tonight includes the cuisine course, meal and all non-alcoholic beverages as well as take-home recipes for all dishes prepared that evening.
DAY 4 – PETRA – Wadi Rum – Saturday (BLD)
Breakfast is included at the hotel. We board four-wheel-drive vehicles for an expedition to Wadi Rum, the "Valley of the Moon" where T. E. Lawrence ("Lawrence of Arabia") organized Arab resistance to Ottoman rule during World War I. Lunch is included today.
Tonight you have the choice of heading back north to Amman, with dinner and show.
Or after our visit we can head to one of the local camp sites. It is essential to take several layers of clothes, including warm layers. This is desert weather, so there is a great drop and / or increase in temperatures with sunrise / sunset. We will deliver to you a NEW unused sleeping bag with our compliments, in case you wish to use. Sample camp site: the Bait Ali Desert Camp, or the RSCN Rummana Campsite at the Dana Nature Reserve.
You may also have the choice as well to camp with the bedouins. This is even more basic with no modern toilet facilities. This is an exotic and memorable experience and will enable you to experience some part of the Bedouin's desert culture. If camping is not your cup of tea, then we will simply head back to the hotel in Petra and overnight. Dinner is included camp style or at your hotel. Your guide will always be available on hand, and will be escorting you at all times.
Please note that camping in Wadi Rum is very basic:
Tourist Camp Sites:
Pre-assigned sites and set camps where accommodations are arranged in the usual camping tents like you may find at home (not Bedouin tents).  Showers, bathrooms and restaurants are available in each camp site.
Bedouin camps:
These are not pre-fixed sites. You will indeed be in the heart of the bedouin desert environment and culture, and you will be in direct contact and interacting with the Bedouins. These Bedouin camps have Bedouin tents that are divided into small rooms for the guests to sleep. Other tents are used for sitting (as your living room per se) and eating. They also may or may not have basic toilets and a small kitchen where food is prepare for the guests by the Bedouins. Guests who enjoy nature and the desert scenery will fall in love with these camps and the authentic Bedouin experience in Wadi Rum.
DAY 5 – JERASH Sunday (BL)
We head back north for Jerash, among the best-preserved Roman cities in the world, to tour its temples, theaters, churches and colonnaded streets. Lunch is included at a local restaurant.
From Jerash, we will escort you back to Amman, Queen Alia Airport. This will work for evening flights. If your flight is a morning one, then we must skip Jerash. The Jordanian departure tax is included in our rate. Salam & Bon Voyage.
Rates per person in USD
Triple
Double
Single
First Class hotels
$ 1211.
$ 1339.
$ 1968.
Deluxe Hotels
$ 1594.
$ 1637.
$ 2246.
This tour operates each Wednesday from Amman, year round.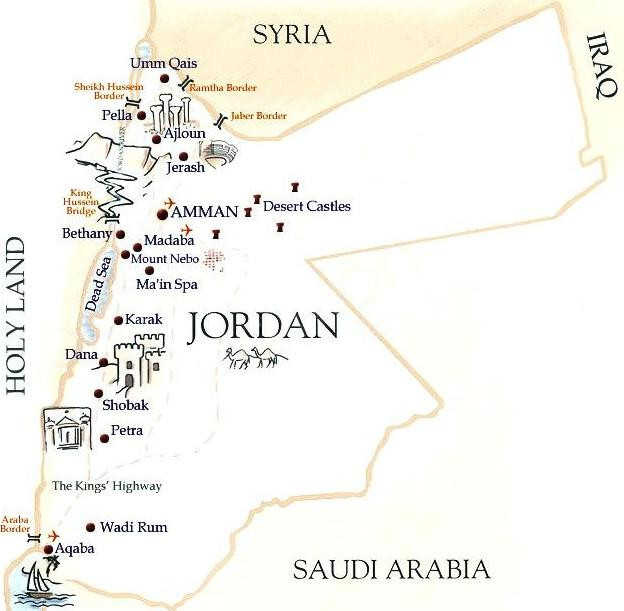 Your fully escorted tour includes:
All transfers, and guided sightseeing as per itinerary.
Accommodation with breakfast and dinner daily (as indicated in the itinerary)
Services of local professional guides throughout the tour
Admission fees to museums and sites as detailed in the itinerary.
Visa for Jordan. Limited to specific nationalities such as: Australian, NZ, USA, Canada, EU, Japan and others (please check with us if needed at the time of booking).
The tour does not include:
International airfare.
Travel Insurance
Personal expenditures (beverages, laundry, special meals, etc.)
Tips to hotel and restaurant staff, drivers and guides in Jordan
Passports must be valid for at least 6 month upon arrival.