The Ultimate in Touring Morocco in Comfort
A Grand 12 Day Private Tour of Morocco
Including Rabat, Meknes, Volubilis, Fes, Merzouga Dunes,
Ouarzazate, Asni/Imlil, Marrakech and Essaouira
Tour the Imperial cities in as the grand Vizier would have! The grace and splendor of the Orient, traditional Arab hospitality, and the fine service and amenities of a boutique hotel all come together in the Moroccan Riad. This tour affords a sampling of these unique accommodations, along with an array of unforgettable experiences. Tour starts daily. This is a private tour. Choose your own arrival date – year round. Add a beach resort stay at El Jadida in a 14-day version. Click for the 11 day edition with a sea side extension to Essaouira, or the 7 days version.
Tour
Day 1 – CASABLANCA, RABAT MOROCCO (D)
Arrive from your international flight. After clearing customs and immigration, your English speaking driver will meet and transfer you via Mercedes car to your boutique hotel, the Villa Mandarine, about 01h15 drive from the airport.
Villa Mandarine, once a private family's holiday mansion, has been transformed into a warm and inviting luxury hotel with 31 rooms and 5 suites. The rooms and common areas are appointed with Berber rugs, art, and beautiful architecture everywhere you look. The magnificent gardens are full of a variety of citrus trees and are a great place to sit and relax.
Dinner and overnight at your hotel.
All tours are flexible and at your discretion
Website: www.villamandarine.com
VILLA MANDARINE, DELUXE ROOM
Day 2 – RABAT, MEKNES, VOLUBILIS, FES – MOROCCO (B,D)
After breakfast at your hotel, depart for a visit to Rabat, the capital city of Morocco. Walk into the Mohamed V Mausoleum, the burial place of the present King's grandfather. Also see the well-preserved Hassan Tower and the Chellah, which were built by the Merinids in the 12th and 13th centuries.
Then drive to Meknes (about 02 hours) and visit to this former Imperial city of Morocco: the old ramparts; the Agdoul Basin, which was used to water the royal gardens and amuse the favorite concubines; the Moulay Ismail stables, granaries, and House of Water (Dar el Ma), which were built in the 17th and 18th centuries to house, feed, and water the sultan's 12,000 horses; Bab el Mansour, one of the most beautiful gates in Morocco; the Moulay Ismail Mausoleum, one of the few holy sites in Morocco which may be visited by non-Muslims; and the intrigue of the Meknes landscape.
After visiting Meknes, continue on to explore the ruins of Volubilis (approximately a 30-minute drive). Volubilis was the Roman capital of northwestern Africa and has impressive and well-preserved Roman ruins, including approximately 20 mosaic floors dating back to 25 BC. Built about 40 CE, probably on the site of a previous Carthaginian settlement from the 3rd century, Volubilis takes its name from ancient Latin for the oleander flower, which is common in the area. Volubilis was the administrative center of the province in Roman Africa called Mauretania Tingitana. The fertile lands of the province produced grain and olive oil, which were exported to Rome, contributing to the province's wealth and prosperity.
The Romans evacuated most of Morocco at the end of the 3rd century, but unlike some other Roman cities Volubilis was not abandoned. Volubilis survived until the 18th century when it was demolished, and part of the marble was taken for construction in nearby Meknes. In 1915, archeological excavations at Volubilis was begun by the French, and extensive remains have been uncovered.
Continue by road to Fes (approximately 1 hour 15 minutes) and check into the RIAD FES. Riad Fes is renowned for its luxury, impeccable service and fine restaurant. Its new Andalous pavilion and lounge have brought an even more vibrant edge to Fez's most stylish Riad. With spectacular views of the Medina and the Atlas Mountains, Riad Fez is ideal for those travelling for business or pleasure. Enjoy Moroccan specialties and French cuisine as well as the swimming pool, and nearby golf course. Dinner and overnight at your riad.
All tours are flexible and at your discretion.
Website: http://www.riadfes.com
Riad Fes – Deluxe room.
Day 3 – FES – MOROCCO (B,D)
Your private guide and Mercedes van will meet you in the hotel reception for a full-day tour of Fes, the religious capital of Morocco. Your tour will include the old and new medinas, the 14th century Medersa Attarine (religious school), and the Arts Museum of Batha. This Hispano-Moorish palace dates from the end of the 19th century houses an admirable collection of traditional art from Fes: sculpted wood, wrought iron, sculpted plaster, and decorative materials that are works of art in their own right. Also embroidery, carpets, jewellery, and coins compete with one another for the visitor's attention.
In the afternoon, explore the impressive labyrinth of souks in Fes, declared by UNESCO to be one of the world's cultural treasures. The afternoon will also include photo opportunities at the imposing gate of Bab Boujloud, the splendid fountain at Place Nejjarine, the ancient ramparts, and the beautiful façade of the Royal Palace. In the evening, enjoy your Moroccan dinner at la Maison Bleue Restaurant.
Overnight at your Riad
All tours are flexible and at your discretion.
Website: http://www.riadfes.com
Oh my gosh we just checked on to the Riad Fez, it is stunning and our suite looks like the bridal suite with fabulous lace curtains and silk drapes. Pictures to follow. The planning of the itinerary has been perfect from the charm and sophistication of Riad Monceau to the natural elegance of Gazelle D'Or to the mountain beauty of the Cascade Hotel to the sounds of the waves crashing and the seagulls calling at the The Ramparts to this exquisite hotel, Riad Fez. What a place to conclude our trip.

Akmed our guide and Moncif the driver are both outstanding. Akmed is the most caring, attentive and well informed guide we have had and we thought the Turkey and Egypt guides were fantastic. Moncif our driver has been just as great in his role as Akmed.

Thanks so much. Kathy and John
Day 4 – FES, MIDELT, ERFOUD, MERZOUGA (B,L,D)
You will need to make an early start this morning for a full-day drive to southern Morocco. You will travel through cedar forests and picturesque scenery of the Middle Atlas Mountains to Erfoud, stopping at Kasbah Asmaa in Midelt for a typical lunch en route. Erfoud, situated among the impressive sand dunes of the Sahara Desert, is one of the largest oases in Morocco.
After you arrive and check-in the hotel, then from Erfoud you will travel approximately 60 minutes by Jeep to the impressive Merzouga dunes.
Ancient stories tell that the biggest dunes of Morocco, Erg Chebbi, were created as a result of God's punishment of local wealthy families that while having an enormous feast–eating couscous, meat, fruit and washing hands with milk–refused to help a poor woman and her children by letting them join the party. From that time on, continuous sand storms and extreme heat have brought the sand to the dunes of Erg Chebbi, with their highest point at 160 meters (480 feet).
You are encouraged to go on a one hour camel ride in the golden dunes to watch extraordinary and unique moments at sunset in the dunes.
Accommodation: 04 sleeping tents surrounded by the dunes, comfortable mattresses double or twin, sheets, berber blankets, a small low table, 2 chairs & mineral water on arrival 2 glasses, candles and matches.
Sanitary: in each sleeping tent the shower & toilet are separated from the sleeping area by a thick curtain (actually it's a berber carpet used as a curtain), the distance between this curtain and the toilet / shower is 2 meters. The sanitary in each tent is composed of a toilet separated by a plastic wall from the shower, the washbasin is located in a corridor of about 3 meters long facing the sleeping area and all is inside the tent that is 8 meters long and 4 meters wide.
Food facilities: 1 tent for the kitchen, 1 tent for the restaurant, and a small area for the bar. 2 menus are suggested and guest can choose on spot.
Restaurant: Table with tablecloth (high like in restaurants), traditional plates. Silver set for the Tea Ceremony, Tas Ouidou for the traditional hand washing before dinner, mejmar (kettle on high stand), incense burner, mrach traditional rosewater sprinkler, poufs. Aside, one kitchen tent with all the equipment to prepare the dinner and breakfast.
Breakfast menu: Freshly squeezed orange juice, coffee, tea, eggs, cereals, cheese, yogurt, honey, 2 different kinds of jam, fruits, croissant, Moroccan bread & pancake.
Complete privacy is guaranteed, torches surround the whole camping area. Staff: 01 waiters, 1 cook and his assistant & 1 night watchman. Entertainment: A party of 03 local singers to entertain during the dinner. Dinner and overnight under the stars in Deluxe private Bedouin camping in the heart of the desert.
All tours are flexible and at your discretion
Website: http://www.xaluca.com
Day 5- MERZOUGA DUNES, RISSANI, ERFOUD, TINGHIR, BOUMALNE, SKOURA, OUARZAZATE – MOROCCO (B,D)
After a Bedouin breakfast in the dunes, board the 4×4 then drive to Rissani the cradle of the Alaouite dynasty now reigning in Morocco and visit from inside of the Mausoleum of Moulay Ali Cherif and go inside the Abou Aam Ksar fortified village. Then depart for Ouarzazate (a six-hour drive) through the beautiful 1,000 Kasbah Valley. Along the way, you will visit Tinghir, a former military outpost built on terraces above a magnificent palm grove and the route into the awesome Todra Gorge "at the ends of the earth" between 300 meter (900 feet) cliffs. Farther on there is a holy spring said to cure sterility in women. Time free for lunch in Todra Gorges.
Then on to Boumalne du Dades, a large town and local administrative center at the foot of the gorge of a dry riverbed followed by a series of Kasbahs (huge adobe fortified houses), to El Kelaa de Mgouna and Skoura. After Skoura, the palm trees are replaced by orchards and irrigated gardens. Roses for making perfume are the specialty of El Kelaa de Mgouna. Paris, the famous perfume by Yves Saint Laurent, is made from extract of these roses.
Situated in a valley at the foot of the Atlas Mountains, Ouarzazate is a former outpost of the Foreign Legion and has now become an important center for the film industry due to the quality of its light and unpolluted atmosphere.
Dinner and overnight at The Berber Palace Hotel. The Berber Palace Hotel is built in the Kasbah style, with a mix of Berber and traditional crafts, and an ambience of space and charm has been created. Centrally located on a high point, the hotel has 240 air-conditioned rooms each with private terrace/patio, satellite TV, phone, mini-bar, bath, and shower. Facilities include a large pool, dining room serving Moroccan and international cuisine, grill, and piano bar.
All tours are flexible and at your discretion.
Website: hotel-berberepalace.com
Berbere Palace hotel – deluxe room.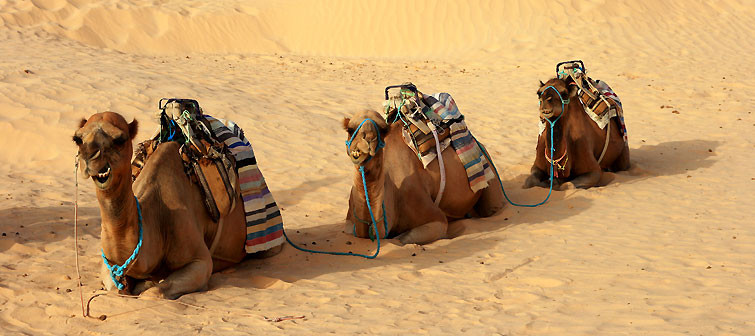 Day 6 – OUARZAZATE, AIT BEN HADDOU, TIZI N'TICHKA, AIT OURIR, OURIKA, TAHANAOUT, IMLIL – MOROCCO (B,D)
After breakfast, will depart for Imlil, first visit to the ancient Kasbah complex of Ait Ben Haddou, an impressive 11th century structure, declared by UNESCO to be an historical treasure. A photographer's wonderland, Ait Ben Haddou is still home to five families. Recent movies made at Ait Ben Haddou include "Gladiator" (2000), directed by Ridley Scott, and "Alexander" (2004), Oliver Stone.
Then through the High Atlas Mountains at Tizi N'Tichka Pass (6,600 feet). Arrive at Ait Ourir village at the foot of the high Atlas mountains then cross the fertile countryside of the Haouz Plain to Ourika valley. (Total driving time is approximately 4h30 hours.)
Just 5 miles from Ait Ourir starts the green valley of the Ourika River. From its small beginnings in the Berber country, it streams down the slopes of Atlas mountains, between the Tlemcen peak and the Timeskar plateau. The green landscapes of this valley, the lazy meandering torrent of the river combined with the small red adobe Berber villages hanging on the slopes will enchant you. Then, as you round the bend in the road, appears the potters village where you can be tempted by colourful plates, salad-bowls, flower vases or lamps in either traditional or modern style; also for sale are collections of precious minerals: quartz, amethyst, and many other rocks that are found in this area.
Afterwards continue driving to Tahanaout then to Asni for about 30 mn to reach the impressive luxury Tamadot Kasbah. Kasbah Tamadot is the newest addition to the Virgin Limited portfolio, emerging as a divine hideaway where the spirit and charm of traditional Moroccan design is beautifully infused with contemporary elements, creating an ambiance of luxurious serenity with a hint of exotic adventure. Bought by Richard Branson in 1998, during one of his famous ballooning expeditions, Kasbah Tamadot is a magical walled building located near the village of Asni in Morocco's high Atlas region. Dinner and overnight at the Kasbah.
All tours are flexible and at your discretion.
Website: www.virginlimitededition.com
Kasbah Tamadot – Deluxe room.
Day 7- ASNI, IMLIL, ASNI – MOROCCO (B,L,D)
After breakfast at the Kasbah Tamadot, at 09.30 meet with your guide and your car then drive for a half an hour to reach Imlil village.
The High Atlas, the greatest mountain range of North Africa, is perhaps the most beautiful and intriguing part of Morocco. It has retained a remoteness which until recent decades was virtually complete, and contains villages where the way of life has changed little for centuries. Outsiders to the mountains are constantly surprised when they encounter the friendliness and openness of the villagers, as they go about their everyday tasks. Hiking in the High Atlas is one of the best possible experiences in Morocco – feasible exploration of stunning natural beauty, and of a rigidly individual world.
10.00 Arrival in Imlil, meet and greet by local mountain guide and mules then depart for two hours and half soft trekking around the Kasbah. Walk through the village of Mzig, hidden away around to the West. The views of Imlil and the terraces are beautiful from here. Enjoy a Berber Tea ceremony with a berber local family.
13.00 Drive back to Kasbah, time free to relax by the pool. Lunch & dinner at Kasbah Tamadot.
Note: All tours are flexible and at your discretion.
Website: www.virginlimitededition.com
Kasbah Tamadot – Deluxe room.
Day 8 – Kasbah Tamadot – MARRAKECH, Morocco (B,D)
After breakfast leave for a full-day guided tour to Marrakech. Marrakech dates back as far as the year 1070, and several monuments stand out as landmarks in the course of its history. First of all, you will visit the Koutoubia Mosque, sister tower to Seville's Giralda, the minaret of which has become the symbol of the city. Then visit the more recently built Bahia Palace (19th century), which is often inhabited by His Majesty's guests, and its succession of rooms finely decorated in Arabic style, and gardens and "Riad" planted with orange and jasmine trees.
You tour will continue to the Museum of Dar Si Said with the best display of Berber arts and crafts from all over the country, and the remains of the Badii Palace, an historical monument chosen to host the annual National Festival of Popular Art, beginning the second Friday in June.
Check into Riad Farnatchi. Riad Farnatchi has been created out of five small Riads in the heart of the oldest part of Marrakech. Houses have stood on the site for many centuries and some of our walls go back over 400 years.
The current owner, a retired award winning British hotelier, spent two years converting the first three riads into a holiday home for his friends and family. He only decided to change it to it's current use when approached by the ex manager of one of Marrakech' most respected hotels. Lynn suggested that it would fill a gap at the very top of the Riad market in the Medina of Marrakech, by combining the wonderful interiors with her outstanding experience of hotel keeping in Marrakech. Riad Farnatchi now has the feel of a beautiful, highly individual, private house, but the facilities of a world class 5 star "boutique" hotel.
Riad Farnatchi has been totally rebuilt incorporating modern wiring, smoke detectors and heavy quality room doors. The furniture, whilst fabulously designed, is also comfortable – possibly a 'first' amongst Riads in the Medina! The bedrooms have adjustable lighting that can be both romantic and practical, rather than one or the other.
The public areas on the Ground Floor are a collection of traditionally proportioned rooms and B'hous (covered sitting areas with one side open to an internal courtyard) that allow guests to either meet together in groups or to find their own private corner. In addition, every room has at least one private sitting area. Quite uniquely, almost every piece of furniture has been specially designed and made for Riad Farnatchi in Marrakech. The style reflects a fascinating fusion of traditional Moroccan and modern European design. It is unmistakably Moroccan and exotic whilst being supremely comfortable and practical. Dinner and overnight at your riad.
All tours are flexible and at your discretion.
Website: www.riadfarnatchi.com
Riad Farnatchi – Junior suite.
Day 9 – MARRAKECH- MOROCCO (B,D)
After a breakfast at your riad, take a morning tour along the old city ramparts and through the lush botanical Majorelle Gardens, privately owned by Yves St. Laurent. Enjoy some time in the gardens.
Then to the Souks of Marrakech! Certainly these are the most colourful and the liveliest in Africa. The different trades are grouped by services they offer: the dyers, the blacksmiths, the babouche and shoemakers, spices, and fabric sellers.
This afternoon ends at the renowned Djemaa El Fna Square, a popular entertainment area where each afternoon storytellers, snake charmers, tooth-drawers, and dancers appear to entertain the crowd in a scene that is pure street theater. It's a shopper's paradise and a discovery for all five senses. Anything can be found here, from a blue silk thread to a wrought iron table, from a jar of pickled olives to a full bucket of "Khlih," the local homemade beef preserve!
In the evening, enjoy your dinner at Dar Moha Moroccan inventive cuisine restaurant.
All tours are flexible and at your discretion.
Website: www.riadfarnatchi.com
Riad Farnatchi – Junior suite.
Day 10 – MARRAKECH, ESSAOUIRA, MARRAKECH – MOROCCO (B,L,D)
After breakfast, depart for a full day excursion to Essaouira, about 02.30 hours drive. Charming fishing harbour at 170kms from Marrakech, renowned for generations for its production of "Murex" a small shellfish used to make the purple dye for Roman togas, Essaouira is now a very active fishing harbour still showing traces of having been occupied by the Portuguese in the XVI th century.
Later on Sultan Mohamed Ben Abdellah used it as a base for its corsairs! Today, protected from the sea and the wind behind its commanding fortified walls, Essaouira shelters a flourishing craftsmanship in marquetry, working citron-and-lime wood with ebony, mother of pearl and silver thread to make tables, chess-boards, caskets and bracelets. Enjoy your seafood lunch at the Taros restaurant with a nice view overlooking the Atlantic ocean. Drive back to Marrakech.
In the evening, enjoy a panoramic tour by a traditional horse carriage followed by a transfer to Yacout the best gourmet Moroccan restaurant in Marrakech (drinks are included) for your fare-well dinner.
All tours are flexible and at your discretion.
Website: www.riadfarnatchi.com
Riad Farnatchi – Junior suite.
DAY 11 – MARRAKECH- Hot Air Balloon in Marrakech (BL)
Breakfast is included after the flight (some guests may not feel comfortable flying with a full stomach).
Hot Air Balloon Flight:Transfers from/to your hotel are always included. Balloon flight is probably an experience of a lifetime and flying over the Atlas Mountains is simply unforgettable.
At six in the morning, our local rep. will call on you. Marrakech's unique landscape and palm groves, to which you have partially become accustomed from the ground level, becomes even more unearthly when viewed from several hundred feet above. A 60-minute hot air balloon flight by breakfast on landing. In two words? Breathtaking and Unforgettable! Every flight is a fantastic adventure as you float intimately amongst the palm tree groves, the dunes, the sahara and soar over the magnificent Atlas Mountains. Join us for the best ballooning adventures on earth!
After we land, you breakfast box will be waiting for you, then we will enjoy tea and snacks with a local berber family, followed by a private tour of the nearby village. Finally we head for Marrakech where we board horse drawn carriages for a clip clop tour of the botanical gardens, including The Majorelle's Gardens owned by Yves St. Laurent. Continuing our tour we will go to the famous Djemaa el Fna, the square in the old part of Marrakesh. Other than the souks, this is where everything happens in Marrakesh. See snake charmers, acrobats, jugglers, storytellers, Fortunetellers, and a variety of many local characters. Lunch is included at the Al Fassia Restaurant that is solely run by the women of Marrakesh. The food is beyond description.
Day 12- MARRAKECH – MOROCCO (B)
Breakfast at your riad, then transfer to Marrakech airport for your flight back home departure. Bon Voyage. Add a foray into the luxury resort at el Jadida.
Rate per person
Double
$ 6200. USD
Upgrade to a Superior room at La Mamounia
$ 6850. USD
Upgrade to the private Royal Camping at Merzouga; Please add $ 650 USD per person to any of the listed rates.
Your tour includes:
Accommodation as described, always with breakfast included and all taxes / service charges.

Rabat: Villa mandarine the best in Rabat.
Fes:Riad Fes/Relais & Chateaux, the best in Fes.
Erfoud/ Merzouga: Private Deluxe camping in Merzouga dunes.
Ouarzazate: Berbere Palace the only deluxe venue in this area.
Asni/Imlil: Kasbah Tamadot – Luxury Richard Bronson's retreat.
Marrakech: Riad Farnatchi, or Riad Villa Des Orangers, however La Mamounia is the best in case you prefer an "Old World Charm Grand venue" supplement applies with rate posted above.

Meals as listed: Continental (B) or full breakfast (B) daily; set-menu lunch / dinner (LD) as shown in the itinerary.
Private chauffeur (English speaking) escorting you at all times, and private local guided sightseeing tours by air conditioned private Mercedes- Benz vehicle for the itinerary, including all entry fees.
All transfers on a private basis within Morocco.
Not included:
International airfares or domestic airfares in Morocco
Drinks at meals
Personal expenses
Gratuities for local personnel
Trip interruption and cancellation insurance