Private Tour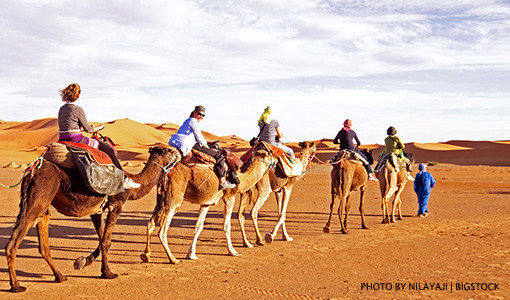 Adventure in "Comfort" and enjoy a one night "Arabian Night" stay in the Sahara. We cover, as well, all the major sites & highlights of Morocco: Casablanca, Ouarzazate, Oases of Zagora & the Pearl of the South: Legendary Marrakech. All in 8 days. Tour starts weekly in Casablanca, on Sundays. When you have at least 4 guests in your party, you may choose any day to arrive on. You will have your own PRIVATE car/driver/guide.
Ride the camels, climb towering sand dunes for panoramic views and photos, and camp at verdant desert oases beneath a splendor of stars which only desert travelers ever see. You'll also see fabled Casablanca, and Ouarzazate, the "Pearl of the Sahara." Come away with us…to Enchanting Morocco and the Sahara! Compare with adding Midelt, Errachidia and Erfoud, Merzouga and Fes: 9-Day Imperial Sahara Tour.
We loved the little hotel nestled on the side of the mountain, you thought you were in Tuscany! We had a lovely candlelit dinner with the best ever guide Ahmed and the best ever driver Montcif. We could not believe this little treasure of a hotel was nestled into the tiny Berber village.

Kathy & John. Florida
Tour
DAY 1 – CASABLANCA – Daily Year Round – Choose Your Own Date. This is a private tour.
You arrive in the Kingdom of Morocco, landing at Casablanca. As soon as you complete customs and immigration formalities, our local representative will escort you to your hotel. A welcome mint tea & fruit basket awaits you at your hotel. Prefer to start in Marrakech? please click here.
DAY 2 – OUARZAZATE (BD)
Morning at leisure. Late afternoon tour to visit the majestic new Grand Mosque of King Hassan II, second only to the Great Mosque at Mecca in size. We continue on a panoramic tour of the city. We'll enjoy dinner before we head for the airport and our flight to Ouarzazate. Upon arrival our staff will greet you at the airport and escort you to your hotel.
DAY 3- OUARZAZATE – ZAGORA (BLD)
Departure for Zagora following the Draa Wadi Valley where six palm forests form a long ribbon of greenery. Thanks to the proximity of the river, cereals, henna, vegetables, fruit and date palms are cultivated, either on the floor of the valley or on stepped terraces. On the road again, many Kasbahs and Ksour when crossing Berber Villages. Lunch is included enroute. Notice the ladies dressed in black and the happy and smiling children waving to you. Kasbah Dar Azawad 4 lanterns "Berbere Suite". Dinner is, of course, included tonight.
Day 4- ZAGORA – Bedouin Tent – 1001 Arabian Nights (BLD)
A morning excursion to Tamegrout, to visit the old Library housing old 13th century manuscripts. Return to hotel for lunch before we start a comfortable camel ride to the Zagora palm grove. We head foe the Tinfu Dunes. Enjoy the charm of the Sahara as we enjoy our camp site & tented Bivouac. Tonight we enjoy our desert sunset and night sky, not to mention the cool, pure breezes that waft through our tents. DINNER INCLUDES MECHOUI (The famous Moroccan beef or lamb dish). Beef/lamb is first steamed then grilled, in open camp fire that we all gather around (if you are a vegetarian, we'll be glad to accommodate your meals request with advance notice). M'hamid dunes: Blue Men deluxe camping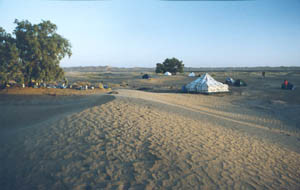 DAY 5 – MARRAKECH – Aït Ben Haddous Kasbah (BL)
For early risers you'll be treated to the breath taking sunrise over the Golden Dunes of the Sahara. Drive back to Marrakech, but first we will head for Aït Ben Haddous Kasbah along the left bank of the Mellah (or "salty") Wadi with the chance to see a wonderful "Ksar" – Huge fortified village wade of Adobe where families still live – which has served as the location shots in many adventure films, such as "Lawrence of Arabia" and "Romancing the Stone" with Michael Douglas. Lunch is included. After touring the Kasbah, we continue on to Marrakech. Remainder of the day at leisure.
Complimentary Dinner is included at a local home:
Meet the locals. You may wish to bring token gifts to exchange with the host family (T shirt, small souvenirs of your home town). This evening we'll venture where few ordinary visitors ever tread… right into the homes of some of the people of Marrakech! You'll be invited to a family dinner, and while you enjoy wholesome home-cooked specialties, you'll learn about and appreciate the outlook, aspirations, and way of life of your hosts. Be assured, as curious as you may be about your new friends, they're sure to have questions about your own background. Once the ice is broken, you'll enjoy a lively evening, and find that you have more in common than you ever suspected. Of course, if you prefer, you may enjoy a quiet evening with your travel companions – just let us know your preferences.
DAY 6 – MARRAKECH (BLD)
Our morning will be devoted to the Historical part of the city: including the stately Koutoubia Minaret, the hidden tombs of the Saadian dynasty, the Menara pavilion and gardens, the ruins of sprawling Badi Palace, the Bahia Palace or Dar Si Said Museum according to the opening days, the Ben Yousef Medersa, and the Koubba (chapel) of el-Ba'adiyn. Lunch is included at the hotel to allow you to take a break, freshen up & get ready for the afternoon tour of Marrakech's fabulous medieval souk (bazaar). Penetrating the labyrinthine souk, you'll see some of the age-old guilds at work, including the dyers and tanners. Bring your camera–for famous Djemaa el-Fna square with its circus atmosphere of itinerant dancers, jugglers, acrobats, storytellers, soothsayers, snake charmers, medicine men and public scribes. Dinner is served in a charming Moroccan Restaurant.
DAY 7 – MARRAKECH TO CASABLANCA (BL)
Today you board the Marrakech Express bound for Casablanca! Roll across the beautiful Moroccan countryside, admiring the towering Atlas Mountains in the distance, and the timeless scenes of North African village and town life right beside the rails. When you arrive in Casablanca, our staff will meet your train and escort you to your hotel. Once you're settled in, take out your guidebook and explore Morocco's commercial capital. Lunch at your hotel.
DAY 8 – Casablanca – Departure (B)
Our local rep. escorts you to the airport for your flight homeward.
Rate for Deluxe Hotels in US dollar $
Triple occupancy
$ 3910.00
Double occupancy
$ 4040.00
Single occupancy
$ 5750.00
For Christmas & New Year's weeks please add 10 % supplement
to any of the above rates.
Hotels:
Casablanca:
Golden Tulip Farah Casablanca or similar (Modest 5- stars)
Ouarzazate:
Berbere palace (modest 5 -stars)
M'hamid:
kasbah Dar Azawad 4 lanterns "Berbere Suite"
M'hamid dunes:
Blue Men deluxe camping
Marrakech:
Sofitel Hotel with the High Atlas Mountain View, or a charming boutique riad / hotel. The Riads: Riad La Maison Arabe, the Jardin de La Medina, Riad Monceau or similar
Rate per person for First Class- 4 star hotels:
triple occupancy
$ 3200.00
double occupancy
$ 3350.00
single occupancy
$4590.00
Hotels:
Casablanca:
Val d'Anfa "seaside" or Kenzi Basma, or similar (4 -stars)
Ouarzazate:
Kenzi Belere or Riad Salam or Farah Janoub (4-stars)
M'hamid:
kasbah Dar Azawad 4 lanterns "Standard room"
M'hamid dunes:
Blue Men deluxe camping
Marrakech:
Riad Cherguor, Imperial Borj or similar (4 – stars)
Your tour includes:
Hotel accommodation at a carefully selected hotel in the class of your choice (Deluxe, First Class, Tourist Class), including tax and service
Meals as indicated: BLD: Breakfast (Buffet or continental), Lunch, Dinner.
One-way first-class train transportation Marrakech-Casablanca. * Domestic airfare is included, within Morocco.
Guided sightseeing as per itinerary including all transportation be it by camels or Land Rovers, PRIVATE car, minibus, van for rest of itinerary.
Consultation and referral services of our local Friends Abroad representative in each city on your tour
What's not included:
International airfare to or from Morocco.
Tips.
Trip Insurance
Cooking & Culinary Experience in Morocco
What a great last day. We went to cooking school and yes John did it too! We got there and they promptly handed us our shopping baskets and off to the local market where we bought all of the ingredients including a live chicken the our chef picked out and had de-feathered and made ready for cooking.
John learned to chop!! It was a great way to spend out last day, thank you Omar for the itinerary!
Hi Omar,
We are back home now, got in late Monday night. Again John and I want to thank you for all of the great service for our magical trip to Morocco. I never thought anything would be as good as the Turkey/Egypt trip but this one was. We have not seen very many of our friends and family yet, but starting this weekend we will be out and about and believe me your praises will be sung to the highest heavens! […]
Please let your representatives know how much we appreciated Ahmed and Moncif, they were just great and deserve all the praise in the world for being so adaptable with John and I. As you well know John takes 1,000's of pictures (this trip over 3000) and that means stopping in the car or waiting while touring and both of the guys were just great about it. Also their smiles and heartfelt kindness was there every day! I know there were a lot of people in the background that also made this happen for us and our thanks to all of them as well.
John and I cannot wait to book the next trip with you!! I will get back to you when I get eveything posted so you can follow along.
Thanks again dear friend!
Kathy
Camping in the Sahara
For the one night in the Sahara here is a list of things we suggest that you bring:
Thermal clothing, to use as sleeping wear, for tenting in the desert, where evenings and early morning can be quite chilly (particularly in October, April and May). Polar fleece jacket or woollen sweater for early morning and late evening. Windbreaker. Long-sleeved shirts to cover your arms and shoulders from the intense sun.
Sturdy jogging or walking shoes, well broken in (NOT brand new); lighter tennis or regular shoes; sandals for wear in camp and in your tent
Linen or straw sunhat, cap and/or head scarf
Good sun block cream or lotion
Miscellaneous personal items:
good sunglasses with UV protection, in a sturdy case
spare pair of prescription glasses, if you wear glasses
insect repellant
For the one night camp: SANITARY FACILITIES
To ensure your utmost comfort, showers /toilets are available