Egyptian Oasis Adventure
Camping In The Egyptian Desert
Tour The Egyptian White Desert and El Farafra Oases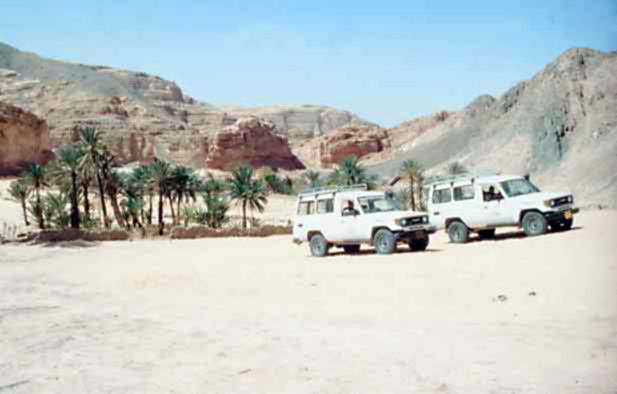 For the camping portion
A note about meals
Please note that some meals will be served in local desert style. For your Egyptian breakfast, expect orange juice, tea and coffee, marmalade, a selection of two cheeses, beans, and eggs. A picnic lunch will typically include either tuna, sausage, sardines or beef with a green salad or a salad of cheese, tomato and fruit. For dinner, expect a beef or chicken main coarse, with vegetable and rice or pasta. Please inform your hosts in advance of dietary requests.
Only for guests who plan to book tours with the one night camping
SANITARY FACILITIES:
For that one night camping, please note that there are no private facilities etc. So it will be the Bedouin's way.
Here's our recommended list of things to bring:
Ski or thermal clothing, a Polar fleece jacket or woolen sweater for tenting in the desert, where evenings and early morning can be quite chilly (particularly in October, April and May)
Windbreaker
Two pairs of trousers, one light, one heavier
One pair longish Bermuda shorts
Track or training suit for tent time and sleep-wear
Two long-sleeved shirts to cover your arms and shoulders from the intense sun
Supple but sturdy jogging or walking shoes, well broken in (NOT brand new); lighter tennis or regular shoes; sandals for wear in camp and in your tent
Linen or straw sunhat, visor cap and/or head scarf
North African scarf for wrapping as a turban to protect against the sun, cold wind and dust.
Water bottle with screw top, minimum two-liter (half-gallon) capacity
Good sun-block cream or lotion
Miscellaneous personal items:
good sunglasses with UV protection, in a sturdy case
spare pair of prescription glasses, if you wear glasses
pocket knife
pocket flashlight, with spare batteries and bulbs
insect repellant
moist towelettes
plastic bags (large and small) in which to pack your clothing, to keep sand and dust out
personal first-aid items
ADRÈRE AMELLAL
ADRÈRE AMELLAL Ecolodge in Siwa Oases
Activities, tours and more details on the daily flow of activities in Adrere Amellal. Click here for details.