Discover The Nile Kingdom and ancient Egyptian monuments, magnificent temples, and five thousand years of Egyptian culture on a leisurely four or six night luxury cruise on the Nile between Luxor and Aswan, on board The Oberoi Philae. While other Nile cruises may offer 50-60 cabins, the Philae Oberoi Dahabiya Nile cruise offers intimate twenty-two spacious luxury cabins and suites featuring magnificent bathrooms and are refreshed with uninterrupted River Nile views.
Cabins and Suites
With just twenty-two cabins and suites, The Oberoi Philae is perfect for honeymoon couples, groups of friends or family looking for an intimate, luxury cruise on the Nile. The bright, spacious accommodations have large French windows from which guests can enjoy magnificent River Nile views. They are equipped with the latest technologies and offer complimentary high speed Internet for up to four devices.
Dining
Guests looking for luxury cruise dining in Egypt can savour fine cuisines, freshly prepared on board and served in the indoor restaurant, lounge or poolside dining area on board The Oberoi Philae, luxury Nile cruiser. Their elegant dining spaces are tastefully decorated, afford spectacular River Nile views and a fine dining experience unmatched by other luxury cruises in Egypt.
Main Restaurant
The elegant main restaurant is decorated in a delicate natural palette and affords spectacular River Nile views. At intimate tables and from the comfort of rich leather chairs, guests can savour the finest Western, Indian, Asian and Middle Eastern cuisines, freshly prepared on board by talented masterchefs.
Poolside Restaurant
The poolside restaurant affords wonderful views from the top deck, up and down the River Nile. Sheltered by a large canopy for the comfort of dining guests, the poolside restaurant serves light meals, snacks and a barbecue lunch. The attached cocktail bar is open from morning until late, every day.
Bar and Cigar Lounge
The chic bar is furnished with intimate tables, a dance floor and a movie theatre. The menu includes fine international wines, classic and signature cocktails, single malts and imported spirits. The dedicated Cigar Lounge is located upstairs. From here, views of the River Nile are simply superb.
Spa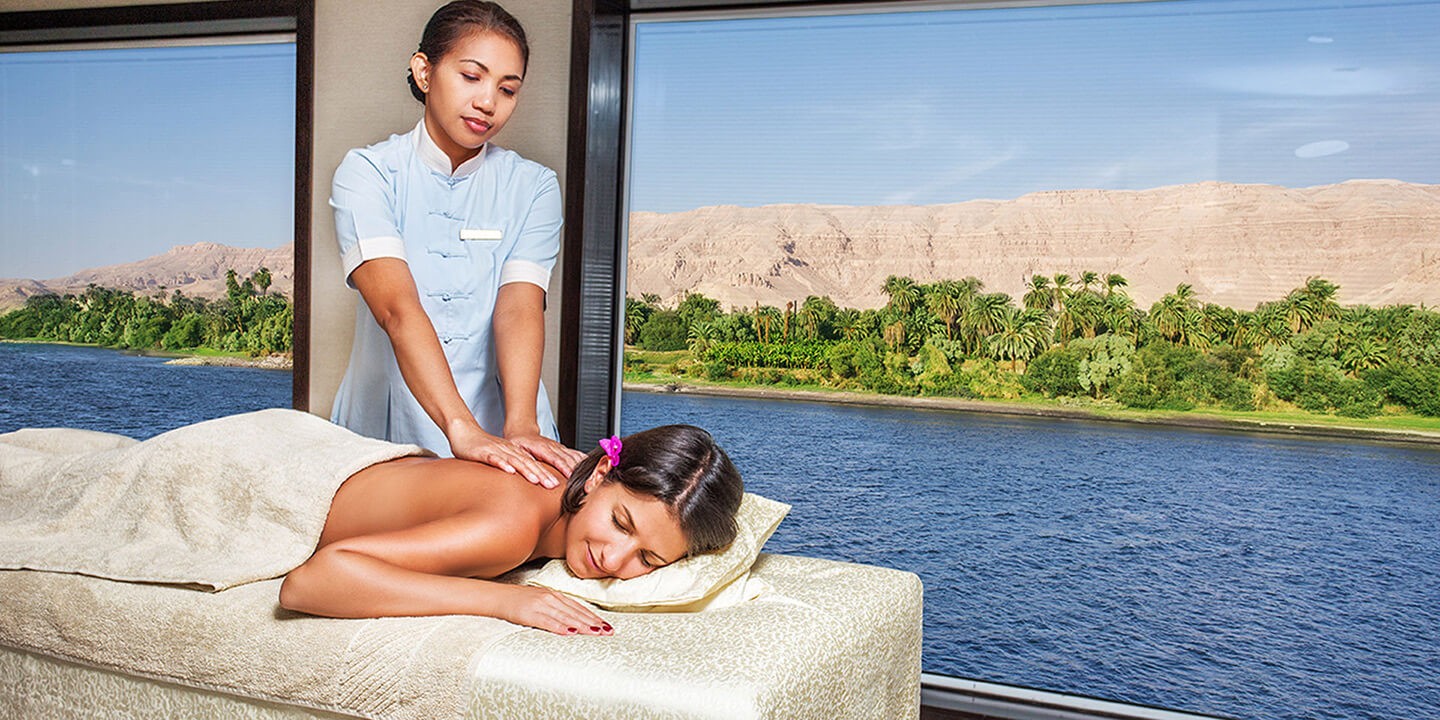 The Oberoi Philae offers a magnificent on-board spa with exclusive Oberoi treatments.  There is a fully equipped, air conditioned, 24-hour fitness centre that offers refreshing River Nile views and is equipped with a range of cardiovascular and weights machines as well as a beauty salon for ladies and gentlemen. There is also a large 36 feet (11 meters), temperature controlled outdoor swimming pool for guests to enjoy while admiring the River Nile.